Crema and Cassava Partnership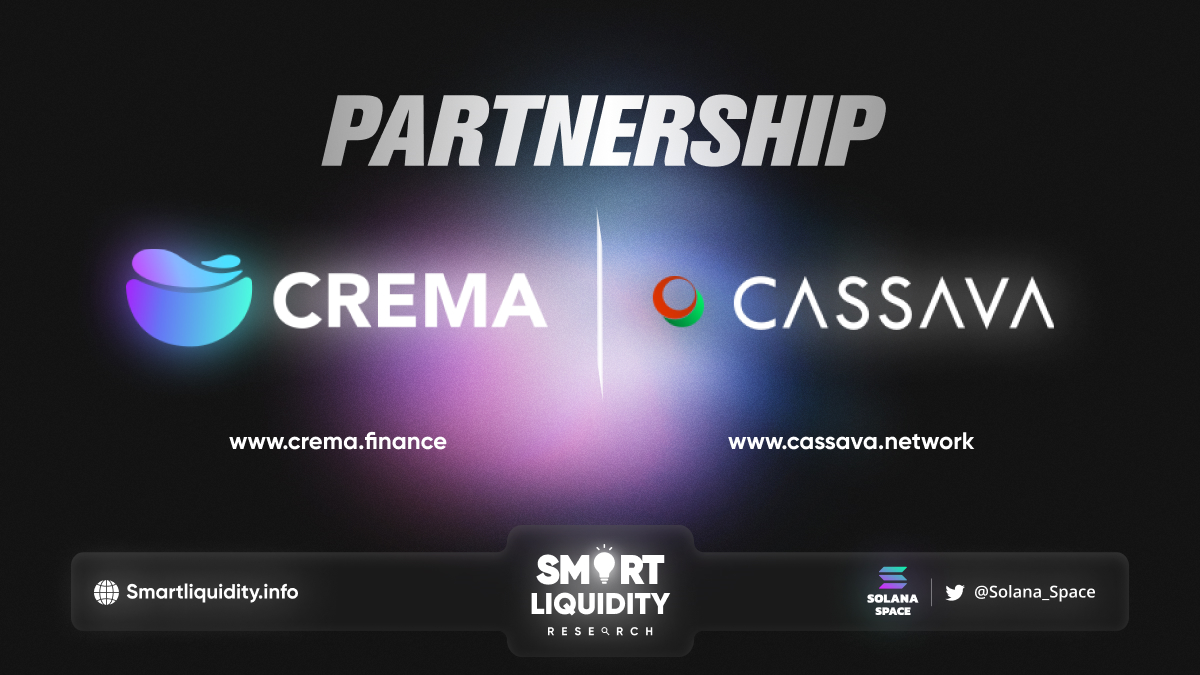 Crema Finance is thrilled to announce its partnership with Cassava, a key Web3 infrastructure provider in Africa.
This partnership of Crema and Cassava will support token liquidity, asset exchange, capital efficiency, and all kinds of trading and DeFi aspects. Given these points, Cassava will help Crema access millions of mobile users and expand aggressively to the African market.
The goals will be achieved through the journey of educating and bringing new audiences to the DeFi and Web3 world.
Introduction to Cassava
To begin with, Cassava Network is a tokenized rewards platform committed to improving people's lives in Africa and around the world through widespread blockchain and Web3 adoption. 
In addition to their native rewards token, $CSV, can be enforced in any existing or new Web2 application to expose users to Web3 rewards. Eventually, rather than migrating users from existing apps to blockchain-based solutions, they bring blockchain to the apps where users already are.
Cassava App Features:
Cassava builds for compatibility. Overall, users can store $CSV and other tokens from most major blockchains, giving them quick access to all their crypto holdings on the go.
Cassava makes storing and sending NFT assets from a single app easy.  However, other wallets require users to head to 3rd party websites to view their collections. 
Furthermore, users can quickly see what rewards are available and how to claim them as soon as they open the app.
What is Crema?
Crema Finance is the first concentrated liquidity protocol built on Solana that provides superior performance for traders and LPs. Crema Finance is mainly composed of the following modules:
Concentrated Liquidity Market Maker

NFT Liquidity Farming

Smart Router

veCRM-Driven DAO Governance
Finally, their vision is to build the fundamental infrastructure for the DeFi 2.0 of Solana. As previously stated, Crema Finance can benefit all the key roles in the ecosystem.
In addition to liquidity providers, the CLMM vastly enhances the flexibility of capital injection strategies and redefines the capital efficiency and trading depth on Solana.
About Cassava Network
Cassava is the key crypto infrastructure in Africa, partnered with a squad of prominent African Internet platforms with tens of millions of active users.
About Crema Finance
Crema is a robust concentrated liquidity protocol that provides superior performance for traders and liquidity providers.
⏩ SOURCE