Hubble and Lido Partnership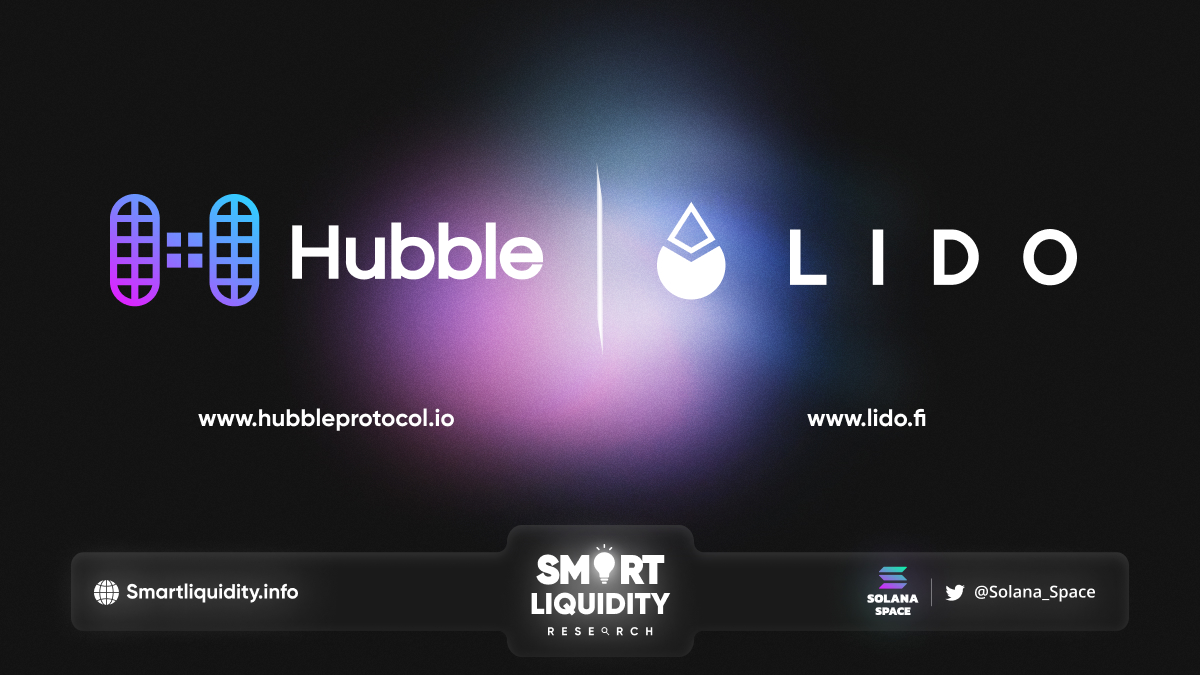 Hubble Protocol, a

DeFi

and stablecoin project on

Solana, announced its partnership with

Lido Finance,

an industry-leading multichain liquid staking protocol.
Partnership HighLights
This partnership of Hubble and Lido Finance took the first significant steps toward boosting stSOL liquidity throughout Solana with USDH.
Lido is one of the biggest protocols in DeFi as measured by total value locked (TVL). They're doing great work to bring liquidity and composability to staking across multiple blockchains, and its users will benefit from the addition of stSOL to Hubble.
Learn More About Lido Finance and stSOL Liquid Staking Tokens
To begin with, Lido has helped over 110,000 users stake billions of dollars ($14.7B at the time of writing) worth of tokens on multiple blockchains, most notably Ethereum. Their liquid staking token on Ethereum, stETH, has helped users stake over $9 billion worth of ETH.
Furthermore, Lido has staked over 3,000,000 SOL in exchange for stSOL, a liquid token that earns a staking yield that can be used across Solana DeFi while staked with a Solana validator.
Each stSOL that users receive represents one SOL staked to help protect the network and facilitate transactions. The Lido DAO has selected a group of 14 leading validators to help diversify staking across the Solana ecosystem. Additionally, they plan to expand this into the future, with more onboarded who meet high availability and performance criteria.
Hubble is Excited to Bolster stSOL Liquidity with USDH
Over the next two weeks, they will be kicking off the first phase of Hubble's partnership with Lido. They planned to launch two liquidity pools and excellent yield farming opportunities for their users.
Users will be able to deposit liquidity and earn rewards when stSOL-USDH pairs go live on Raydium this Thursday, May 12th. They include another rockstar Solana decentralized exchange (DEX), Orca, in their plans to help support stSOL and USDH liquidity on the network, and users will also be able to deposit concentrated liquidity through Orca's Whirlpool from May 19th.
Both of these pools will be offering liquidity providers (LPs) incentives in LDO and HBB, each project's native token. So, get ready to enjoy some juicy yield for participating in the stSOL-USDH pools on your favorite Solana DEX!
About Hubble
Hubble protocol allows users to take interest-free loans against multiple crypto assets. Hubble works with USDH, Hubble's decentralized stablecoin. So borrowing USDH, with 0% interest, gives users the chance to hold their tokens long-term and pursue whatever opportunities arise.
About Lido Finance
Lido is the leader in liquid staking (when measured by TVL) with a priority on contributing to ecosystem improvement, increasing blockchain decentralization, and making staking beneficial for all the participants on every chain it has launched.
SOURCE