AstridDAO Dual Premier Listing On BitMart And MEXC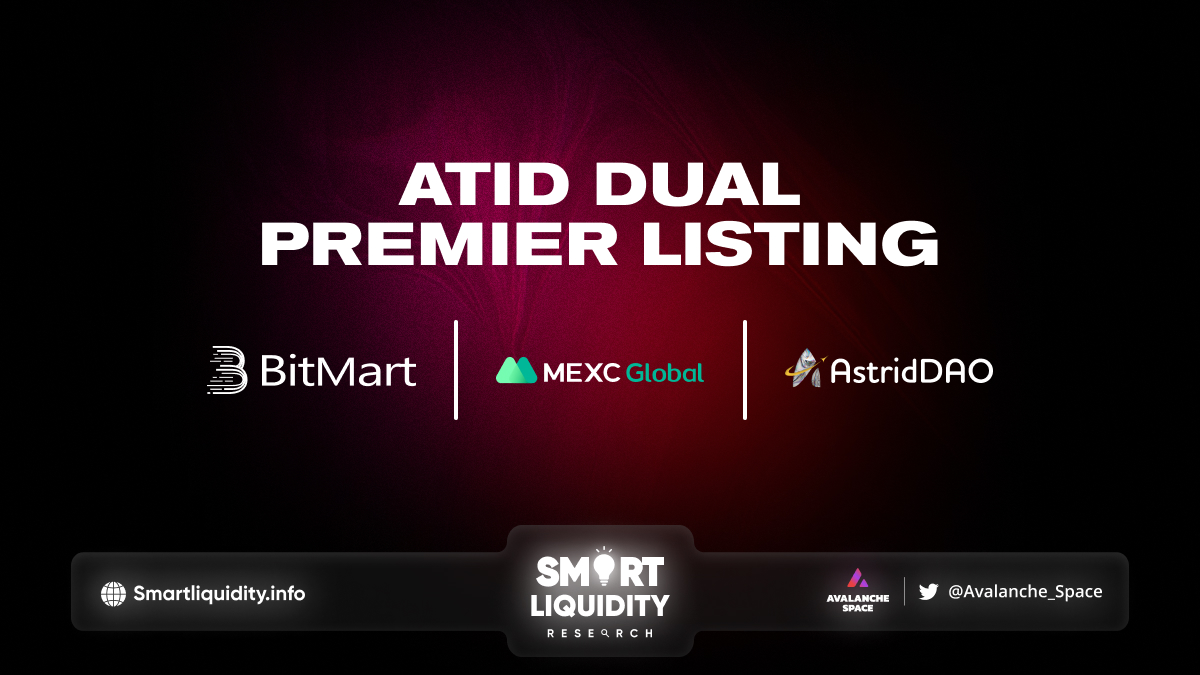 AstridDAO

is Listing $ATID on

BitMart

and

MEXC

!
AstridDAO are thrilled to announced the AstridDAO Dual premier listing ATID on CEXs BitMart and MEXC. They will officially be listed by the end of August after the coming public sale.
Compared to the existing over-collateralized stablecoins, AstridDAO has the following 6 major advantages:
Higher capital efficiency via instant liquidation mechanism
Higher price stability via instant redemption and stablecoin collaterals which enable both price ceiling and price floor (hard-pegging)
Higher protocol revenue by utilizing protocol-controlled liquidity in AMM (planning for v2)
Multi-collateral support and interest-free loan to benefit loyal yield farmers
veTokenomics to empower protocol tokens with more utilities
Adjustable parameters via DAO governance to better adapt to market changes (planning for v2)
What is $ATID Token?
ATID is the protocol token issued by the AstridDAO protocol. By locking it and generating veATID tokens, ATID holders can capture the fee revenue generated by the system. We are doing this to incentivize early adopters.
In the long term, ATID rewards will only accrue to Stability Providers ( i.e., users who deposit BAI to the Stability Pool).
Have you joined the $ATID Public Sale Whitelist yet?
If not, click here to join the ATID whitelist today.
Read the following article for more details about the $ATID Public Sale Whitelist:
$ATID Frequently Asked Questions
What is $ATID's max supply?
ATID has a max supply of 1,000,000,000 tokens.
Is $ATID a governance token?
No. ATID is the protocol token for AstridDAO. The voting power and fee distribution are not directly associated with ATID but with veATID.
How to earn $ATID?
ATID is earned in two ways:
Depositing BAI into the Stability Pool
Locking ATID to generate veATID tokens and earn locking incentives
Other liquidity mining programs that we be launching in the future
What can I do with $ATID?
ATID holders can lock their tokens to generate veATID tokens to earn the protocol revenue generated by loan issuance and BAI redemptions.
Besides that, we are also preparing some surprises for the ATID holder/staker community including exclusive airdrops from new ecosystem partners, supporting $ATID as collaterals for AstridDAO/ecosystem lending protocols, etc.
Locking and Governance
How does locking work in AstridDAO?
To start locking, you must deposit your ATID token to the AstridDAO locking contract and specify the lock-up period.
For a given amount of ATID tokens, the longer you lock up the ATID tokens, the more veATID tokens you will get. This is because VeATID represents a share of voting power and could earn a pro-rata share of the borrowing and redemption fees in BAI and collaterals.
What is veATID?
Unlike ATID, veATID non-transferable and can only be generate after locking the ATID for some time. Therefore, it is the only token in AstridDAO that can represent voting power and share the transaction fee generated in the network.
How much will my veATID earn?
Your veATID tokens will earn a share of the fees equal to your percentage of the total veATID generated at the instant the fee occurred.
Is there a lock-up period if I lock ATID to generate veATID?
Yes, a lock-up period will be associate with locking ATID to generate veATID. After the lock-up period, you are free to withdraw ATID tokens, but do notice that we don't allow partial withdrawal. For example, if you locked 10 ATID tokens for four years to generate 80 veATID tokens. After four years, if you decide to take out ATID, you must take out all 10 ATID tokens (which will burn 80 veATID tokens).
Staked ATID tokens use to backstop the system or for governance?
Yes, ATID tokens are use to backstop the AstridDAO system and for governance through veATID.
About AstridDAO
AstridDAO a decentralized money market protocol and multi-collateral stablecoin built on Astar and the Polkadot ecosystem, allowing you to borrow $BAI, a stablecoin hard-pegged to USD against risk assets at 0% interest and minimum collateral ratio. This mechanism enables you to leverage the value in your risk assets, including $ASTR, $BTC, $ETH, and $DOT, without selling them.