MetaShooter Partners with GAFC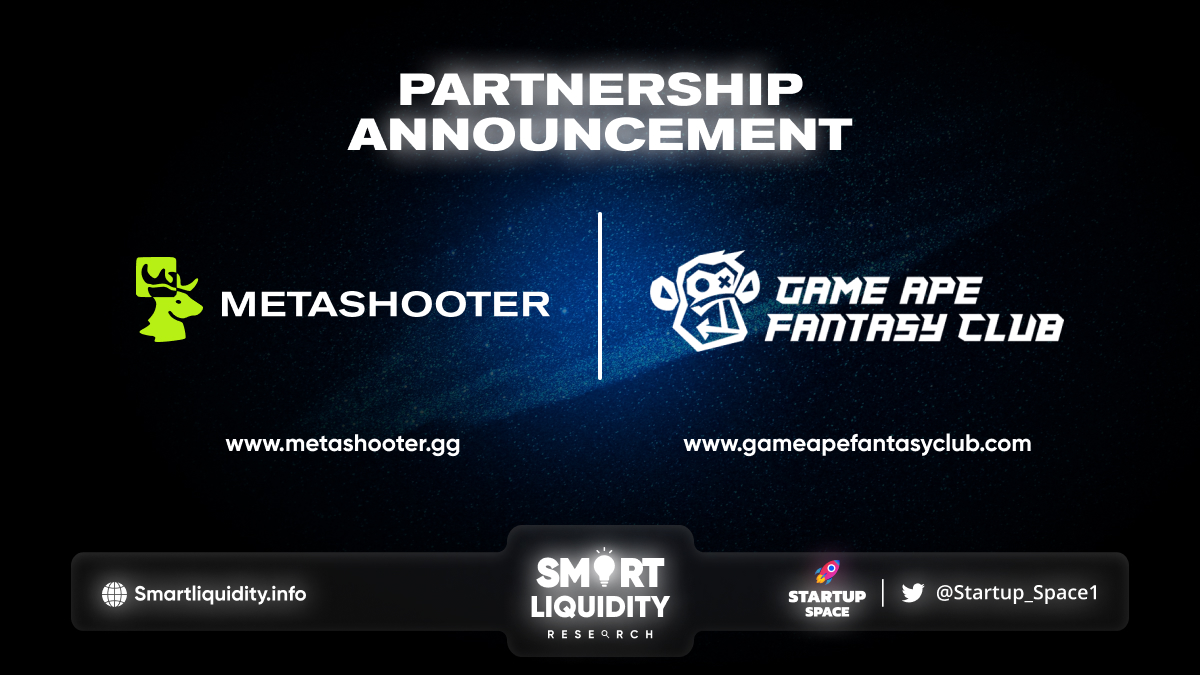 MetaShooter partners with Game Ape Fantasy Club (GAFC), an open platform dedicated to creating a Metaverse game trend and lifestyle.
Overview
Partnership Details
Both parties stand to benefit in a variety of ways from the freshly established cooperation that was just announced. One of these benefits is the existence of a big community of serious players who are actively participating in the game.
This partnership's goals include bringing the two communities closer together and expanding the range of possibilities that are open to participants.
The two partners will have the opportunity to collaborate on solutions that will bring more attention to both of their initiatives as a result of their combined efforts.
The partnership will prove to be vital in making the project more accessible, inclusive, and user-friendly for the communities in the long run.
About Game Ape Fantasy Club (GAFC)
The Game Ape DAO is the organization responsible for creating the Game Ape Fantasy Club.
They are able to assemble a Metaverse gaming community by utilizing the one-of-a-kind gaming culture that the club possesses, which attracts fans and institutions associated with the Web3 gaming sector.
Game Ape Holders' Benefits
Although Game Ape makes a rockin' PFP, they believe NFTs should have more utility.
After launch, expect exclusive airdrops, members-only IRL events, and an array of brand-related products, merch & more…
About Game Ape
Based on BAYC #4949 (licensed) and well-known game characters, all the Game Ape NFTs are tailored-made (instead of generated by AI algorithm ). A total of 1024 unique Game Ape NFTs are living on the Ethereum blockchain, representing the doppelgänger of a variety of classic game characters in different eras across the globe.
About MetaShooter
MetaShooter is the first decentralised blockchain-based hunting metaverse that joins millions of gaming enthusiasts in a community where they can experience realistic hunting and develop many activities with wide monetization opportunities.
MetaShooter enters the Metaverse gaming market by giving new ways of hunting and putting its players first. Players can create their own hunter and prepare to enter huge hunting industry:
Experience real hunting, play in tournaments, multiplayer with stunning visuals with VR compatibility.
Hunt & Earn, receive token rewards by hunting trophies, winning tournaments, and more.
Customise & Upgrade hunting equipment by making their hunter unique.
Develop, buy hunting lands, build towers, breed NFT dogs, and earn passive income.
Explore the open World, hunt anywhere they want, experience various environments, animals, stunning visuals and realistic dynamics.
Experience exciting, RNG technology powered gameplay with logical utilisation of each NFT asset.
SOURCE
https://medium.com/@metashooter/partnership-announcement-with-game-ape-fantasy-club-81183bb54f72