KALA Network Collaboration with Runnow.io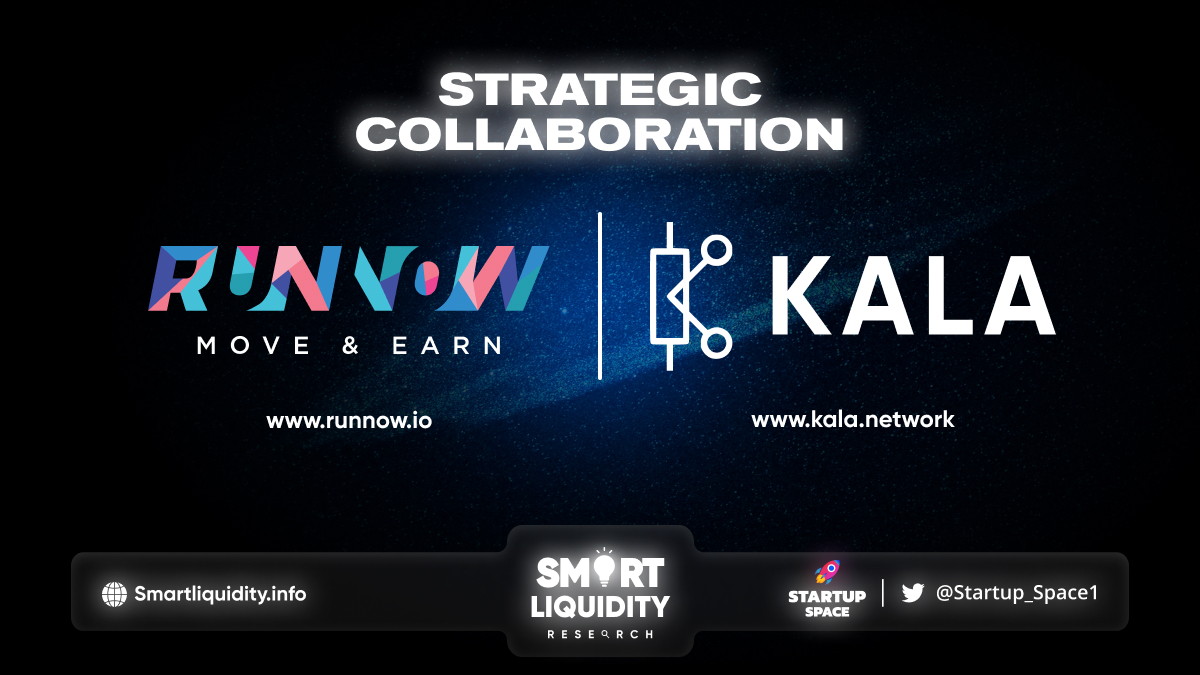 KALA Network is happy to announce its new collaboration with Runnow.io — The First Move-to-earn project.
Project Overview
Runnow.io is a Lifestyle GameFi app that employs Exercise-to-Earn mechanism to encourage healthy work and earn rewards.
Physical fitness is the prerequisite for a good state of mind and body. By joining multiple sports and competitions, you can improve your physical health, earn valuable in-game rewards, connect with communities worldwide, and give support to those in need.
The vision of Runnow.io is to build a healthier and including a place where communities can be formed and people can exercise and earn at the same time.
Key Features
Workout: Users equipped with NFT Sneakers / Bicycle / Swimwear to earn tokens by Running / Cycling / Swimming. Energy is required to earn RUNGEM Tokens. Every 1 Energy is equivalent to 1 minute of movement. To get started, the user selects the sport, the included NFT gear, and presses Start.
Leaderboard: In every hour there will be 1 ranking and one day there will be 24 rankings. Opening time for a Leaderboard is 60p starting from the 1st turn "00h:00m:00s — 00h:59m:59m" and so on until the 24th turn "23h:00m:00s — 23h:59m:59s"
Daily Quest: Corresponding to each user, the AI system will be based on health, owned by NFT, and actually run within the last 7 days to give appropriate daily tasks. Corresponding to the completion of daily tasks, users will participate in a lucky spin to have the opportunity to earn gifts such as: RUNGEM, RUNNOW, NFT, GEM, …
Running: Every Saturday, a marathon will start every 30 minutes. There are 3 distances for users to participate in 3km /5km and 10km races. The prize for this will be $RUNGEM.
Cycling: 1. Weekly Tour — 5km / 10km
2. Monthly Tour — 30km
3. Quarter Tour — 50km
4. Yearly Tour — 100 km Biggest Prize
Swimming: Weekly Tour — 100m/ 200m
Monthly Tour — 400m
Quarter Tour — 800km
Yearly Tour — 1500m Biggest Prize
Challenge Mode: User can challenge anyone on the friend's list after making friends on the social section of Runnow.io. It is also possible to automatically match this challenge with another user looking for an opponent. Users can create a team to challenge any other team in the friend's list after making friends on the social section of Runnow.io.
Tournament: This is a combination of running, cycling, swimming, and running.
More features…
Catchup Runnow Go: This is an exciting game, similar to the idea of Pokemon Go; there will be many gifts of NFT, Gem, Food, Water, …. which are randomly dropped on the roads with many regular Runnow.io participants.
Stake and Earn: Users will then earn more RUNNOW or RUNGEM or both based on which tokens they stake, and based on training according to the specified milestones of each respective sport.
Sleep and Earn: Connecting to a device and a fitness app, Runnow.io will track sleep quality and sleep time to pay you.
Learn and earn: Besides practicing diligently; we think that users need to exercise correctly to avoid injuries and ensure their best health. So Runnow.io will extend the functionality specifically for remote training via the app. Passing those tests, user can get RUNGEM or RUNNOW.
Partnership Details
This collaboration with Runnow.io aims to engage in cross-marketing as well as future events like AMA, airdrop, promotion, etc. KALA Network believes that this partnership will play an important role for both projects to reach out to wider audiences and expand their communities.
KALA Network is happy to have Runnow.io onboard with them and they can't wait to see the positive effects that their joint effort will bring.
About Runnow.io
Developed by KBG Studio, Runnow.io is a Lifestyle Gamification project aiming to build a healthier world by encouraging people to take steps in daily exercise (running, cycling, swimming,…)
Runnow.io is the only one accompanying Huawei, the giant tech company, in a global campaign "One million steps for a healthier world." 10,000 HUAWEI Band 4e will be gifted to the community for health monitoring. Runnow.io App will sync data with Huawei wearable devices to monitor health and exercise progress, participate in charity activities, and plant trees in the app.
About KALA Network
KALA Network is a Web3 SocialFi Platform that allows users to earn by socializing with their friends, creating content & building community as Investment DAO run by their own minted NFTS.
They position KALA as one of the leading SocialFi Web3 heading for sustainable business and distributing fair earnings to the users via their contribution to the Social Platform.
They have their own PENCIL/PEN NFTs Collectibles with a limited supply for our OG supporters to appreciate and reward them.
SOURCE
https://blog.kala.network/announcing-kala-network-collaboration-with-runnow-io/