Cats & Dogs Upcoming IDO on Padmon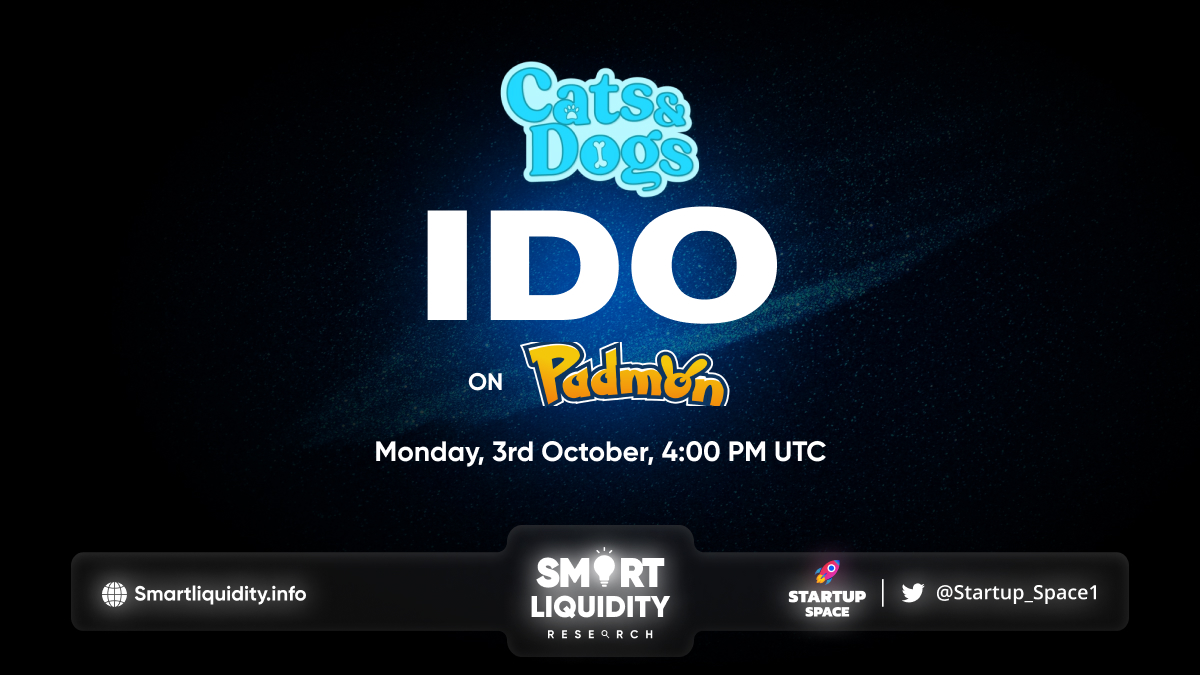 Cats & Dogs – Blockchain NFT Play-to-Earn Pet simulator & metaverse, upcoming IDO on Padmon will commence, 3rd October @ 9am PST (4 PM UTC).
⏰COUNTDOWN LINK: https://countingdownto.com/countdown-pages/ujgVtwJQ
IDO INFO:
⭐️WHITELIST contest HERE(coming soon):
-You will not need to hold PDM tokens if you win.
-This is for the initial whitelist round in which there will be a small number of winners selected from the sweep widget to obtain a whitelist slot.
⭐️$2,000 USDC max contribution for whitelisted wallets
⭐️If you don't obtain a whitelist spot, you must hold $PDM tokens to participate in Round 2 of the IDO.
🎯Round 2 operates in FCFS style. The number of PDM tokens you hold in your wallet relates to the maximum contribution in USDC (bep20) you are able to submit during the round:
🧙Achiever Tier (25,000–59,999 PDM): $250 USDC max contribution
🐺Expert Tier (60,000–159,999 PDM): $700 USDC max contribution
🦚Legendary Tier (160,000+ PDM): $2,000 USDC max contribution
💰Cats & Dogs Total Raise Amount on Padmon: $35,000 USDC
💰$PET per 1USDC (IDO): 66.67$PET ($0.015/token)
💰$PET listing price: $0.015
📚 Vesting Schedule: 40% @ TGE, then 30% monthly
1️⃣ FIRST ROUND: WHITELIST ROUND
All WHITELIST winners can submit their contribution from 9:00 AM to 9:30 AM PST (4:00 PM to 4:30 PM UTC). There is a limit of 12k worth of $PET that can be purchased during this round so as to guarantee that 70% or more of the total raise is reserved to be purchased by PDM holders
2️⃣ SECOND ROUND: HOLDER ROUND
Those holding enough PDM tokens to qualify for Achiever, Expert, or Legendary tier level can submit their contribution from 9:30 AM to 11:30 AM PST (4:30 PM to 6:30 PM UTC). (FCFS style, allocation not guaranteed.)
If you are newly buying $PDM tokens to participate in this IDO — keep in mind when swapping for the tokens that there is a 6% token tax on transactions, so set slippage on KnightSwap or PancakeSwap for 6–6.5%.
3️⃣ THIRD ROUND: PUBLIC ROUND
ONLY HAPPENS IF HARDCAP DOESN'T 100% FILL DURING HOLDER ROUND. Remaining $PET will be put on public sale starting at 11:30 AM PST (6:30PM UTC) and will be open until 4:00 PM UTC on October 5th. (FCFS of course, but anyone can participate.)
$2,000 USDC max contribution during public round. This also means that anyone who participated during the holder round in Achiever or Expert tiers can increase their total contribution up to $2,000 USDC total, if desired.
CLAIMING, VESTING & LISTING:
$PET tokens will be airdropped to holders upon launch and for the duration of the vesting schedule
$PET Vesting Period: 40% release @ TGE, 30% following 2 months
$PET will first be listed on [TBA]
About Cats & Dogs
Cats & Dogs is a versatile title that appeals to both the veteran Blockchain Gamer as well as the ever-increasing number of players that are, everyday, joining the Blockchain.
About Padmon Launchpad
Padmon is a multi-chain launchpad with a mission to provide up-and-coming crypto projects and Game-Fi platforms to its community of discerning investors.
SOURCE
https://medium.com/padmon-launchpad/cats-dogs-ido-oct-3-2022-1e7dc1ff2312