MetaShooter Partners with Yeeha Games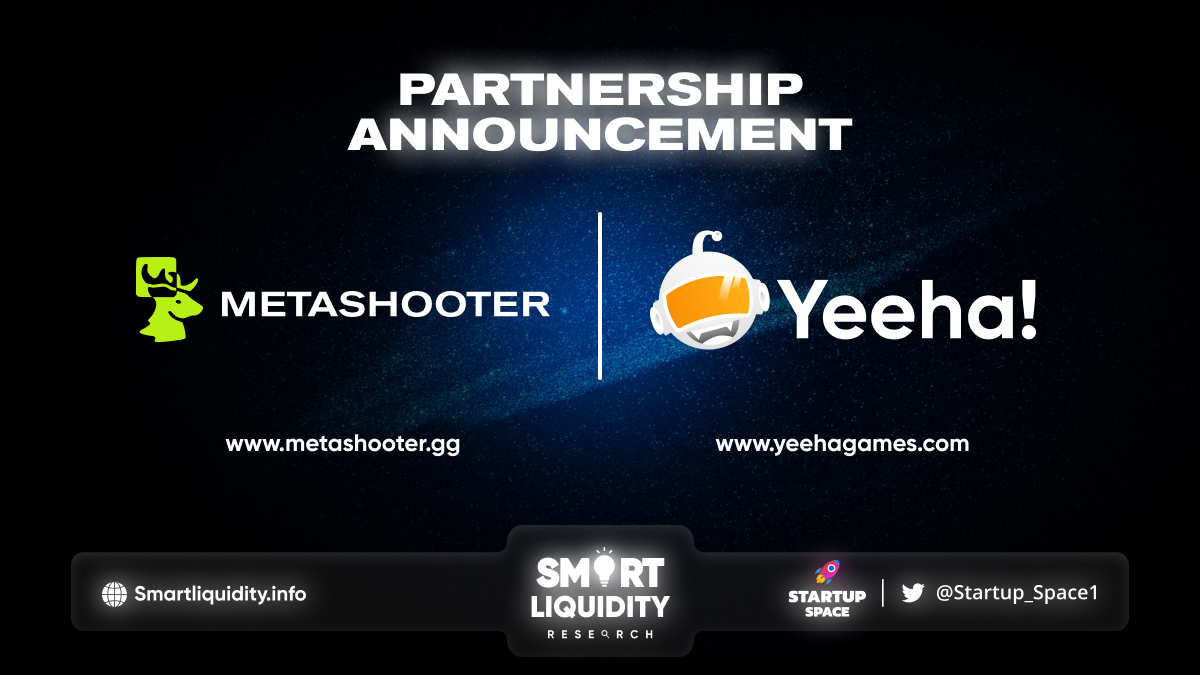 MetaShooter partners with Yeeha Games, a $50 million-funded GameFi platform, has announced its entry into the world of Web3 gaming.
Partnership Details
With this partnership, Metashooter communities will be expanded with more like-minded passionate gamers to play and discuss their games together. In addition, the Yeeha Games team will provide MetaShooter access to a variety of tools and expertise in video games publishing as well as support for blockchain technology.
By entering into this arrangement, both parties will be able to widen their exposure to new communities and increase the rate at which they are growing.
The two partners are thrilled to be able to make a positive contribution to the enhancement of gaming experiences for gamers in every region of the world.
About Yeeha Games
Founded in 2021 with over $50 million in funding, Yeeha Games is Bybit's GameFi platform with the goal of introducing authentic gaming experiences to the world of Web3.
Looking to elevate gaming experiences with core Web3 values of interoperability, compatibility, and ownership; Yeeha games will be funding, developing, and publishing a variety of high-quality free-to-play titles starting with the Midgard Saga in September, 2022.
For more information, please visit yeehagames.com or follow Yeeha Games on Twitter.
For media inquiries, please contact [email protected].
About Midgard Saga (The first game of Yeeha Games):
Background
In the spring of Miral 1600, the capital of Midgard was thrown into chaos. Hodr, the Dark Lord, seized the throne with the help of the Vanir Empire.
Fortunately, King Crowe's children managed to survive the ordeal.
The chaotic situation gave Forseti the opportunity to fight back with the support of the former Midgardian Royal Guards and Knights.
And the story continues…
Game Features
Play with Ease using Simple Controls
Choose your Heroes and skills before every battle and sit back to enjoy the beautiful graphics and intense combat!
Win Battles with Strategies
Mix and match Heroes and strategize your way to victory! Enjoy a simple but full-filled gameplay without the pain of grinding! 
Create a Victory Path for Your Heroes
Equip Heroes with skills and gear of YOUR choice and develop them any way you like!
About MetaShooter
MetaShooter is the first decentralised blockchain-based hunting metaverse that joins millions of gaming enthusiasts in a community where they can experience realistic hunting and develop many activities with wide monetization opportunities.
MetaShooter enters the Metaverse gaming market by giving new ways of hunting and putting its players first. Players can create their own hunter and prepare to enter huge hunting industry:
Experience real hunting, play in tournaments, multiplayer with stunning visuals with VR compatibility.
Hunt & Earn, receive token rewards by hunting trophies, winning tournaments, and more.
Customise & Upgrade hunting equipment by making their hunter unique.
Develop, buy hunting lands, build towers, breed NFT dogs, and earn passive income.
Explore the open World, hunt anywhere they want, experience various environments, animals, stunning visuals and realistic dynamics.
Experience exciting, RNG technology powered gameplay with logical utilisation of each NFT asset.
SOURCE
https://medium.com/@metashooter/partnership-announcement-with-yeeha-games-c8c19bfb566a