0xScope Protocol Raises $3M Seed Round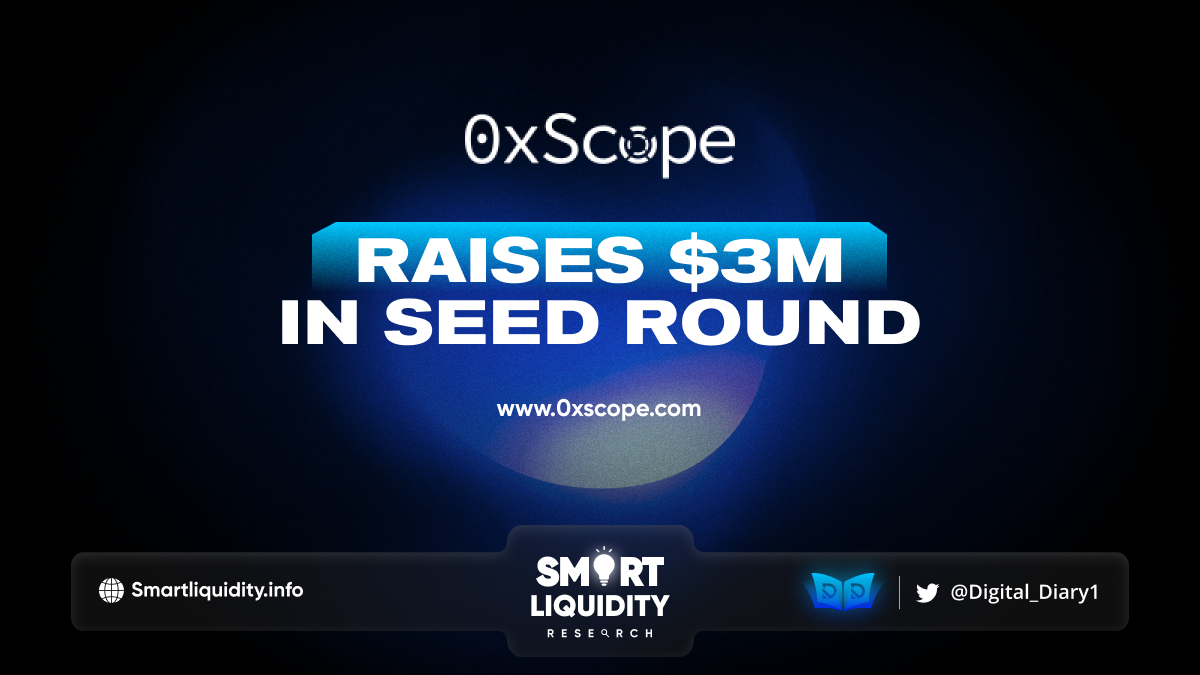 0xScope, the First-ever Web3 Knowledge Graph Protocol has raised a total of $3 million in its Seed Round.
This latest round was led by the accelerator and venture capital fund ABCDE, founded by Huobi co-founder Du Jun and BMAN, as well as being co-led by Hash Global and Liang Xinjun. 0xScope has also garnered support from Bonfire Union, Mask Network fund, as well as BODL Ventures, an early-stage venture firm established by former editor-in-chief of ChainNews, Liu Feng.
"It is great to have this vote of confidence as well as the capital commitment from some of the most respected investors in Web3, to keep delivering great products and services as we expand our business over the long term." said the CEO of 0xScope.
0xScope offers an innovative solution to explore jointly data originating from Web2 and Web3 in a single product. This allows translating Web3 scattered data into a well-organized knowledge graph; based on this new data layer created by 0xScope, a large number of data applications can be developed.
Watchers is the first product powered by 0xScope's, it allows users access to enhanced due diligence, powerful address clustering tools, transaction monitoring, live event alerts, as well as financial risk control.
Recently, 0xScope has released an enterprise business-to-business service that can be integrated into any company to further enhance its current services.
In a short period of time, 0xScope has managed to generate 97,356,000 unique entities, classified 1,429,000 addresses with labels, classify 5,089,000 behavioral labels, 195,000 distinct tokens, as well as 11,000 protocols and 50,910,000 different contracts.
0xScope offers the following advantages to its users:
• Knowledge graph
Complete database and knowledge graph data structure for indexers to utilize data efficiently and cost-effectively.
• Entity paradigm shift
0xScope wants to shift the focus of attention from looking at a single address. To understanding what is the Entity behind it and to standardize this process.
• Address relation deep-scan capacity
Complete risk address tags and address clustering algorithms will help to expand the scope and quality of financial risk control in the industry: enhanced due diligence, anti-money laundry practices, and in-depth tracking. These characteristics will lead to positive feedback and increase the quality of the Web3 product experience. As elevated the security standards in the overall industry.
The seed funding will enable 0xScope to scale up its operations, form vast ecosystem enterprises and communities, enhance engineering infrastructure. As well as expand its reach into Southeast Asia, North America, Europe, South Korea, and Japan.
The company's leadership also shared its progress on the upcoming launch of a series of partnerships. With more details to come in late September.
"We believe 0xScope is one of the most important pioneers for the upcoming paradigm changes in Web3. We sincerely look forward to cooperating and creating a new data layer for the benefit of all." said the CEO of 0xScope.
About 0xScope
0xScope is a protocol created to standardize web2 & web3 data by building a knowledge Graph. As a protocol, Scope will make knowledge data available to both web2 and web3. They will help the Web3 world build more applications that can match and even surpass existing web2 tech giants.
SOURCE: MEDIUM