Luxpad New Partnership with SLEEP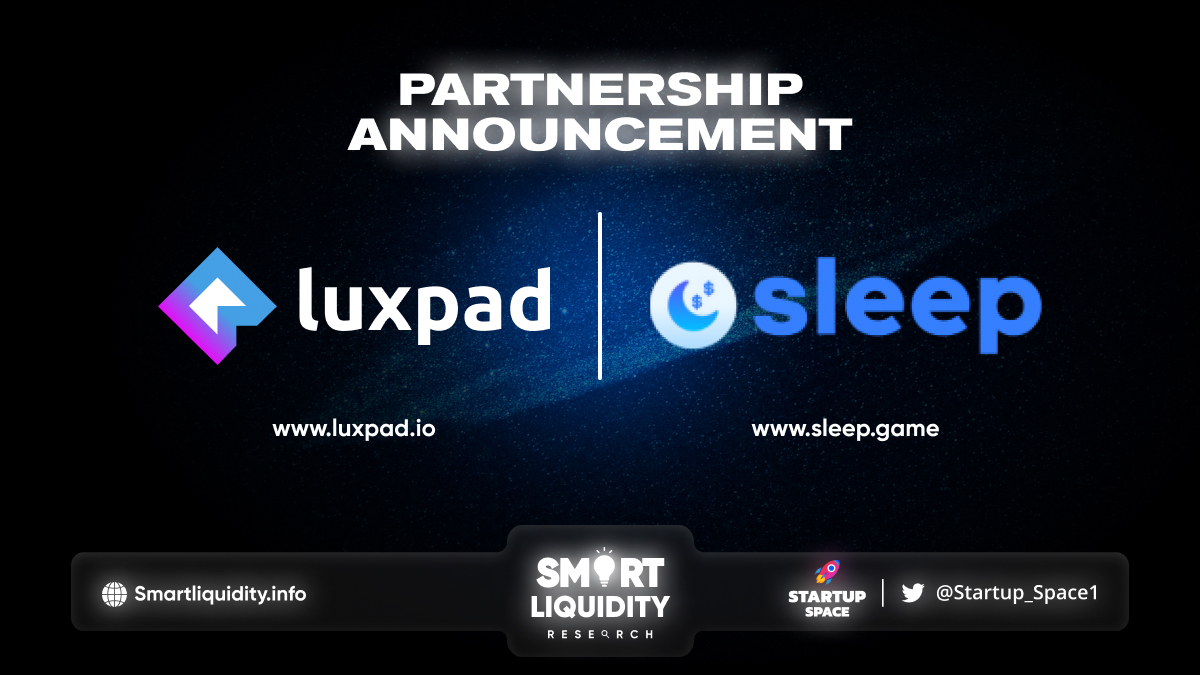 Luxpad has announced a new partnership with SLEEP, a Web3 lifestyle app with social-fi and game-fi elements.
Project Introduction
SLEEP is the first Web3 lifestyle app with Social-Fi and Game-Fi elements where users can earn $ZZZ for sleeping, relaxing and putting their phone away.
At launch, users equipped with NFT beds – sleep to earn $ZZZ, which can be used to level up and mint new beds and other equipment.
Players can choose to rent or sell their NFT beds on the in-app Marketplace; users' SLEEP earnings are stored in the in-app Wallet, which has a built-in Swap function.
Later, SLEEP will get two additional game modes where everyone can make extra $ZZZ:
Car Mode; earn while driving by locking your phone

Monk Mode: earn while locking your phone to relax
Market Size
SLEEP's potential is immense. Everyone on this planet needs to sleep, so why not earn some cash while you are asleep? But of course, not everyone is into crypto/DeFi. For this reason we are zooming into the decentralized finance space and the latest trend of MOVE2EARN in particular.
Combined, SLEEP is targeting a combination of 3 Multibillion global markets: Sleeping, video games and decentralized finance.
Sleeping
There currently is a World population of 8 Billion people who all have to sleep. However, to use S L E E P you need a mobile phone. 5,32 billion people in the World own a mobile device.
Video games
Over 3 billion people of the World's inhabitants play video games (over 40%).
Decentralized finance
Over 4.4 million non-custodial wallets have been created with a total marketcap of $110 billion in the decentralized finance market.
Problem
Main problem
insufficient sleep is a global problem that is becoming increasingly common in today's society. Compared to a few decades ago, significant changes in sleep culture have been observed worldwide.
The problem in numbers
62% of adults around the world say they don't sleep as well as they'd like (Philips Global Sleep Survey, 2019).

As many as 67% of adults report sleep disturbances at least once every night (Philips Global Sleep Survey, 2019). 8 in 10 adults around the world want to improve their sleep.
44% of adults around the world say that the quality of their sleep has gotten worse over the past five years (Philips Global Sleep Survey, 2019).
70 million Americans have chronic sleep problems (CDC, 2017).
Goal & Global Impact
Goal
They aim is to make people more aware of the risks of their phone use. That's why they decided to reward everyone who puts down their phone or sleeps. It's as easy as it sounds, sleep to earn.
For people who are not invested into the crypto and blockchain space, SLEEP is an amazing way to get started and learn about the amazing world of blockchain. These people can even earn before they learn how to use a Decentralized Wallet. This will also be their first step in the Web3 world.
Global Impact
Sleep is an essential function that allows your body and mind to recharge, leaving you refreshed and alert when you wake up. Healthy sleep also helps the body remain healthy and stave off diseases. Without enough sleep, the brain cannot function properly. With SLEEP they can get millions of people to put down their phone and improve their health by quality sleep.
About SLEEP
SLEEP is the first Web3 lifestyle app where users learn about the importance of quality rest and generate income while sleeping.
About Luxpad
Luxpad is a decentralized self-served launchpad platform, create your own customized IDO Launchpad, Token, NFT, Staking contract and launch on any blockchain inside in Luxpad platform with cheapest service fee.
About SLEEP
Ameta is a game that combines the genres of casual, farming, and adventure through an attractive social system.
SOURCE: https://twitter.com/LuxpadOfficial/status/1572427412188835840