Ruby Strategic Partnership With TeaDAO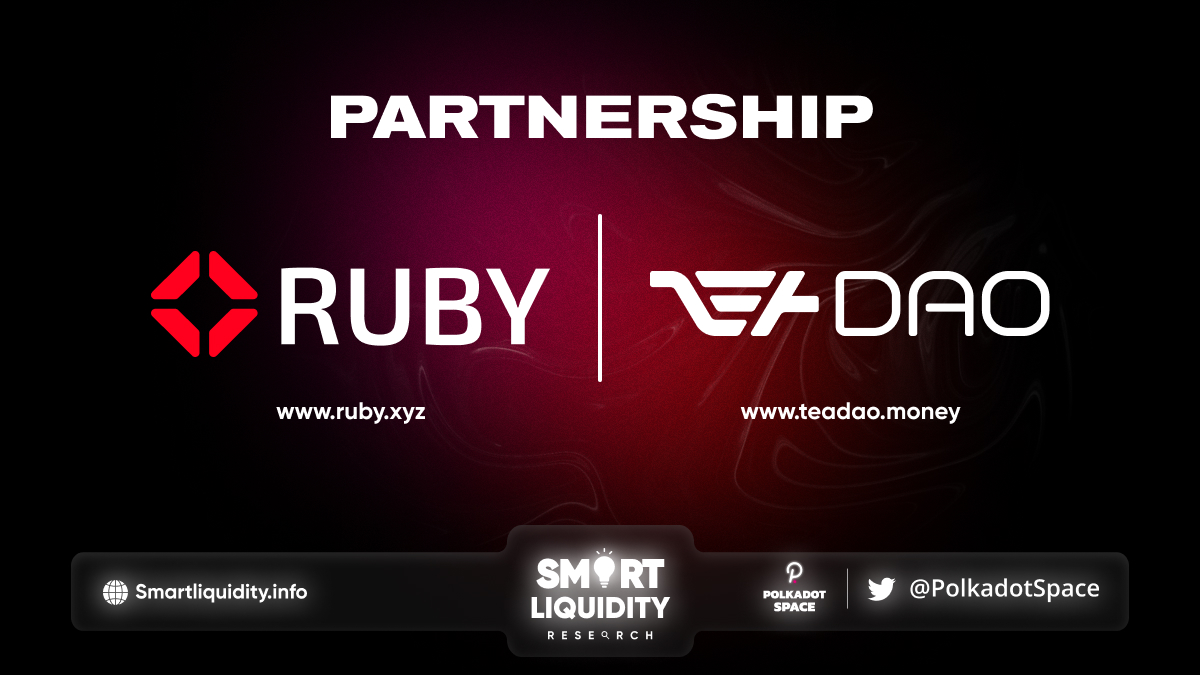 Ruby Strategic Partnership With TeaDAO
Ruby strategic partner with TeaDAO. It is the first Decentralized Metaverse Reserve Currency for GameFi, offering instant liquidity for NFTs through the NFT-as-Bonding-Assets mechanism. TeaDAO is an upgrade over OlympusDAO's "protocol-owned-liquidity" model, utilizing 3 concepts: DeFi 2.0 + Metaverse + GameFi in order to enable GameFi 2.0 by addressing the shortage of NFT liquidity.
The Ruby Protocol have been studying projects across the space, and they are super impressed by what TeaDAO is doing now. They believe Ruby Protocol and TeaDAO can make an excellent partnership since we focus on privacy solutions for Metaverse / DID-Gated events. There are too many synergies to pass on this opportunity.
One of the main aims of TeaDAO is to position itself as a financial center to facilitate the long-term development of the GameFi ecosystem through its NFT-as-Bonding-Assets mechanism, allowing GameFi projects to have a sustainable approach for incentivizing and rewarding gamers while balancing the net benefits for both current and new players.
They agree that commoditization and financialization in NFT markets would likely shape the delineation of such rights for users to exploit the asset potential of NFTs and power GameFi development. However, the notion of identity in this new age is becoming heavily intertwined with the assets held by individuals.
There are several ways in which owning, acquiring, and disposing of NFTs could give rise to privacy risks in the Web 3.0 era, including:
Online identifiers and avatars
Blockchain addresses
Transaction activity
Location data
They believe this partnership can offer TeaDAO users an additional layer of security & privacy protection using NFT asset mechanism. Ruby, in general, wants to provide a private data access-control gateway across different entities & organizations in the decentralized world.
About Ruby
Ruby Protocol a cross-chain, privacy-first infrastructure, powered by Polkadot. Layer-1 protocol utilizes FE cryptography. Allows users to adopt a modular approach to data privacy and ownership. This will allow users to encrypt sensitive information on-chain, which be decrypt by holders of an approve private key.