MetaRivals Partnership With Volt Inu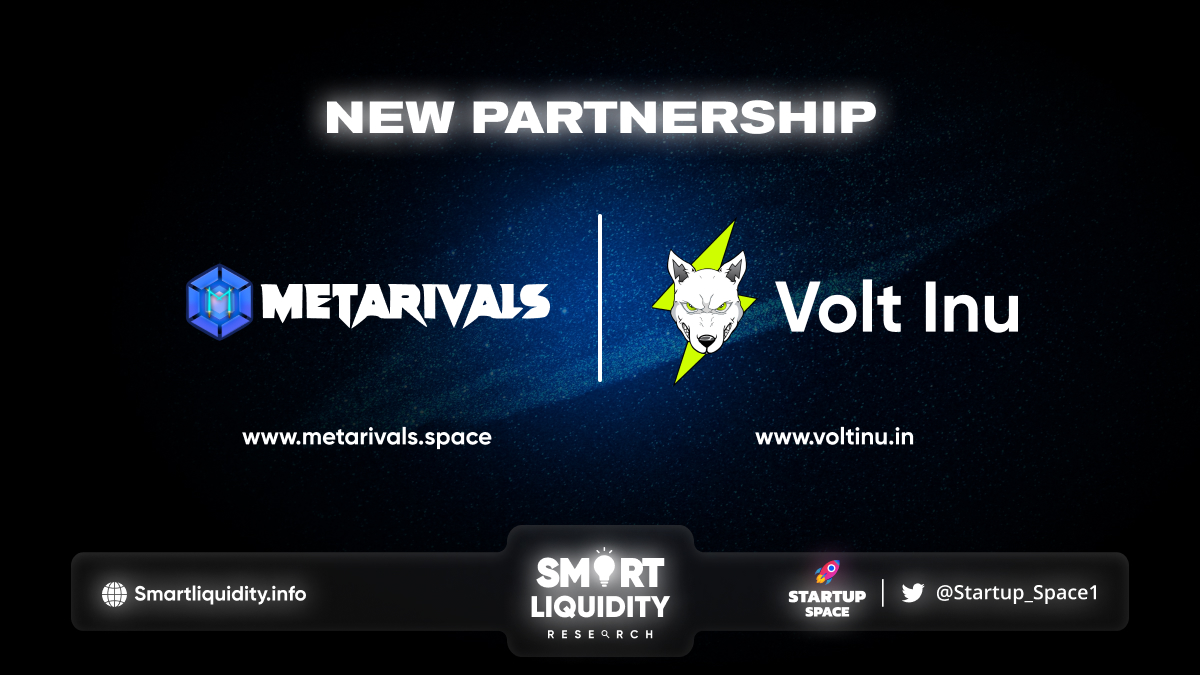 MetaRivals formally came into a partnership agreement with Volt Inu — a hyper-deflationary token, for Pay-2-Play-2-win on Scramble App.
The partnership has brought both projects closer to each other to serve their users the best #Web3 experience.
But what does this partnership bring to the table? No, it is not just a 'strategic' partnership but a partnership with utilities. With this partnership, MetaRivals team is all set to launch VOLT INU-inspired 3D characters to MetaRivals's metaverse.
VOLT use cases
NFTs
Shopping
Swap and Launchpad
Payments, donations, payouts
Gaming
MetaRivals has already launched an MVP metaverse version and will be deploying their game in Q1 of 2023. MetaRivals gaming app aims to create battlefields for all the crypto-inspired characters and provide them a platform to express themselves and even combat against each other while giving crypto users a chance to represent their community and favorite coin.
#MetaRivals DEMO is ready … Check it out😍 pic.twitter.com/7mEyrs8KA6

— MetaRivals⚡️🎮🤺🥷 (@RealMetaRivals) August 18, 2022
MetaRivals applauds and respects the VOLT INU community and the way its followers have created such a big revolution in the #crypto market and that's why, Volt Inu users can now own VOLT INU -inspired 3D NFTs and can use them to play in the MetaRivals game and combat against other crypto-inspired characters like SHIBA, APE, KISHU, and LUNC (The WereWolf).
12% of the revenue generated by the sales of VOLT INU NFTs will be forwarded to our "BuyBack & BURN" program, a special fund we have created for our partnered projects that supports the buyback and burning of the native tokens that collaberate with us. VOLT INU and LUNC will be the first two beneficiaries of this program and the revenue we generate from these NFTs will lead to buyback and burn of these two respective coins.
MetaRivals has recently partnered with JioGlass, a subsidiary of Reliance Jio which is the biggest telecom network in India with an active user base of 400 million active userbase. JioGlass is an AR/VR glass and our partnership with JioGlass will help us introduce all of crypto-inspired 3D NFTs on JioGlass and its 400+ million subscribers.
#Metaverse industry is about to be revolutionised in India by #JIOglass 🕶️

And 🎮 #MetaRivals aims to be at the forefront of this revolution 🔥👀@JioglassDevs

🕶️ + 🎮= 😎 pic.twitter.com/9mNH1YH9nU

— MetaRivals⚡️🎮🤺🥷 (@RealMetaRivals) September 30, 2022
About Volt Inu Community:
Volt Inu ($VOLT) is a hyper-deflationary token whose aim is to invest in multiple asset classes such as NFTs, nodes, altcoins, staking & farming of stablecoins. This investment diversity allows to mitigate the risk while taking advantage of the possible non-correlated growth of the trending assets.
About MetaRivals
Metarivals is an addictive arcade-style beat-em-up metaverse game that enables players to battle the warriors based on crypto inspired Avatars.
SOURCE
https://www.metarivals.space/post/all-you-need-to-know-about-metarivals-partnership-with-volt-inu