WARP Upcoming IGO On Vulture Peak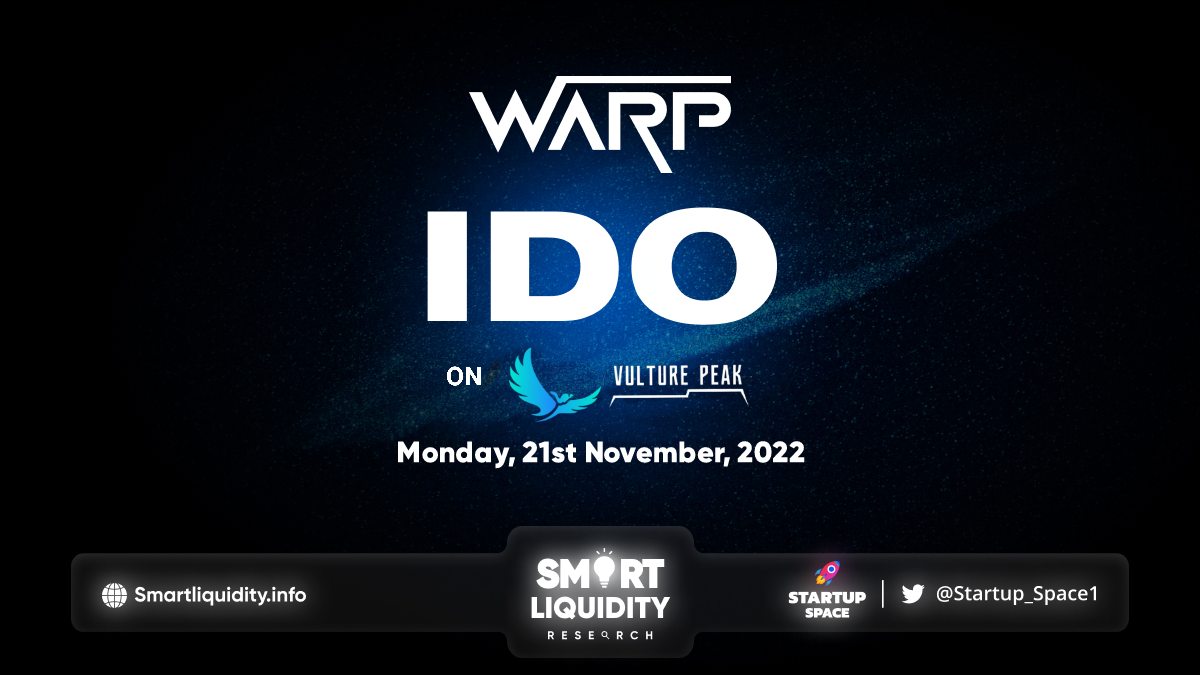 WARP will launch its upcoming IGO on Vulture Peak, a community-driven Launchpad and Investment fund focusing on blockchain games, metaverse, DeFi, NFTs…
Project Overview 
WARP, a Sci-Fi multiverse that brings the best of blockchain and gaming where one gets to experience GameFi, NFTs, and DeFi all in one multiverse.
It allows an online arcade game with NFT and multichain integration for a seamless metaverse experience and a place where you collect, play, and earn.
The WARP Season 1 launched as a POC (Proof of Concept) and is running live on a multichain environment, and WARP Season 2 aims to make that concept a reality with GameFi, NFTs, and Defi integration.
WARP along with Vulture Peak help in unlocking the seamless multiverse real-time cross-chain gameplay and building a closer community and making a real difference.
Important Details for IGO
Date: 21st November 2022
Round: Launchpad Round
Hard Cap: 20,000 BUSD
Registration and Fund Deposit:
21st November 2022, 10 am UTC — 22nd November 2022, 3 pm UTC
Registration Fees: 350 VPK (for registration)
Total Entries: 100
Allocation per participant/wallet:
Min: 50 BUSD
Max: 3000 BUSD
Token Name: $WARP
Price per Token: $0.01
Total Supply: 1,000,000,000
Initial Market Cap: $395,000
Vesting Schedule: 25% at TGE, thereafter 15% for the next 5 months
TGE: 28th November 2022
Chain: BSC
Tokenomics: Please check here!
Token Claiming Details
The participants will have to claim their tokens as per the vesting schedule on Vulture Peak's official vesting portal. The Vulture Peak team will be providing the link before the TGE.
How to Participate in IDO/IGO on Vulture Peak
Please check our article on how to participate in an IDO/IGO on the Vulture Peak platform or click here for a visual guide on how to participate.
Get ready with your $VPK tokens to get an allocation on a First Come First Serve basis, with No staking requirement or locking of tokens while you get a Guaranteed allocation!
Please click here to participate in the IGO of WARP.
About WARP
WARP combines the best elements of blockchain and gaming into a single, all-encompassing package, including GameFi, NFTs, DeFi, multichain integration, and passive income generation, all wrapped in a sci-fi multiverse. Battle or race your NFT starships against players from every connected blockchain, go on expeditions for prizes, and enjoy their Galactic Club mini games!
About Vulture Peak
Vulture Peak is a pioneering Launchpad and an Investment fund focusing on blockchain games, NFTs, Metaverse, DeFi, and other recent developments in the blockchain space. It aspires to provide equal opportunities for all to participate in IDOs and the early stages of the project. Vulture Peak will provide IDO allocations on First Come First Served basis and users will not have to stake/lock up any tokens to get whitelisted.
SOURCE
https://medium.com/@vulture_peak/announcing-warps-igo-on-vulture-peak-e39af8030708