Aether Games and Ultra Integration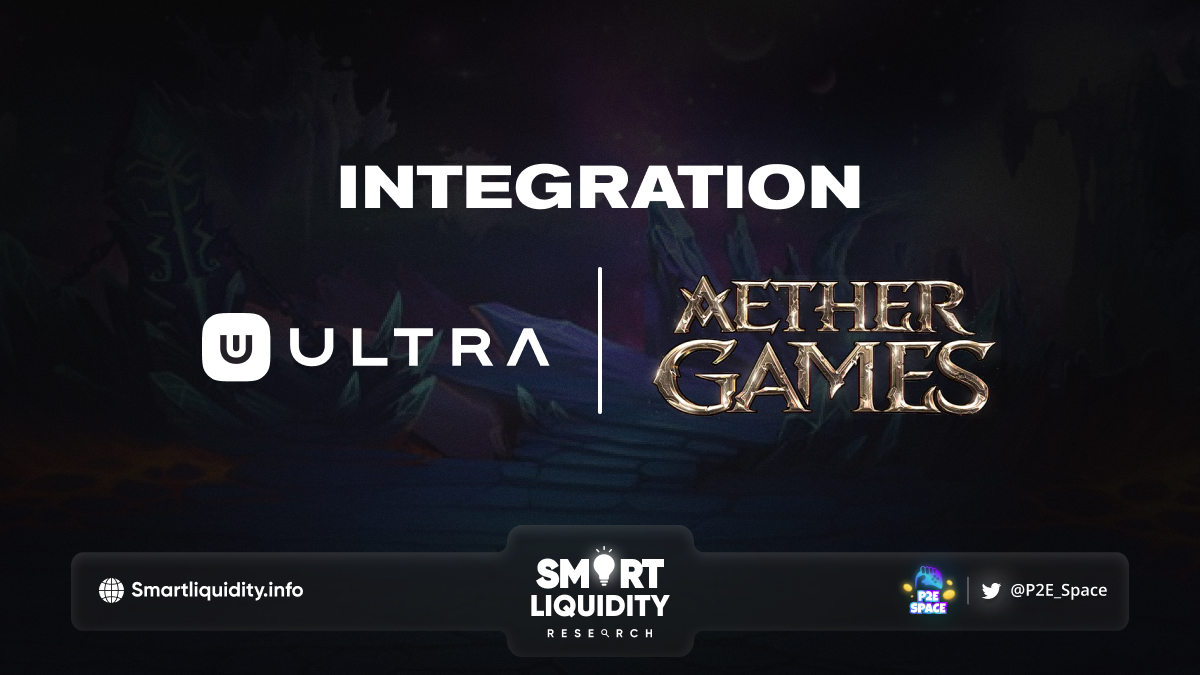 Ultra has integrated with Aether Games, a game developer and publisher focusing on high-quality games that utilize blockchain technology, to provide a variety of new opportunities to players.
Aether Games is a game development studio with a mission to provide high quality games that utilize the advantages of blockchain technology. Ultra focuses on bringing these titles to the Ultra platform and provide game developers with tools that make the most of what blockchain has to offer.
They've teamed up to take their vision to the next level, with Aether Games incorporating Ultra's technology into their titles, distributing games on Ultra's storefront, and also developing NFT collections for players!
Providing seamless and rewarding experiences for all
Aether Games is currently developing titles such as Cards of Ethernity, a digital collectible card play-and-earn game that enables users to trade their cards freely, and Gates of Ethernity, a 3D desktop-based auto-battler game with an AR app to see creatures.
The studio is also taking the universe created for Aether Games one step further and working with the same financial team behind Netflix's series Arcane to develop their very own CGI animated series titled Aether.
The team at Aether Games is made up of many experts in the film and games industry, including but not limited to those who have worked on titles such as Master of Orion, Baldur's Gate, League of Legends, Far Cry 6, and Love, Death, and Robots.
This partnership will provide players with several new titles to play within the Ultra Games app.
All games in Aether Games' catalog are built in the same franchise and also metaverse. Providing players with an array of opportunities to enjoy a new experience when gaming.
"We're excited to start working together with Ultra to take Aether Games to the next level. Aether Games is tapping into the entertainment space with its series, while also focusing on the emerging Esports and gaming market where Ultra provides a smooth all-in-one user experience for both web2 & web3 players."

Jens Peeters, CEO of Aether Games Inc.
They'll also be working together on Uniq collections that will be available exclusively on the Uniq Marketplace. These Uniqs will be attached to various perks within the Aether Games universe. Giving players a chance to make the most out of their gaming experiences.
"We're thrilled to welcome Aether Games as one of our many valued publishing partners!

By utilizing our expansive ecosystem and mainstream-ready technology, we'll work together to ensure our collaboration provides players with more rewarding experiences and opportunities.

We'll focus on distributing Aether Games' titles on Ultra Games, giving the studio access to our technology, and hosting NFT drops on the Uniq Marketplace. Through these activities, we'll enable our communities to truly immerse themselves in the Ultra ecosystem and Aether Games' universe."

Nicolas Gilot, Co-CEO of Ultra
Cards of Ethernity
Cards of Ethernity is a digital collectible competitive card play-and-earn game built in the dark fantasy universe known as Aether. At its core CoE is a blockchain-based game, enabling users to trade and sell their cards freely. With the same level of ownership as if they were real, tangible cards. CoE was designed to be a quick, fun, and accessible game. But also offers significant depth, strategy and complexity for more serious players.
The game currently features 150 collectible cards, and players can build and also explore their card collections. Through an in-game collection browser. Players can gain new cards by purchasing NFT drop packs. Using $AEG Token, an in-game currency, or by crafting new cards. Players can choose to play various different Adventurers complete with its own unique creatures, spells, and also relics. Each Adventurer has its own unique trick, which tends to epitomize its character and playstyle.
Gates of Ethernity
Gates of Ethernity (GoE) is a highly addictive strategic gameplay where players are challenged. To make well-thought-out decisions, given the limited number of characters to choose from in each round.
About Ultra
Ultra is the first entertainment platform providing all key games industry services under a single roof, accessible through a single login. It has been built to provide endless value for players, a fair playing ground for developers. And also a whole new world of opportunities for the games industry.
About Aether Games
Aether Games is a game development studio & publisher brought by a collective of talented individuals and studios coming together from the industry's most recognized organizations such as EA Games, Riot Games, Hi-Rez Studios, Activision Blizzard, Ubisoft, Wargaming, and Plarium. The focus of Aether Games is on the delivery of true ownership, transparency and also more power to the users. Collectors and gamers while immersing everyone into a vast, cross-game dark fantasy world known as the Aether Universe.
SOURCE: MEDIUM