Binance Labs Strategic Investment in Ambit Finance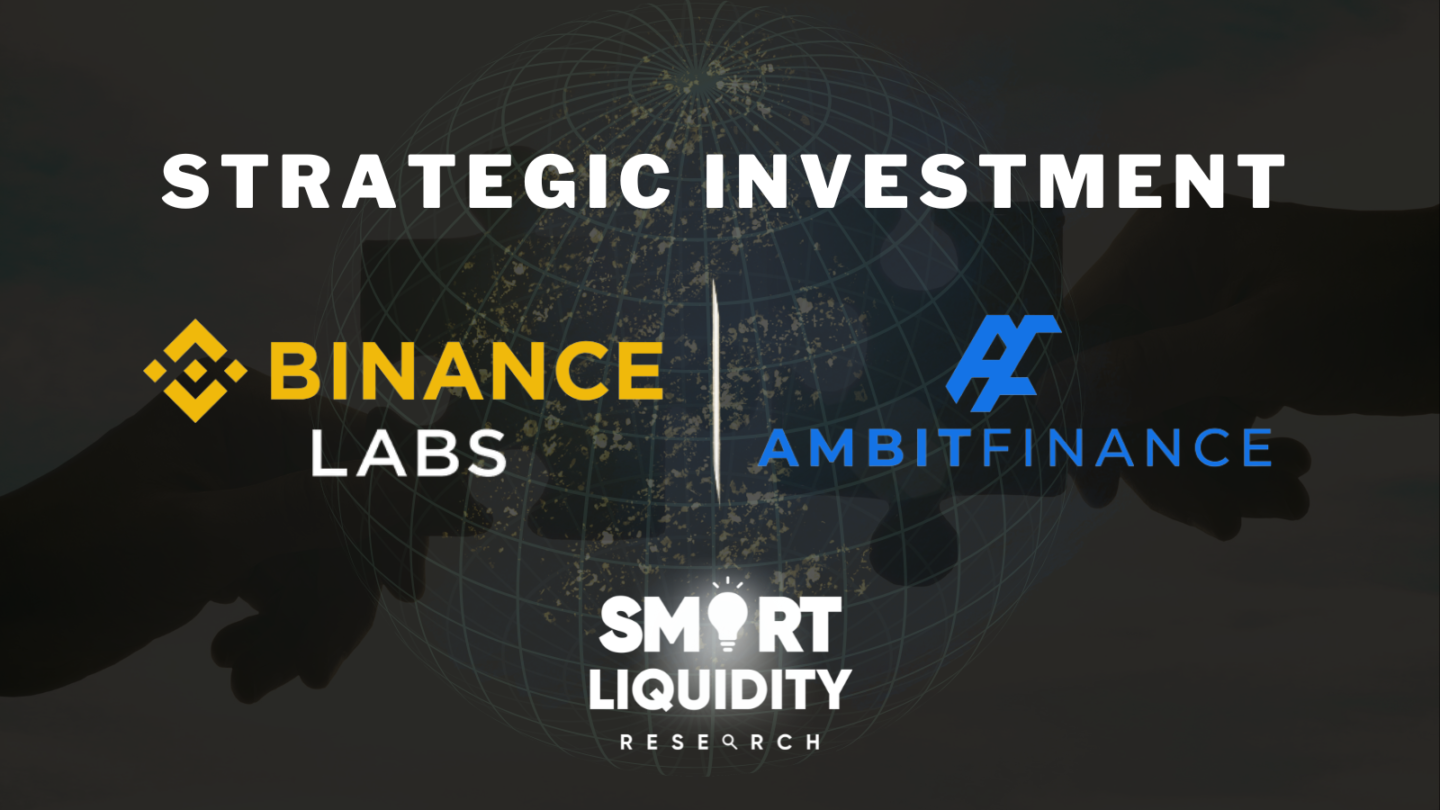 Binance Labs, the company's venture capital and accelerator, has committed up to $4.5 million in strategic investment in Ambit Finance, a DApp that uses novel structured financial products to increase the utility of BUSD and other select crypto assets.
Binance Labs has made a strategic investment in Ambit Finance to accelerate the development of trustless DeFi within the BNB Chain ecosystem.
Collaboration Highlights
Binance Labs and Ambit will also collaborate on the launch of future DeFi apps with a focus on innovation, security, and risk management, as well as partner with projects within the BNB Chain ecosystem and beyond.
With the creation of a yield-bearing BUSD-based stablecoin designed to provide sustainable yield in all market conditions. Ambit will open up new use cases for BNB Chain users. The project's multi-phased roadmap will also include the development of a DeFi Superapp that will incorporate both existing DeFi functionalities such as collateralized lending as well as innovative solutions for domains such as under-collateralized margin lending and structured products for financial institutions. Ambit's North Star will strive to provide the most unified user experience in
BUSD, issued by Paxos, is regulated by the New York State Department of Financial Services (NYDFS). In line with the regulatory requirements. BUSD offers a transparent product that verifies, protects, and ensures the reserves, efficiently maintaining the stablecoin's US dollar peg. Paxos provides a monthly audited report of reserves in compliance with the most stringent reporting standards to ensure the security and safety of user assets.
Management Quote
Yi He, Co-Founder of Binance and Head of Binance Labs, commented: "Binance Labs is always into nurturing and making investments in promising DeFi projects. We believe that there are solutions and teams to build products that can contribute to building a trustless DeFi industry even in a turbulent market."

Tyler Z., Investment Director at Binance,added: "We believe this strategic investment to be an opportunity to introduce an advanced lending protocol to the BNB Chain community. We hope that Ambit Finance can bring mass adoption of DeF. And that users on BNB Chain will be able to enjoy multiple tailored approaches to advanced lending and risk control."

Co-Founder and CEO of Ambit Finance, Sphere CM, commented: "The Ambit team has unprecedented experience in scaling mass-adoption protocols. The product will leverage lessons learned over the past year and make security and sustainability its governing principles. We will work closely with BNB Chain to make Ambit a cornerstone of the ecosystem's on-chain strategy. Paired with Binance's trusted brand and market strength, to make it a magnet for financial institutions entering the crypto space."
About Binance Labs 
Since 2018, Binance Labs has invested in more than 200 initiatives across more than 25 nations. The Binance Labs Incubation Program has also supported over 50 native Web3 target projects. They include Polygon, Perpetual Protocol, Dune Analytics, and others. The accelerator and venture capital division of Binance, founded by Binance Ceo Changpeng Zhao.
About Ambit Finance
Leveraging the team's experience in building Anchor into a $20B TVL protocol. Ambit Finance is a sustainable, comprehensive, and easy-to-use suite of fintech apps ("Superapp"). Incorporate lending, borrowing, and yield optimization strategies to further the utility of BUSD and DApps in the broader BNB Chain ecosystem. A launching pad for a "decentralized Binance" that will combine the useability of Binance.com with the latest innovations in DeFi.   
SOURCE
https://www.binance.com/en/blog/ecosystem/binance-labs-invests-up-to-$45-million-in-ambit-finance-to-boost-defi-on-bnb-chain-6154125111603509657