Meme Coins To Explode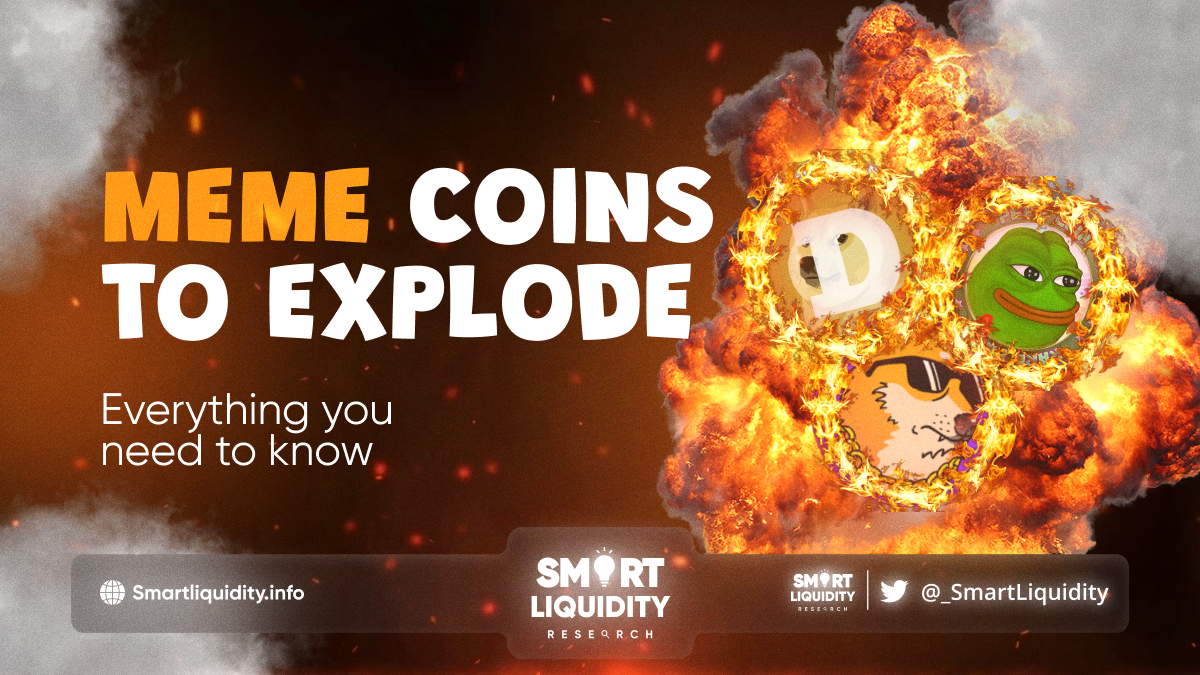 Meme coins are a type of cryptocurrency characterized by a positive and enthusiastic user base. Cartoon or zoo animal memes are sometimes used to represent them. Dogecoin and Shiba Inu were two of the most popular cryptocurrencies to become internet memes during the current cryptocurrency boom.
What Is a Meme Coin?
The cryptocurrency community coined the term "meme coin" to describe widely traded digital currencies that are often portrayed with humorous or animated memes. Despite their entertainment appeal, investing in meme coins will likely waste time and money.
These include currencies like Dogecoin and Shiba Inu, designed more for laughs than practicality. To prevent surprise volatility and losses when purchasing or selling meme coins, familiarizing yourself with the dangers involved is essential.
Is Meme Coin a Good Investment?
Numerous other meme coins have left ordinary investors deep in the red, much like Dogecoin did.
While the Shiba Inu is down 84% from its peak, even Dogecoin is down 91%! Both still retain market capitalization of $8.5 billion and $6.6 billion, respectively. In contrast to Bitcoin's limited amount of 21 million, Meme coins typically have a large or limitless supply.
There is around 135.5 billion DOGE in circulation, and a successful miner earns about 10,000 DOGE (equivalent to about $660) every minute. Compare that to Bitcoin, where roughly $143,000 (or 6.25 BTC) is created every 10 minutes, and you get an idea of the magnitude of the difference in the issuance rate. Even among meme coins, Shiba Inu and Dogecoin stand out as examples of success. Most meme currency, though, is destined to disappear.
Dogecoin's competitors in 2013 and 2014 are forgotten: "Nobody recalls the names of Dogecoin's competitors from 2013-2014, that now don't trade anywhere and destroyed unfathomable amounts of speculative money," says Jonathan Zeppettini, Decred's international operations lead. We tend to look just at the winners and overlook that they are anomalies. However, ordinary investors still need to try to get rich. But it's still wise to view these more as risks than investments.
What Are The Top 10 Meme Coins?
🔸Dogecoin (DOGE)
Dogecoin (DOGE) was founded in 2013 by software programmers Jackson Palmer and Billy Marcus and is one of the most widely used meme coins. Its market capitalization of $55 billion in April 2021 propelled it into the top 10 cryptocurrency rankings. Similarly to other assets, DOGE benefited from the supply and demand market forces.
Despite its seemingly endless supply, demand for DOGE skyrocketed in the first few months of 2021. Thanks to the efforts of Dogecoin and Reddit, the general cryptocurrency boom, and the tweets of influential people, its value increased by 7,000% in the first few months of 2021.
🔸Shiba Inu (SHIB)
The Shiba Inu is the inspiration for the Shiba Inu (SHIB), an alternative cryptocurrency built on the Ethereum (ERC-20) platform. Its backers have called their cryptocurrency the "Dogecoin killer" because it is often used as a substitute for Dogecoin. In August 2020, an unnamed person or people using the name Ryoshi released a service called SHIB. According to Ryoshi's paper, SHIB's decentralization is ensured by the Ethereum ecosystem's reliability and security.
🔸Dogelon Mars (ELON)
On April 23, 2021, a new meme coin called Dogelon Mars (ELON) was released. The mascot of ELON, the name of the cryptocurrency, also appears in a comic book series that is being marketed as an NFT (NFT). FACTOID: After Shiba Inu's publicity stunt, the ELON team gave 50% of the token quantity to Ethereum co-founder Vitalik Buterin. Buterin gave roughly 43% of all ELON tokens to the Methuselah Foundation.
🔸MonaCoin (MONA)
In 2014, a mysterious person going by the alias "Mr.Watanabe" released a cryptocurrency called MonaCoin (MONA). It is a cryptocurrency that uses the Litecoin protocol and is primarily traded in Japan. The key distinction is that MONA used Lyra2REv2 as its mining algorithm of choice rather than Scrypt. The latter doesn't require specialized mining hardware known as "ASIC miners" and uses less energy overall.
🔸Shiba Predator (QOM)
Regarding market cap, Shiba Predator (QOM) is currently in the 406. This meme coin has a total of US$ 50. As of this writing, one unit of QOM costs USD 0.00000008522, and a 24-hour trading volume of USD 3.2m is taking place.
🔸Samoyedcoin (SAMO)
The Samoyedcoin (SAMO) was designed as a Solana meme coin to benefit the community. The SAMO mascot is an image of an Eastern European dog called a samoyed (амоeд). In honour of Solana co-founder Anatoly Yakovenko, who already owns a samoyed, the breed was selected as the official mascot.
🔸ERC20 (ERC20)
CoinMarketCap lists ERC20 (ERC20), a meme coin with a market valuation of $40,463, as the 2457th most valuable cryptocurrency. As of June 8, 2022, the price of ERC20 is 0.0000358 USD, with a 24-hour trading volume of about USD 24,666.
🔸Hoge Finance (HOGE)
The Hoge Finance (HOGE) token is an ERC-20 (not to be confused with ERC20) token that is used in the Decentralized Finance (DeFi) industry. The asset was formerly referred to as Hoge. Finance, or Hogecoin, was released on February 7, 2021.
🔸Banano (BAN)
Banano (BAN) is a Directed Acyclic Graph–based cryptocurrency developed in the fourth generation (DAG). There is a separate blockchain for each user, and BAN tokens are constantly and equitably distributed through various channels, including faucet games, airdrops, and more. The 2018 Nano currency hard fork produced BAN.
🔸Doge Dash (DOGEDASH)
According to data from CoinMarketCap, as of June 8, 2022, the market capitalization of the meme coin Doge Dash (DOGEDASH) was $6,000,000. DOGEDASH is currently trading at $0.0001537 with a 24-hour volume of about $72,633.
Where Can I Buy Meme Coins?
The use of a cryptocurrency exchange facilitates the acquisition of meme coins. You can buy and sell cryptocurrency with other users on centralized exchanges like Gemini, Binance, Coinbase, FTX, and Kraken. A cryptocurrency wallet, which allows you to keep custody of the money outside of an exchange, is necessary for decentralized exchanges like PancakeSwap.
Conclusion
Meme coins are a novel form of digital currency, but they are extremely vulnerable to lose. Most investors should only risk what they can bear to lose. You can become the next cryptocurrency millionaire if you guess the next major coin before its online fans send it "to the moon," but the odds are extremely low. Caution is warranted while spending potentially fraudulent meme coins.