Yield Yak Collaboration with GMX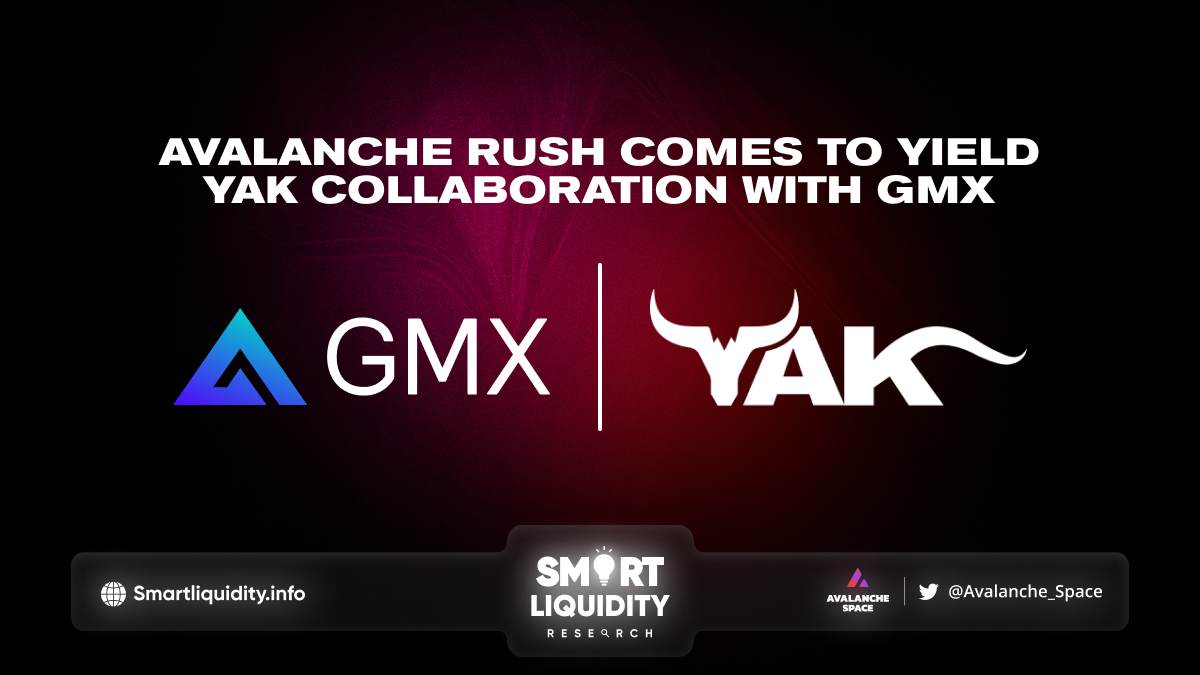 Yield Yak Collaboration with GMX up to $100k in AVAX Avalanche Rush rewards.
Avalanche's top two DeFi protocols, Yield Yak and GMX, have announced a number of partnerships that will assist both ecosystems develop and better synchronize the two communities going forward.
TL;DR
Up to $100k in AVAX Avalanche Rush rewards are coming to Yield Yak. Rewards will be distributed to Yield Yak's GLP strategy depositors over the course of four months.
YY will be launching a novel upgrade to Yak Swap which adds GLP as a tradeable asset. GLP transactions will go via the most under- or over-balanced assets if slippage is less than fees. The adapter is compatible with GMX.io and other protocols.
YY and GMX communities have completed a YAK <> esGMX treasury swap aimed at aligning financial interests, with esGMX going towards further boosting Yield Yak's GLP vault.
Avalanche Rush comes to Yield Yak
Launched in August 2021 by the Avalanche Foundation as a liquidity mining incentive program, Avalanche Rush aims to expand the Avalanche Ecosystem, with $4 Million in AVAX allocated to support GMX. Via this allocation, Rush is arriving at Yield Yak with up to $100k in AVAX rewards for its GLP vault.
Depositors will get rewards proportionately over four months. The vault's 7-day average TVL will decide the month's prizes. Avalanche GMX traders profit from TVL milestone rewards, which drive GLP development throughout the ecosystem.
Yield Yak's Approach to GLP
Yield Yak's GLP strategy was the first of its kind, with a strategy to continuously stake esGMX in perpetuity in order to maximize GLP rewards for all depositors.
Specifically, here's how it works:
AVAX rewards are compounded back into GLP
Earned esGMX are staked forever to increase total vault rewards
Yield Yak's GLP vault depositors get esGMX without vesting it, increasing their GLP payouts (which requires staking a significant amount of GMX).  The method benefits GMX and Yield Yak users.
About GMX
GMX is a permissionless and decentralized exchange system that provides a capital-efficient on-chain alternative for hedging Bitcoin, Ethereum, and AVAX.
About GLP
GMX's liquidity provider token, GLP, receives 70% of the protocol's blockchain fees. GLP's value depends on many things, including the platform's liquidity pool tokens. BTC.b, WETH, and AVAX make up the GLP pool's remaining 50%. When leverage traders lose, GLP holders win, and vice versa. Past PnL data, GLP price chart and other stats can be viewed on https://stats.gmx.io.
About Yield Yak
Yield Yak builds tools for DeFi users on Avalanche. Yield Yak Farms auto-compounds rewards for you. Yak Swap finds the best price execution for dex trades. yyAVAX is Avalanche's highest yielding liquid staking token.