Notifi New Cross-Chain Integrations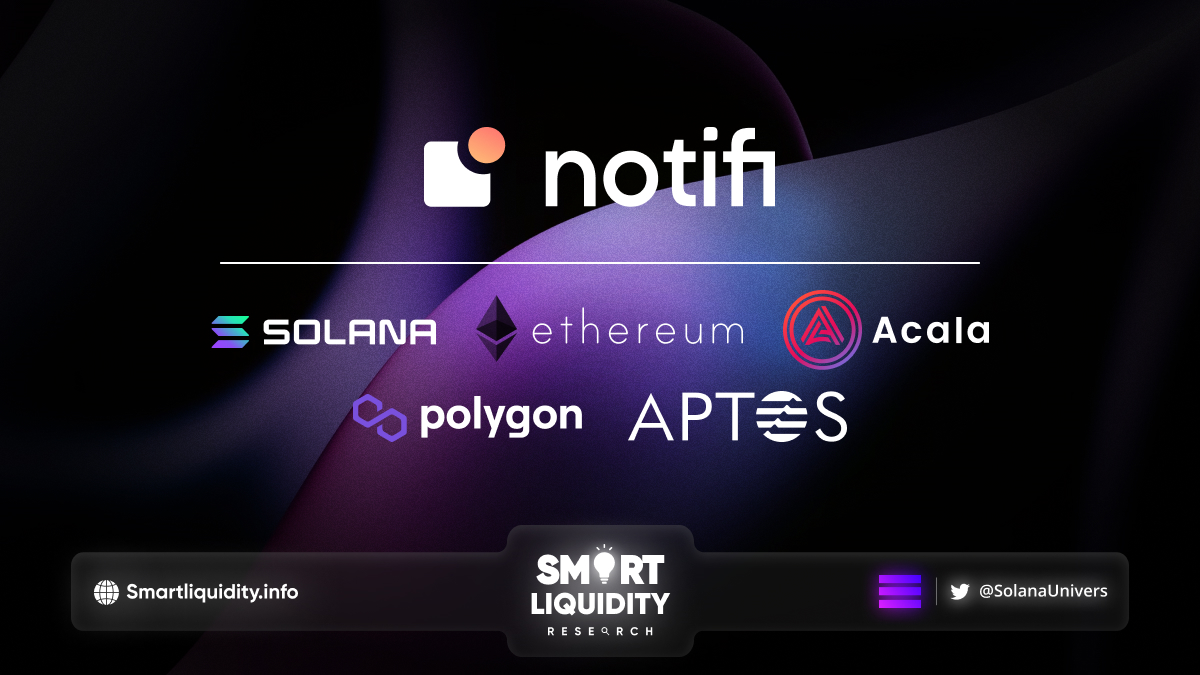 Notifi Hub, new cross-chain integrations with Polygon, Aptos, and Acala blockchains! Alongside Ethereum and Solana, users can connect their respective crypto wallets to receive notifications, track other addresses and dApps, and even send wallet-to-wallet messages from their preferred wallet and chain.
The first web3 inbox, Notifi Hub, supports Aptos, Polygon, Acala, Ethereum, and Solana and aggregates new cross-chain integrations notifications and messaging into a single hub.
Notifi is building products for a multi-chain world. With new ecosystems popping up all the time, Notifi wants to cater to all users and environments by providing a communication infrastructure that suits any web3 need.
Overview
The first web3 inbox to combine cross-chain notifications and messaging into a single hub is called Notifi Hub. Users can currently track and manage all of their messages and alerts across various blockchains, wallets, and dApps in one place thanks to Notifi Hub. We at Notifi want to gather all of a user's important web3 data under one roof. Anyone with an Ethereum, Solana, Polygon, Aptos, or Acala wallet can connect immediately through Notifi Hub!
The best way to think of Notifi Hub is as a web3 inbox. Similar to an email client, Notifi Hub gathers all messages and notifications from all subscribed dApps that are pertinent to you. Anyone can sign up for a variety of alerts, such as those for wallet transactions, security flaws, updates for dApps or DAOs, and more.
Another feature of the Notifi Hub that enables cross-chain messaging between users is xMS. Users of Solana and Polygon can communicate with Ethereum wallets via Aptos, and so forth. Simply connect your wallet to one of our many options, then leave!
How it Works?
Users must first access this website to start using Notifi Hub. You can sign up for the notification channels you want, such as email, SMS, and/or Telegram, after choosing which wallet to use. Checking the history of alerts is also possible using the native, in-app web3 inbox.
From Metamask and Phantom to Pontem and Unstoppable Domains, they support almost every wallet. You can link both your Ethereum and Solana wallets, for instance!
Users can click around and explore all the helpful features they have available after signing up and getting set up. Notifi Hub is packed with tools to enhance any cryptocurrency experience, from private transactions to whale watching and security alerts. If you're not sure where to begin, we even have a carefully curated list of subscriptions from some of our partners available.
Notifi in a multi-chain world
There is no shortage of innovation in web3, and as a company that wants to build on the bleeding edge, Notifi is creating tools that can integrate across many blockchains and ecosystems.
They see user experience as one of the biggest hurdles for onboarding the next 100 million crypto users. Most users without prior web3 experience probably won't care if they are using Ethereum or Solana. Instead, they want a seamless experience that removes all of the complexities.
For instance, the typical iPhone or Android user is not familiar with the technology that enables these devices to communicate with one another. Calls, texts, and even social media apps all function the same way and have a similar user interface across phones. A similar experience for blockchains should be provided, according to Notifi.
Notifi wants to be at the forefront of web3's expansion to meet the needs of the general public by developing solutions that anyone can use and find useful. The success of their business and the widespread use of web3 depend critically on the effectiveness of the communication infrastructure.
About Notifi
Notifi is the Twilio for Web3. Notifi simplifies communication across all Web3 messaging channels. The Notifi platform is designed with simple APIs. For easy integration and customizable and advanced features for dApps and Web3 applications. Notifi empowers developers to better engage with their users via multichannel communications.
SOURCE
https://medium.com/notifi/notifi-expands-multi-chain-polygon-aptos-and-acala-enter-the-notifi-hub-5006ed46e93