MetaRace Partnership with UNITBOX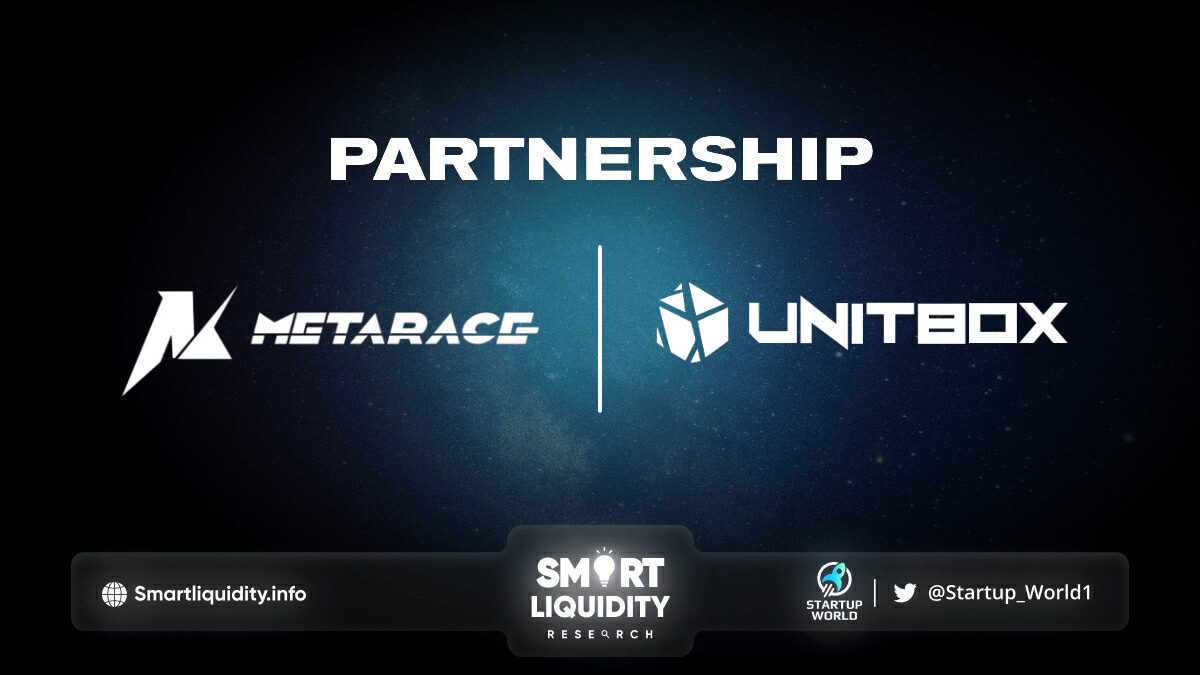 MetaRace is excited to announce partnership with UNITBOX, An Efficient Rent-To-Earn Model for the GameFi Universe.
Project Overview
UNITBOX Protocol is offering maximum rewards through NFT rental. Most decentralized games require in-game NFTs and other assets for participation. We thought it would be fair to allow players to earn the same rewards using rented NFTs.
The Problems of NFT Rental
NFT rental in most P2E games requires a substantial initial investment. Owners of NFTs do not often possess the skills or have as much time to master and excel at DeFi games. Even though owners wish, there is no investment tool that lets them easily rent out their priced NFTs.
Added to this is the problem of volatility, and as they know, being in its infancy, the cryptocurrency market is a bit beyond volatile. The NFTs lent out lose value over time, and the predefined fees paid by players and NFT owners reduce GameFi platforms to honeypots.
The UNITBOX Protocol Solution
They present an NFT rental solution based on the revenue sharing model. UNITBOX Protocol is a decentralized opportunities aggregator for players and an investment tool for NFT owners. Making NFT allows NFT owners to do whatever they like with the asset they own while removing all barriers to entry. With the influx of players sponsored as scholars with borrowed NFTs, the number of players will grow exponentially. Following a revenue-sharing model, the protocol distributes profits between the NFT owners and the players (players). Guilds can track and manage players using a unique set of tools offered on the dashboard. A new use case of wNFT powered by smart contracts also lets owners call back their NFTs if they determine that the payer is less profitable. NFT owners can also maximize their returns by selecting true players who constantly turn in profits.
The UNITBOX Platform
UNITBOX multisided platform comprises scholars, guilds, and owners. Rather than focusing on owners only, UNITBOX Protocol creates a win-win solution for all parties using a cluster of decentralized gaming innovations.
Scholars
Talented players can become scholars by renting gaming NFTs for free on UNITBOX protocol. You also keep all you earn while playing P2E games. So tighten up your belt and win more laurels.
Guilds
Guilds bring excellent players together to manage NFTs for owners on UNITBOX protocol. Guilds found a fine line between asset owners and qualified players in the old Play-To-Earn gaming models. Additional tools will improve their efficiency on UNITBOX protocol.
NFT Owners
UNITBOX Protocol is a DeFi investment tool. Owners can afford the NFTs in Play-To-Earn games but may not be as efficient at playing the games or simply do not have all the time. Instead of leaving valuables to sit around in a wallet, they can put their asset to work and earn passively from the wins of their favorite scholars. They can also call back their NFTs in a few clicks if a scholar proves unprofitable.
Games
Existing Web 3.0 games will integrate with the UNITBOX protocol and offer NFTs for sale. With multiple income streams, the utility of in-game assets also grows exponentially, inspiring the development of better assets and higher-quality games.
Staking Opportunity
Participants will contribute equally to UNITBOX protocol. They have built the platform economics around the UNIT tokens. The exponential growth of the GameFi ecosystem due to a low barrier to entry drives token demand. UNITBOX adopt a buyback mechanism to control supply and ensure sustainability. A staking mechanism allows holders to receive incentives, increasing the token's demand. At the same time, the demand for UNIT grows exponentially along with the value of the GameFi space, pumped by newer, immersive gaming experiences.
Technology
They are the first Rent-To-Earn platform based on a revenue-sharing model. Our wNFT technology wraps NFTs in smart contracts before lending the NFT to the scholar. The same functions unwrap an NFT when the owner calls back their asset.
About MetaRace
MetaRace is a play-to-earn game, combining real-world horse racing with the power of the blockchain. Players buy, breed and race NFT horses to compete for rewards in multiple tournament formats.
About UNITBOX
UNITBOX aims to bring value to four groups of people: guilds, scholars, gamers, and investors, offering new investment possibilities in the GameFi and Defi markets.
UNITBOX empowers transparent investing into P2E while lowering the entry barrier, so crypto investors can start earning instantly on rent and staking.
SOURCE: https://twitter.com/metarace_io/status/1608772736461176832