Nova Wallet's Integration With Parity Signer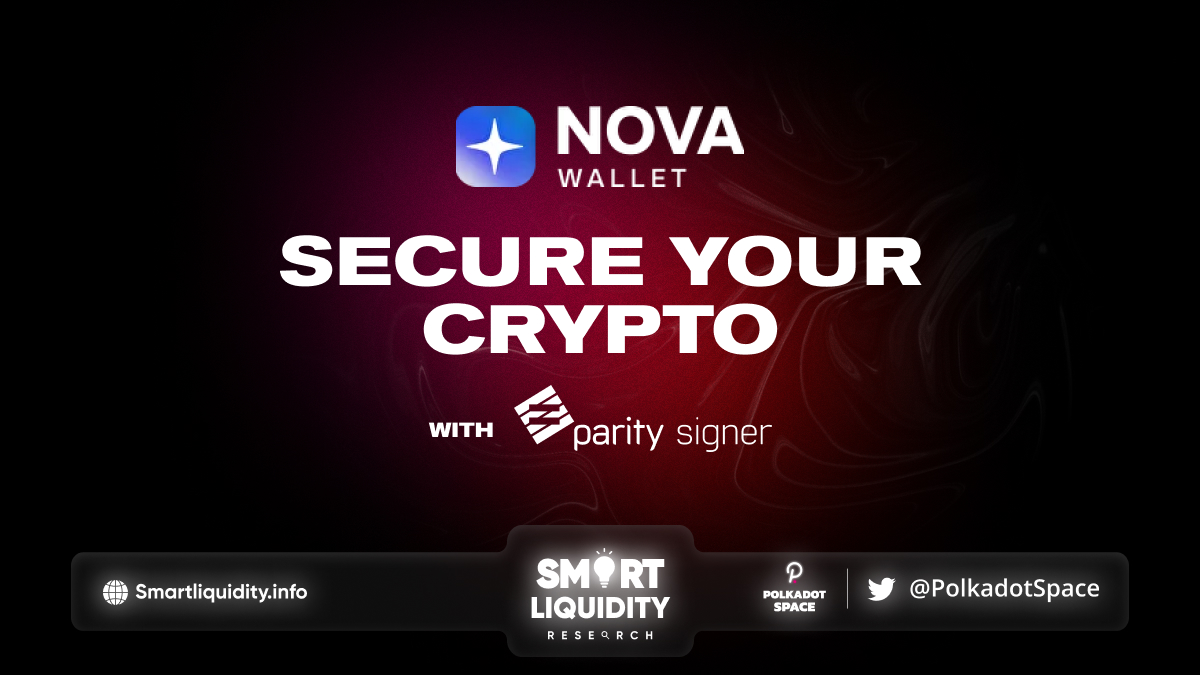 Secure Your Crypto with

Parity Signer
Give your old phone a new lease of life and greatly improve the security of your assets — without adding any utility compromises — introducing Nova Wallet's integration with Parity Signer!
Why use Parity Signer with Nova Wallet?
Simple cold storage solution optimised for Polkadot, Kusama, and other Substrate networks!
Secure your keys — your private keys are kept offline at all times, and transactions are air-gapped!
Nova Wallet's implementation significantly increases the types of transactions that you can easily execute using Parity Signer!
Use your old phone — no need to buy any new hardware!
Parity Signer integration a part of Nova Wallet's on-going commitment to implementing additional security focused features.
Best in class security
Parity Signer is the simplest cold storage solution for Polkadot, Kusama, and other Substrate-based chains such as parachains and solochains! Using Parity Signer in conjunction with Nova Wallet allows you to ensure that your private key is kept offline at all times which ensures the safety of your crypto assets, without sacrificing on your user experience.
It is very common for people to give their old phone a new lease of life by converting it into their Parity Signer device! Simply reset your old device to its factory settings, download Parity Signer, set the device to flight mode, and voila — you now have a secure hardware wallet.
Transactions are carried out by scanning a series of QR codes from each of your devices! This allows you to sign transactions on your Parity Signer device without needing to connect it to the internet, ensuring that your private key is never compromised!
No Compromises
Using Nova Wallet in conjunction with Parity Signer means you get the best of both worlds — the premium and elegant interface of Nova Wallet — with the added security of the Parity Signer cold wallet. The security provided by Parity Signer helps prevent you from being the victim of common security issues when, for example, connecting to malicious WiFi access points, or plugging your phone into a malicious charging point.
Nova Wallet greatly expands the types of operations that can be perform by Parity Signer accounts, as well as some other amazing Parity Signer focus features developed by the Nova Wallet team:
Parity Signer can be use with all Polkadot DApps
Parity Signer can now be use with 61+ networks
Premium multichain asset management experience with access to over 198 assets
Access to over 210 cross-chain transfer options
Crowdloan contribution capability
Support for staking 9+ tokens including DOT, KSM, GLMR, MOVR, and AZERO
Support for Governance v1 and OpenGov
NFT Management
Easily update your Parity Signer
We have created a metadata portal which allows you to update your Parity Signer with the latest blockchain metadata whilst staying offline. Updates by scanning an animated QR code, this keeps your device air-gapped and secure!
What's Next?
The Nova Wallet team is working very closely with the Parity Signer team to add Ethereum cryptography capabilities to Parity Signer! This will allow Parity Signer to be use for EVM networks such as Moonbeam and Moonriver.
About Nova Wallet
Nova Wallet a next-gen iOS/Android application for the Polkadot & Kusama ecosystem, which provides the ultimate mobile wallet experience. Supporting over 60+ networks and assets, NFTs, extensive DApp support (for both Substrate & EVM). Crowdloans, and staking of assets including DOT, KSM, GLMR, MOVR, AZERO, PDEX, CAPS, TUR and KMA.
About Parity Signer
Parity Signer developed by Parity Technologies.
Parity Signer turns your iOS or Android device into a dedicated hardware wallet for Polkadot, Kusama, and other Substrate-based chains. Your private keys are keep secure offline at all times and transactions are sign in an air-gapped way via QR-codes.