WINR Protocol Partnership with BitKeep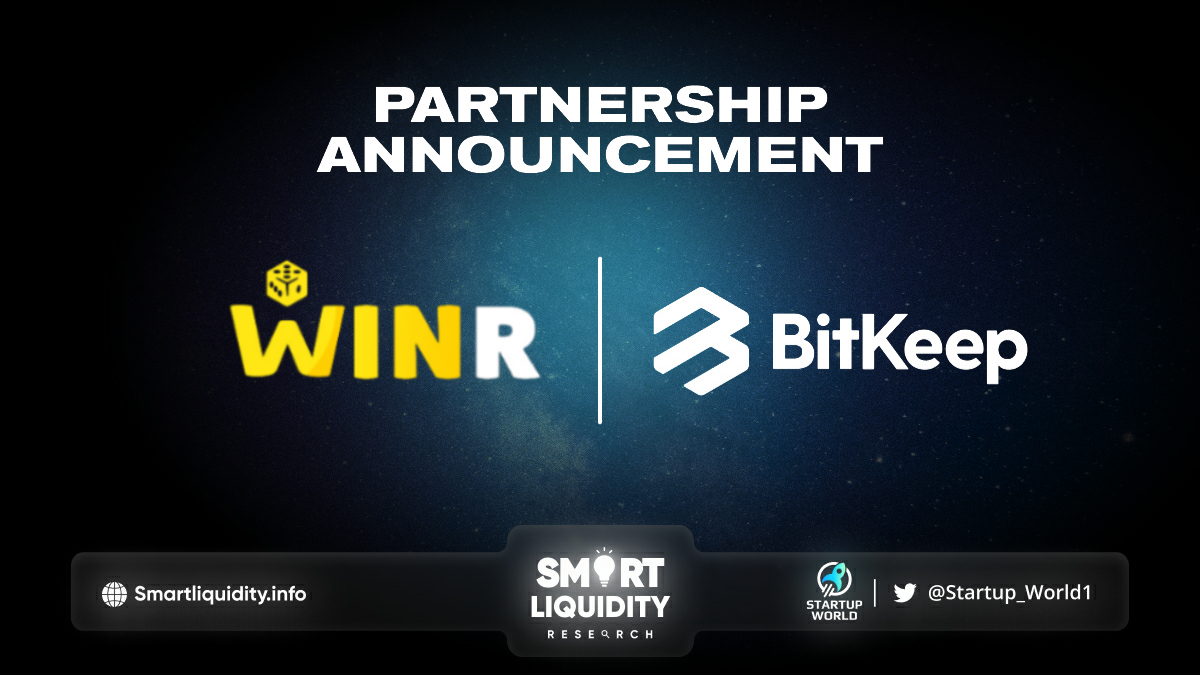 WINR Protocol is extremely excited and proud to announce its latest partnership with BitKeep Wallet, a decentralized multi-chain digital wallet.
Introduction
BitKeep, founded in 2018 in China, is a decentralized digital asset wallet designed to provide users with a professional one-stop service, support multi-wallet management, exchange asset docking, and cover financial lending, cloud – mining, Dapp, games, blockchain payment, and other functions.
The wallet supports now over 1000 cryptocurrencies, including BTC, ETH, EOS, LTC and more. They have recently launched version 3.0, which supports aggregate trading.
BitKeep supports more than a dozen main chain ecosystems such as BTC, ETH, EOS, TRX, NEO, ONT, NULS, WICC, etc;
A mnemonic passphrase allows seamless management of wallets for all associated private keys, one account supports the creation of multiple wallets;
Original DESM encryption algorithm to secure assets;
Practical tools such as payment, bulk transfer, bookkeeping, red packets, airdrop, currency encyclopedias, currency quotations, etc.
Dapp Center, a global collection of DApps from multiple blockchains.
Bitkeep has five major fucntions; wallet, DApps store, Swap Aggregator, NFT Marketplace and most important Launchpad.
They are increasing their popularity day by day, providing instant cross-chain swapping, more than 100.000 assets and NFT trading support to more than 5 million active users on 66 different networks, and keeping your assets safe by performing these services using the original and unique DESM encryption algorithm.
It is a new generation and modern DEFI focused crypto wallet.
DApp Store that you can navigate with ease in one minute Enjoy seamless, simple and secure. Access to the blockchain and all decentralized applications. The DApp store makes it easy for users to search for and use any DApps.
Overview of WINR Protocol
The WINR Protocol is a fully autonomous liquidity and incentive infrastructure explicitly built for on-chain games requiring a counterparty asset vault.
1. For Developers
Build your games using the WINR Protocol smart contract game engine, and achieve 1-sec finality providing a seamless user experience.
Propose your game to the WINR DAO, and get it plugged into the deep WINR Liquidity Pool, providing direct payouts to your players.
Incentivize your players with vWINR emissions, and earn a commission from the vWINR minted through your smart contracts.
Be a part of a growing ecosystem of games built on-chain and be a part of a vibrant dev ecosystem.
2. For Players
Each game is played and settled immediately on-chain through immutable smart contracts.
Get your incentives immediately paid on each transaction in the form of vWINR.
Transparent incentives – promotions are rewarded on-chain, with no hidden leaderboards and no jackpots that never get distributed.
Decentralized oracles generate random numbers with no tampering.
3. For Investors – Liquidity Providers
Mathematically protected edge for your liquidity.
On-chain incentives to drive volume, rewarding players a portion of your revenues.
Autonomous and decentralized reserves with no ownership, providing the house from using your funds for malicious activities.
About BitKeep
BitKeep is a decentralized multi-chain digital wallet, dedicated to providing safe and convenient one-stop digital asset management services to users around the world.
About WINR Protocol
The WINR Protocol is a fully autonomous liquidity and incentive infrastructure explicitly built for on-chain games requiring a counterparty asset vault.
SOURCE