NeoCortexAI IDO on MoonStarter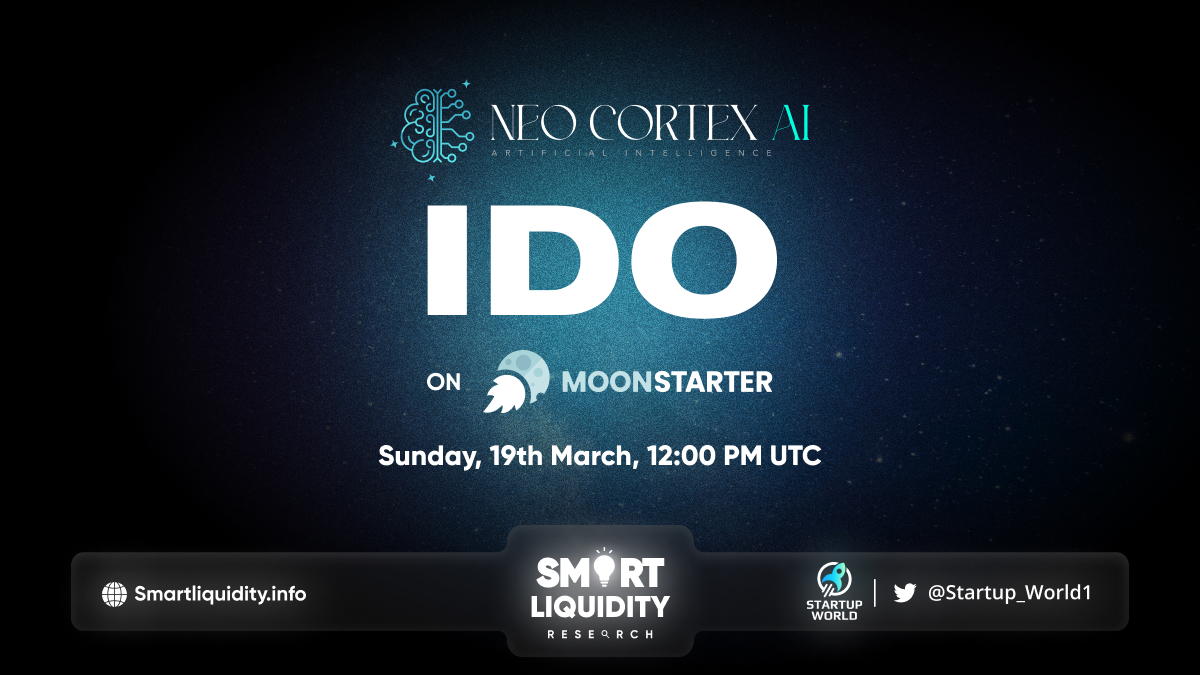 NeoCortexAI will launch its upcoming IDO on MoonStarter, a decentralized multichain IDO launchpad created to launch innovative crypto projects across all blockchains.
Token Metrics
Initial market cap excluding liquidity: $61,000 approximately
Other rounds :
Seed — 0.003–0% at TGE, thereafter 6months linearly
KOL Round — 0.004— 5% at TGE, thereafter 5 months linearly
IDO Details
Contribution chain: BSC
Distribution chain: BSC
Token: $CORAI
Date: 19th of March 2023 at 12 PM UTC
Price per token: $0.005 USD — 20% at TGE and there after 3 months linearly — Claimable on NeoCortex AI platform
Total allocation: 50,000 $
How to participate ?
Please refer to their Medium article explaining their Tier System to get more info on how to secure an allocation for the NeoCortex AI IDO
Galaxy Path: You need to start staking MNST by March 16th at 11:59 PM (UTC), at the latest or lock your tokens before whitelisting deadline. Your tokens must be staked until the whitelist results have been published.
Participants need to complete the Google Form HERE by March 17th at 11:59 PM (UTC).
👉 Whitelist results will be published on the 18th of March at 1PM (UTC).
About NeoCortexAI
NeoCortexAI is a comprehensive platform that seamlessly links blockchain technology and artificial intelligence to push forward the leaders of the new world.
Their AI-Launchpad for cutting-edge AI projects, Multi-AI-Index Pool with DCA AI bots, AI-Swap, and AI-Brain Center makes us the ultimate one-stop-gateway to the latest developments and trends in AI and blockchain technology.
About MoonStarter
MoonStarter is a decentralised multi-chain IDO launchpad that empowers the most innovative crypto projects across all blockchains through fund raising and also enables projects expand their exposure to potential participants.
SOURCE
https://moonstarter.medium.com/announcing-neocortex-ai-ido-on-moonstarter-c1fef9c8f7e9