Reign of Terror IGO on Vulture Peak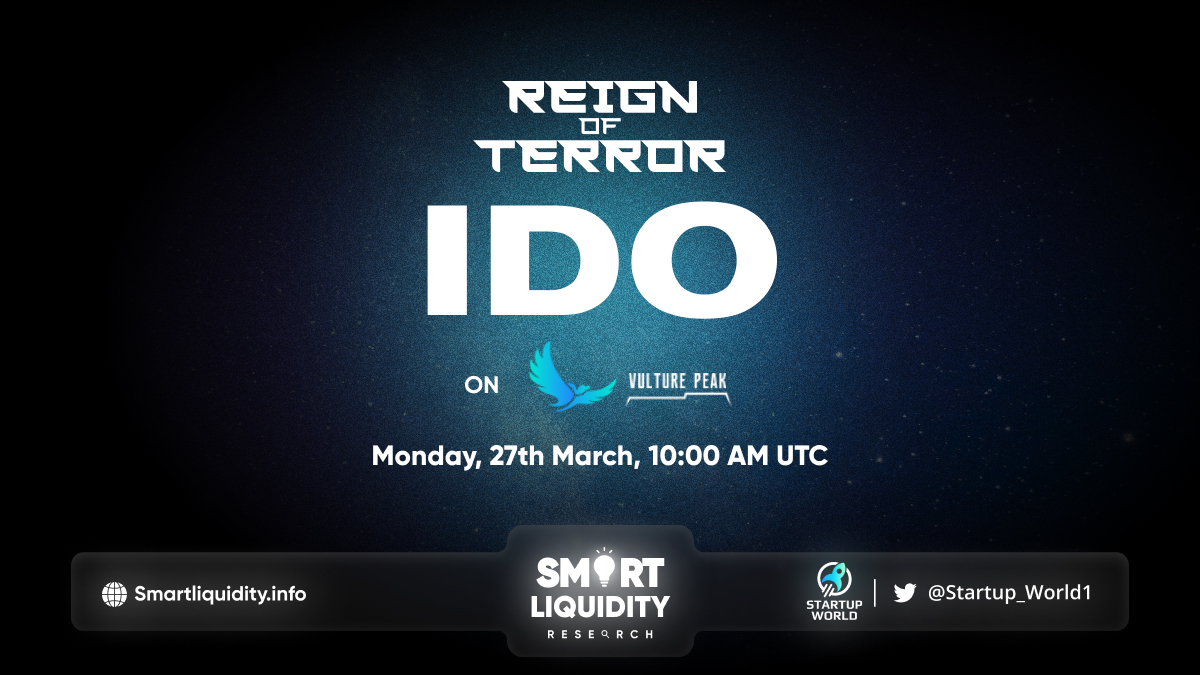 Reign of Terror will launch its Upcoming IGO on Vulture Peak, a pioneering Launchpad and an Investment fund that offers blockchain games and NFTs.
Project Overview
Reign of Terrors aims to create an immersive world for players, improve society through play to own, create Robust NFT economy along with NFT lending and reward players for staying and enjoying the game through various game activities.
Important Details for IGO
Date: Mar 27, 10 AM — Mar 29, 10AM, 2023 (UTC)
Round: Public
Hard Cap: 30,000 USDT
Registration Fee: 500 VPK
Allocation per participant/wallet:
Min: 50 USDT
Max: 3000 USDT
Token Name: $ROT
Price per Token: $0.0125
Total Supply: 2,000,000,000
Initial Market Cap: $342,500
Vesting Schedule: 33% at TGE, 33% second month & 34% third month
TGE: TBA
Chain: Solana
Tokenomics: Please check here!
Token Claiming Details
The participants will claim their tokens on the Reign of Terror's vesting portal as per the vesting schedule. More details will before TGE.
How to Participate in IDO/IGO on Vulture Peak
Turn up early when the IDO pool opens and deposit your desired allocation in the specific token (BUSD/USDT) mentioned for the particular project. User also need to deposit a registration fee in $VPK ($10 — $30). There are no other prerequisite except for the registration fee. For more details:
Medium article: click here
Video guide (54 secs): click here
To buy $VPK: click here
Get ready with your $VPK tokens to get an allocation on a First Come First Serve basis, with No staking requirement or locking of tokens and get a Guaranteed allocation!
Please click here to participate in the IGO of RoT.
About Reign of Terror
Reign of Terror, a cyberpunk world with three thrilling games: the Awakening for unlocking vaults & winning rewards; the Uprising for levelling up & fusing agents to access higher rarities and; the full game where the premiere XCOM meets MMORPG-stype tactical RPG.
About Vulture Peak
Vulture Peak is a pioneering Launchpad focusing on blockchain infrastructures, games, NFTs, metaverse, DeFi, and other emerging technologies in the blockchain space. It's the most convenient platform to participate in IDOs and early-round sales!
Users only have to deposit a minimum amount of Vulture Peak tokens ($10 — $30 worth of tokens) as a registration fee to participate. There is no tier system, no staking requirements, it's open to all, First Come First Served and provides a guaranteed allocation.
SOURCE
https://medium.com/@vulture_peak/announcing-reign-of-terrors-igo-on-vulture-peak-e7ad42f300eb