ZkBoost Partnership with Her.AI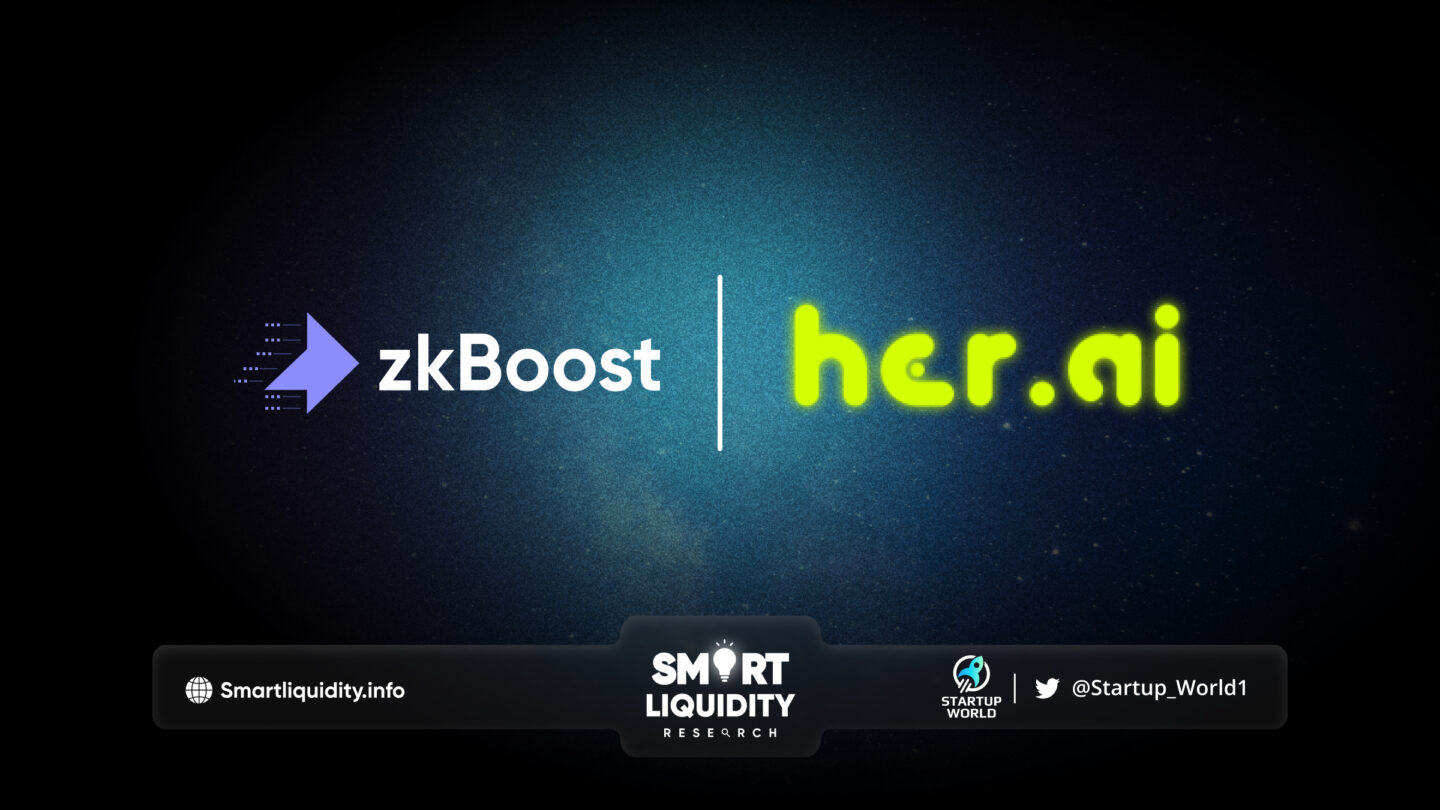 ZkBoost is happy to announce its new partnership with Her.AI, a virtual girlfriend dress-up game based on OpenAI.
Project Overview
Her.AI is the world's first AIGC-driven Web3.0 virtual girlfriend platform, powered by OpenAI. Based on AIGC technology, we allow users to generate fantasy virtual girlfriends, and combine GameFi and SocialFi's Web3.0 gameplay to allow users to Collect token rewards while interacting with Her.AI.
In the future, we will create a complete game and social ecology based on Her.AI NFT, and build the world's first AIGC-driven virtual partner ecological matrix.
AIGC Background
AIGC is the use of artificial intelligence technology to generate content. Before 2021, AIGC mainly generates text, and the formats that the new generation model can handle include: text, voice, code, image, video, robot action, etc. AIGC is considered to be a new content creation method after professional-generated content (PGC, professional-generated content) and user-generated content (UGC, User-generated content). , give full play to the technical advantages.
More
In 2022, the development speed of AIGC is astonishing. At the beginning of the year, it was still in the stage of unfamiliar skills, and it will reach the professional level after a few months, which is enough to confuse the fake with the real. This creates anxiety and tension for practitioners who spend their entire lives learning to create. At the same time, the iteration speed of AIGC has shown an exponential explosion. Among them, the continuous improvement of deep learning models, the promotion of open source models, and the possibility of exploring commercialization of large models have become the "acceleration" of AIGC's development.
Gartner predicts that by 2025, generative AI will account for 10% of all data generated. According to an analysis by Generative AI: A Creative New World, AIGC has the potential to generate trillions of dollars in economic value. While AIGC attracts global attention, intellectual property rights and technology ethics will face many challenges and risks. At the same time, there is still a big gap between AIGC and general artificial intelligence.
SocialFi & GameFi
The gaming and social app economy is transforming, with major entertainment companies and major tech giants investing heavily in experimenting with new blockchain-based game monetization and social monetization models.
The Metaverse virtual world uses decentralized technology and NFTs to empower players and creators.
Her.AI is not only the world's first AIGC-based virtual partner ecology, they will also create a circular economy for all users on the platform through the token economy (Her Token) and Her.AI NFT, and receive Her token rewards.
How to play Her.AI?
The first 10,000 invited users can enter the application for free and get a basic virtual girlfriend image generated by Ready Player Me's technical support
You can complete tasks through dialogue and continuously upgrade Her.AI level
Chat — complete tasks — consume skill attributes — collect Token
Consumption of Token — repair energy, purchase props
What can Her.AI do?
Interactive To Clam
Interact with your virtual girlfriend and keep collecting $HER Token
Talk about everything
The more you communicate with Her.AI, the smarter he/she will become.
Create your story
No matter what you are doing, your Her.AI will always be by your side. Chat about your day, do fun or relaxing activities together, even share real-life experiences in AR, make video calls, and more.
Explore your relationship
Friends-lovers-couples, find your perfect partner in Her.AI.
Economic element
Her Token: Her.AI governance token, users can continuously earn Her Token during the game, and Her Token can be directly exchanged into mainstream digital currencies in CEX & DEX in the future
Gem Token: The Gem Token used for consumption in the platform is built on the platform itself and can be used for the repair and upgrade of Her.AI NFT skill attributes, and can be purchased with Her Token — legal currency
Character values
Level: Determined by the cumulative experience gained, the level determines the character's ability, and also determines the maximum heart rate and energy bar
Experience: Acquired through daily interaction
Heartbeat: Determined by the level, which determines the number of HER Tokens earned for each interaction
Energy: Every interaction will consume energy value.
NFT Matrix
Her.AI NFT
Her.AI NFT is technically supported by OpenAI. Based on AIGC technology, we allow users to generate a 3D vision of their fantasy virtual partner, and combine it with blockchain smart contracts to create it as an ERC-1155NFT. Her.AI NFT holders get Talk -To-Earn and Chat-To-Earn privileges, earn Her Token.
Room NFT
NFT of virtual girlfriend life scene in Her.AI Dapp
Props NFT
In Her.AI Dapp, based on AIGC NFTs such as virtual girlfriend accessories and other props are generated
About Her.AI
Her.AI is the world's first AIGC-driven Web3.0 virtual girlfriend platform, powered by OpenAI.
About ZkBoost
ZkBoost an innovative launchpad and ecosystem built on zkSync ERA, offering a range of services to empower the decentralized finance (DeFi) community.
SOURCE:
https://twitter.com/zkBoost_Finance/status/1668242379068018690