ArbiPad Partnership with Gridex Protocol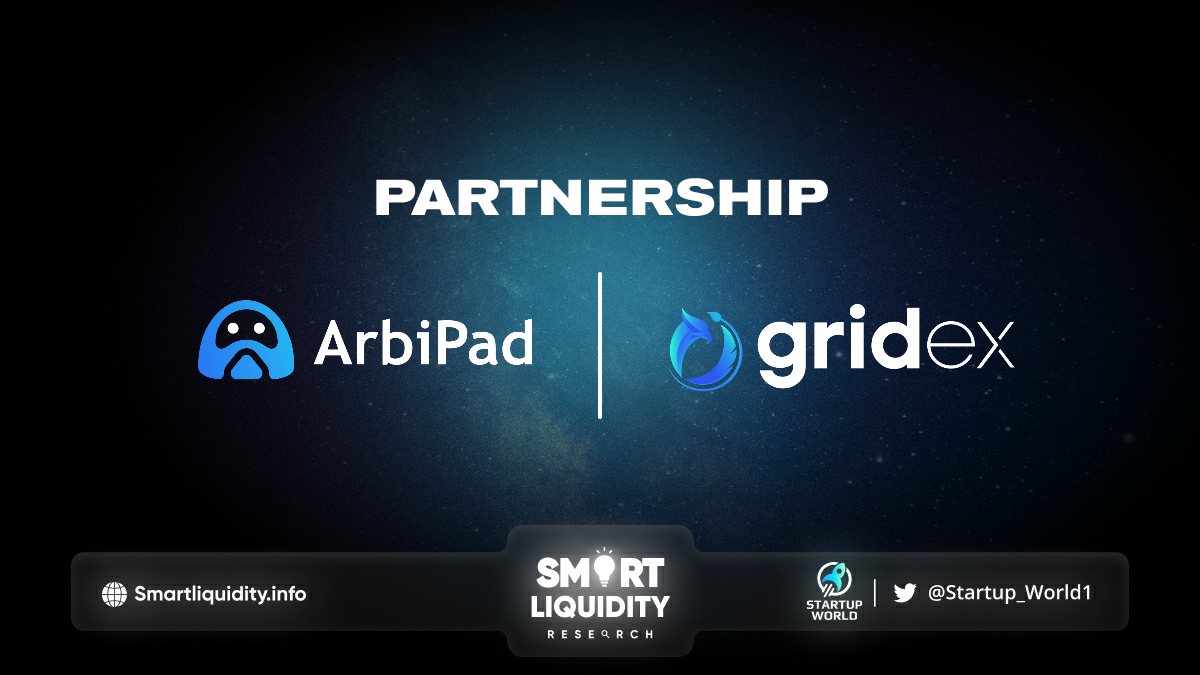 ArbiPad has formed a partnership with Gridex Protocol, bringing together two innovative platforms to enhance the decentralized trading ecosystem.
Project Overview
ArbiPad, the leading decentralized launchpad platform, has joined forces with Gridex Protocol, the first infinitely scalable fully on-chain order book DEX for the EVM ecosystem — providing permissionless, composable and non-custodial trading.
Gridex Protocol lives entirely on its robust set of persistent, non-upgradable smart contracts, ensuring the security and transparency of trading activities.
About Partnership 
With this partnership, ArbiPad and Gridex Protocol aim to create synergies by leveraging their respective strengths.
ArbiPad will provide a seamless launchpad experience, enabling projects to raise capital and connect with a vibrant community. Gridex Protocol will contribute its advanced trading infrastructure to new tokens launching through Arbipad, allowing users to trade tokens as they would on a CEX, but in a secure and decentralized manner.
About Gridex Protocol
Gridex is the first infinitely scalable fully on-chain order book DEX for EVM chains. They are featured in Linea's GALXE Voyage for their DeFi week and we have strategic partnerships with Polygon and Shardeum.
They're believe that Gridex will provide better launches for new tokens compared to Uniswap V2&3. Some of the benefits include:
No impermanent loss on liquidity. All teams launching a new token on an AMM are forced to suffer heavy IL that is almost guaranteed due to high volatility at launch.
Less liquidity required from the team. As opposed to an AMM, where the team can expect to be the only LPs — as very few people would be willing to take the risk of LPing on a new token — on an order book, traders share in providing liquidity for the token in the form of limit orders.
Market Making. Many teams seek CEX listings in order to get a market maker for their token, however, CEX listings are very difficult and costly to achieve for new tokens — especially with stricter regulations in recent times. Creating a pair on Gridex is permissionless, and they will have a connector ready to enable market making.
Maker rewards on new token pairs, boosting liquidity for the token even further via GDX incentives. Alongside negative maker fees, these maker rewards mean that instead of the team losing all their liquidity to IL, the team will have their liquidity work for you — on top of preserving their liquidity.
Thanks to Gridex's novel Grid Maker Order Book (GMOB) model, the gas units needed to interact with the order books are fixed, regardless of the number of orders in the book (this would scale linearly in a traditional CLOB model). Moreover, the gas required for every type of interaction is equal to or less than that needed for the analogous interactions on Uniswap v3, so gas is not a concern.
SOURCE:
https://arbipadcom.medium.com/partnership-arbipad-x-gridex-protocol-8238486672e7