MetaTrust Labs and MAP Protocol Collaboration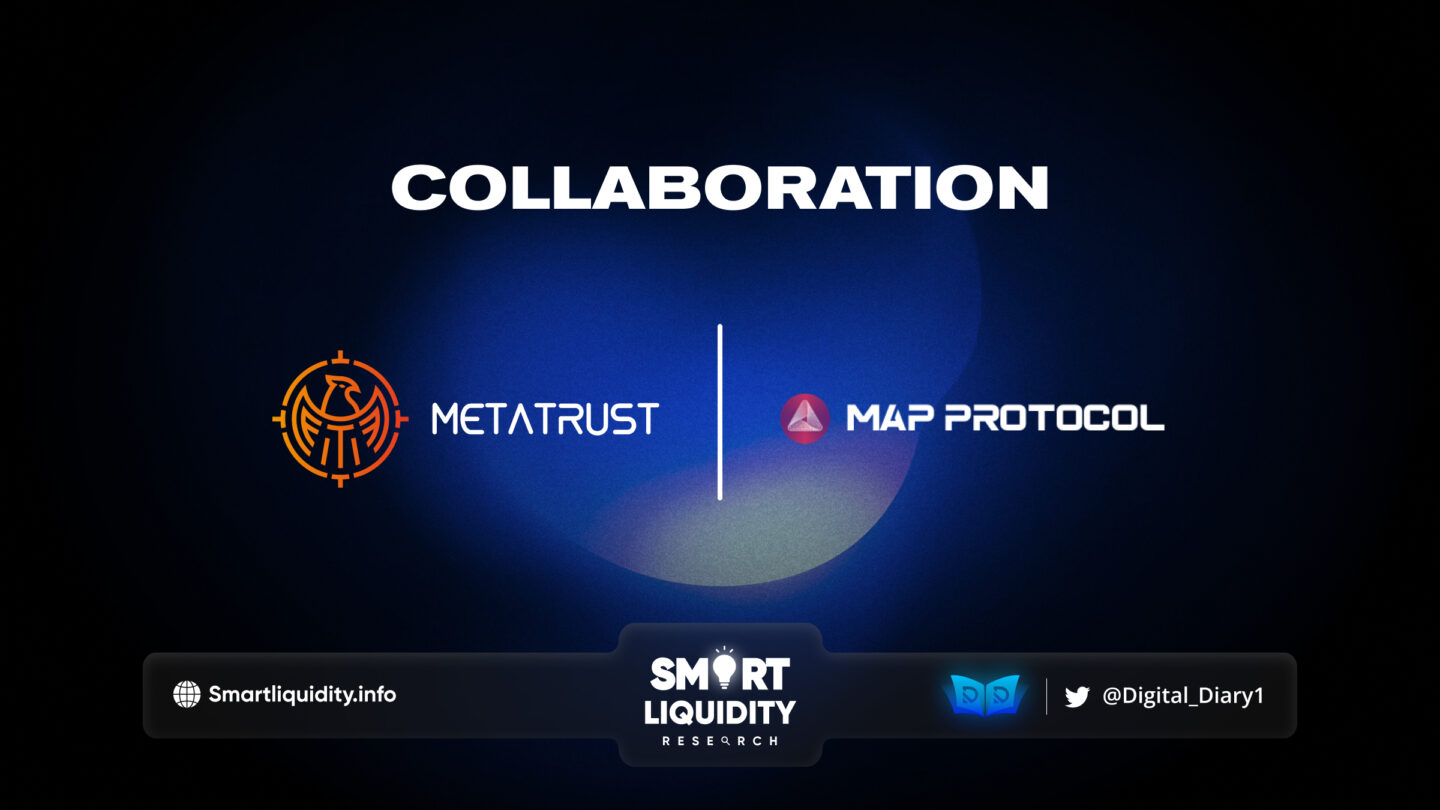 MetaTrust Labs has sealed its latest collaboration with MAP Protocol, a cross-chain interoperable protocol to empower Web3 apps to thrive in the omnichain future, aimed at providing comprehensive AI security audits and support throughout the MAP ecosystem.
The heart of this partnership lies in MetaTrust Labs' commitment to providing comprehensive AI security audits and support across the MAP ecosystem. The two parties will conduct ongoing audits of the MAP Protocol codebase and network architecture to ensure the highest security standards are met. Additionally, as a validator node on the MAPO relay chain, MetaTrust Labs will closely monitor network security in real-time, employing advanced chain monitoring and threat detection tools.
Partnership Highlights
The collaboration extends beyond network-level protection, as MetaTrust Labs will also offer security services to facilitate cross-chain interoperability between MAP Protocol and external blockchains. This includes enabling secure asset transfers between chains through whitelisting and blacklisting functionality. Moreover, MetaTrust Labs' MetaScan feature will deliver real-time scanning of smart contracts and cross-chain transactions for potential vulnerabilities.
The partnership doesn't stop there, as MetaTrust Labs plans to integrate its MetaScan AI smart contract scanner and MetaScout automated monitoring tools into the MAP developer toolkit. This integration empowers developers building on MAP Protocol to proactively identify and address security flaws in their smart contracts, bolstering the ecosystem's overall security.
MetaTrust Labs product manager Stan expressed his enthusiasm, stating, "Partnering with MAP Protocol allows us to bring enterprise-grade security and threat monitoring capabilities to their rapidly growing ecosystem. Together, they aim to set a new standard for security across decentralized networks, enabling the next generation of blockchain adoption."
The partnership between MetaTrust Labs and MAP Protocol reflects the growing demand for security solutions tailored to decentralized networks. As blockchain adoption accelerates, security becomes paramount in ensuring network reliability and longevity. MAP Protocol's dedication to integrating cutting-edge security defenses underscores their commitment to a trusted and resilient network.
Together, MetaTrust Labs and MAP Protocol aim to usher in a new era of secure and trusted decentralized applications. By implementing comprehensive security protections, MAP Protocol sets a standard for blockchain ecosystems seeking to deliver robust security guarantees to users.
About MetaTrust Labs
MetaTrust Labs is the world's leading provider of Web3 AI security services. Their range of services includes AI Security Scanning, Security Audits, Security Monitoring, and Open Source Smart Contract Templates. They offer fast, accurate, and cost-efficient solutions through every stage of the project development lifecycle to help builders develop secure Web3 applications with ease.
About MAP Protocol
MAP Protocol is the omnichain layer for Web3. 100% Nakamoto Style cross-chain communication built on Light-client & ZK technology with zero privileged roles. By connecting both EVM and non-EVM public chains, MAP Protocol empowers dApp developers to thrive in Web3 with a full suite of omnichain SDKs.
SOURCE: MEDIUM