ORION TERMINAL TRADING COMPETITION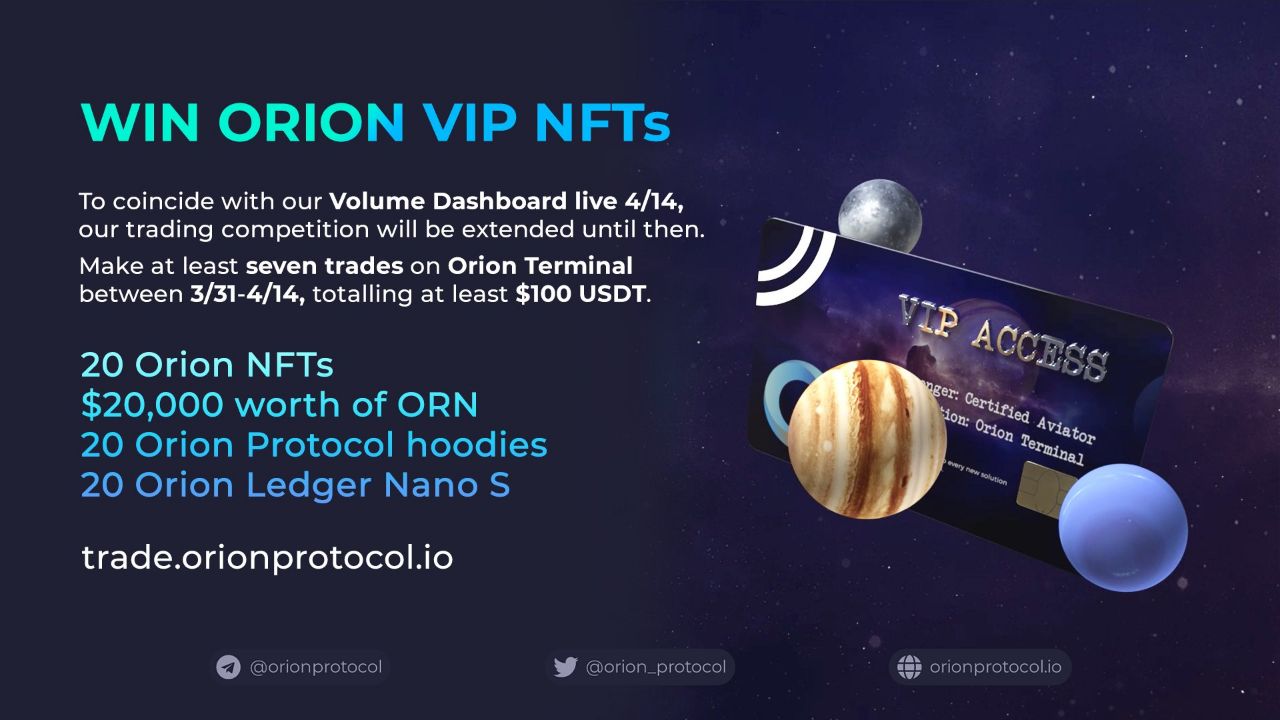 To celebrate the launch of Orion Terminal, They are announcing a trading competition with $20,000 ORN, Orion merchandise, and the first Orion NFTs up for grabs.
20 Orion NFTs
$20,000 worth of ORN
20 Orion Protocol hoodies
20 Orion branded Ledger Nano S
The first Orion NFTs will unlock early access to every B2C solution built on the protocol, including new chain integrations, lending, margin trading, and more. The NFT holders will also have access to an Orion VIP group with senior members of the team, and will be privy to Orion updates and developments ahead of official announcements. To enter the reward pool, traders will be required to make at least seven transactions on the Orion Terminal between March 31st and April 14th to be assigned 'lottery tickets'. The more transactions, the more tickets a trader will be assigned – increasing their chances of being chosen. The total value of the transactions must exceed $100 USDT.
Orion Protocol aggregates the liquidity of every single crypto exchange into one decentralized platform: providing a singular, non-custodial, gateway to the entire digital asset market. By providing access to the digital asset market in one place, we're building a protocol on which to bridge the worlds of crypto, traditional finance, and real world assets
⬇️DETAILS:
https://blog.orionprotocol.io/tradingcomp?hs_amp=true&__twitter_impression=true