Bounce Finance Integrates Rollux Mainnet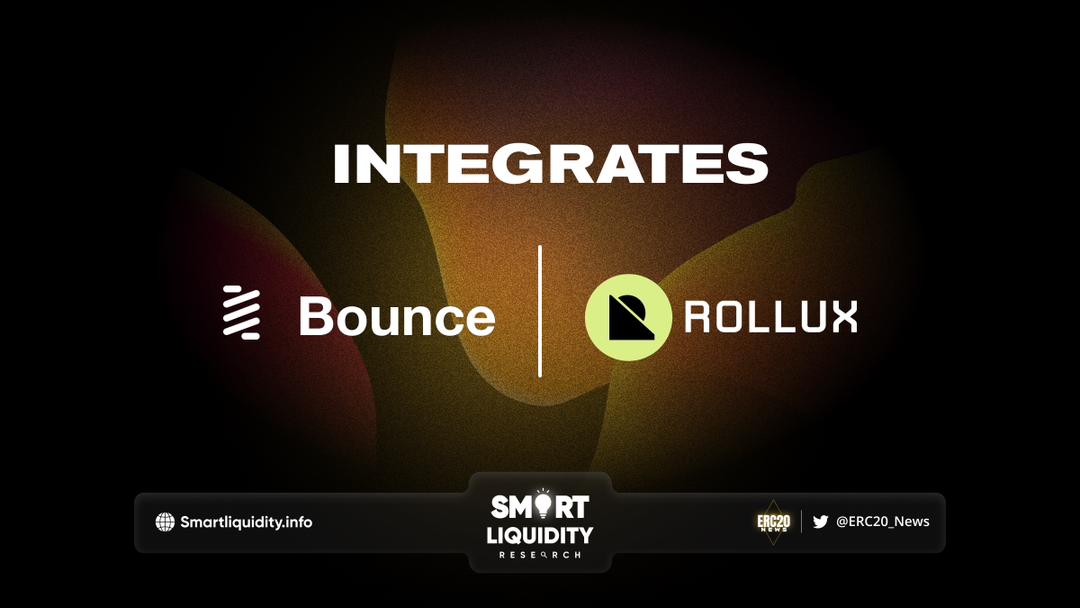 Bounce Finance is thrilled to announce its integration with Rollux, a revolutionary EVM Layer-2 solution developed by SYS Labs, heralding a new era of decentralized finance (DeFi). Both the Rollux ecosystem and Bounce community can now enjoy enhanced decentralized auctions on Rollux mainnet through the Bounce app. This transformative collaboration reshapes the blockchain landscape, combining Bounce Finance's cutting-edge auction capabilities with Rollux's unparalleled scalability, security and efficiency. Uniting the strengths of both platforms, this integration opens a world of possibilities for users and developers alike, paving the way for faster transactions, reduced fees, and enhanced DeFi experiences.
The integration of Bounce Finance and Rollux empowers users to seamlessly engage in decentralized auctions on Rollux mainnet through the Bounce App. This collaboration enhances the efficiency and accessibility of decentralized auctions, benefiting from Rollux's exceptional security, fast processing speed, and cost-effectiveness.
Currently, users can engage in fixed-price auctions for ERC20 and ERC1155 tokens. Bounce's fixed-price auction is a type of auction where the price for the assets being auctioned is predetermined and agreed upon by the auctioneer and participants. It operates on a first-come, first-serve basis, with the first person to place the bid winning the auction. The assets are automatically swapped at the agreed-upon time, providing a time-contingent and efficient execution of trades.
Furthermore, the collaboration between Bounce Finance and Rollux signifies a commitment to driving innovation in the DeFi landscape. Rollux's merged mining approach reinforces the relevance of Proof of Work (PoW), complementing Ethereum's design philosophy, and removing the walls of division that have splintered the industry for too long. The integration invites the Ethereum developer pool and ecosystem to join the Bitcoin ecosystem with the least amount of friction facilitated by Syscoin & Rollux acting as the bridge.
About Bounce:
Bounce Finance is a decentralized auction protocol that empowers users to create and participate in diverse types of auctions on multiple blockchain networks. With a focus on Auction as a Service, Bounce Finance offers a wide range of products, including Token & NFT Auctions, Real-World Collectible Auctions, Ad Space Auction, and SDKs & Plug-Ins. Bounce Finance also provides Private Launchpad services, an on-chain solution designed to streamline IDOs for new projects. Furthermore, Bounce Finance is introducing Real-World Collectibles service, offering a marketplace for projects to sell their own tangible merchandise and luxury items. Bounce's service includes an in-house manufacturing production line ensuring top-tier quality and seamless shipments.
About Rollux:
Built by SYS Labs, powered by Syscoin, and fueled by its utility token, $SYS. Rollux is an EVM-equivalent optimistic rollup that inherits the security of Bitcoin's mining network and Syscoin's Layer 1 finality and data availability. Rollux functions as Syscoin's Layer 2 to help provide the unprecedented scalability necessary for an exponential increase of potential use cases, and sets the stage for realizing mass adoption. Rollux offers what no one else does: unmitigated security, speed, decentralization, and affordability.
SOURCE:
https://bouncefinance.medium.com/bounce-finance-integrates-rollux-mainnet-empowering-enhanced-security-and-efficiency-in-2f0b9165735a