Chainlink Price Feeds Now Available to Help Accelerate the Adoption of Backed's Tokenized Real-World Assets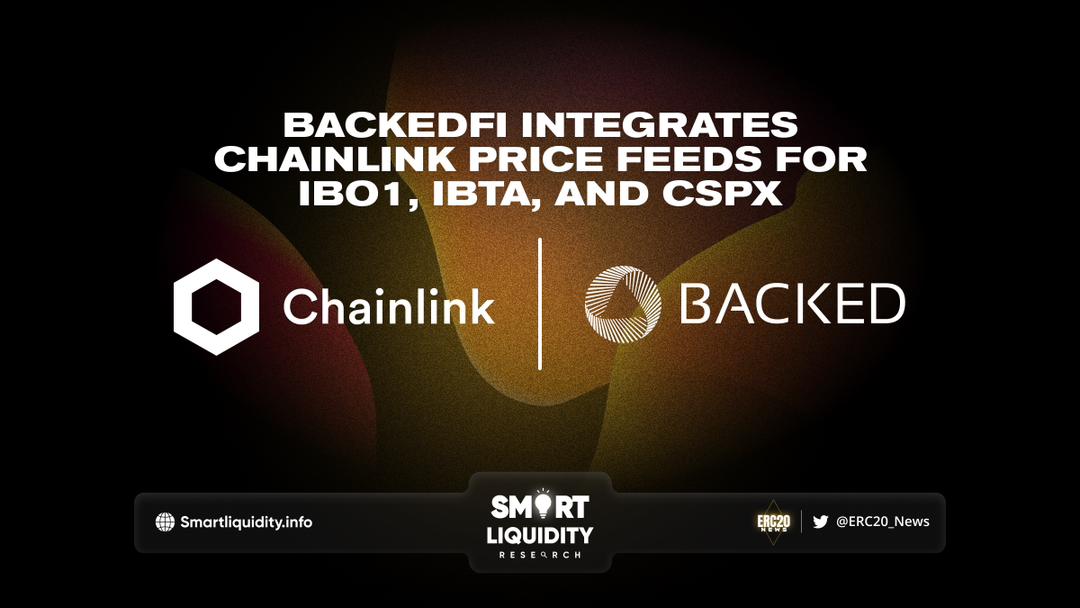 Chainlink Price Feeds are now accessible for the underlying assets of BackedFi bTokens: bIB01, bIBTA, and bCSPX.
IBO1—the iShares $ Treasury Bond 0-1YR UCITS ETF, IBO1 is an exchange-traded fund (ETF) traded on the London Stock Exchange that provides exposure to US Dollar-denominated short-term government bonds issued by the US Treasury. The ETF specifically targets US government bonds with remaining maturities between zero and one year.
IBTA—the iShares $ Treasury Bond 1-3YR UCITS ETF, IBTA is a fixed-income ETF traded on the London Stock Exchange that provides exposure to short-term US treasuries with direct investment in government bonds, specifically those with remaining maturities between one and three years.
CSPX—the iShares Core S&P 500 UCITS ETF, CSPX is an ETF traded on the London Stock Exchange that tracks the performance of the S&P 500 Index, which is composed of a basket of the 500 largest U.S. companies by market capitalization.
Chainlink pricing Feeds enable the DeFi ecosystem to securely incorporate bIB01, bIBTA, and bCSPX (Backed Finance's tokenized representation of the aforementioned assets) within their protocols by assisting in the provision of secure and trustworthy pricing data for these real-world assets.
As a leading pioneer in tokenized RWAs, Backed Finance issues freely transferable backed Tokens (bTokens) on the blockchain that track the prices of publicly traded assets.
However, growing the adoption of these assets within the larger DeFi ecosystem requires robust and independent pricing data, which unlocks the ability to securely leverage these assets within advanced decentralized protocols.
As the industry-standard price oracle solution for the Web3 ecosystem, Chainlink Price Feeds have a proven history of reliability, security, decentralization, and widespread adoption within the DeFi ecosystem. It was mission-critical that the price data for IBO1, IBTA, and CSPX was made available on-chain by Chainlink Price Feeds specifically.
In the near future, they also plan to integrate Chainlink Proof of Reserve—the leading asset collateral monitoring service in Web3—to enhance the transparency of Backed's products and help provide a publicly accessible, real-time collateralization information for Backed products.
About Backed Finance
Backed is a Swiss start-up bridging real-world assets on-chain. Backed issues on-chain tokens that track the value of real-world assets, such as stocks or ETFs. Tokens are freely transferable across wallets, are fully collateralized by the underlying asset, and are issued in compliance with the Swiss DLT act.
Backed's tokens are not offered, sold or delivered within the United States, or for the account or benefit of U.S. Persons.
Backed is not affiliated with or licensed by iShares, BlackRock Inc., BlackRock Fund Advisors and any of its affiliates and bIB01, bIBTA and bCSPX are not iShares products.
About Chainlink
Chainlink is the industry-standard Web3 services platform. It has enabled trillions of dollars in transaction volume across DeFi, on-chain finance, gaming, NFTs, and other major industries. As the leading decentralized oracle network, Chainlink empowers developers to build feature-rich Web3 applications with seamless access to real-world data and off-chain computation across any blockchain and provides global enterprises with a universal gateway to all blockchains.
SOURCE: