Nova Wallet & Moonbeam — The Ultimate Wallet Experience!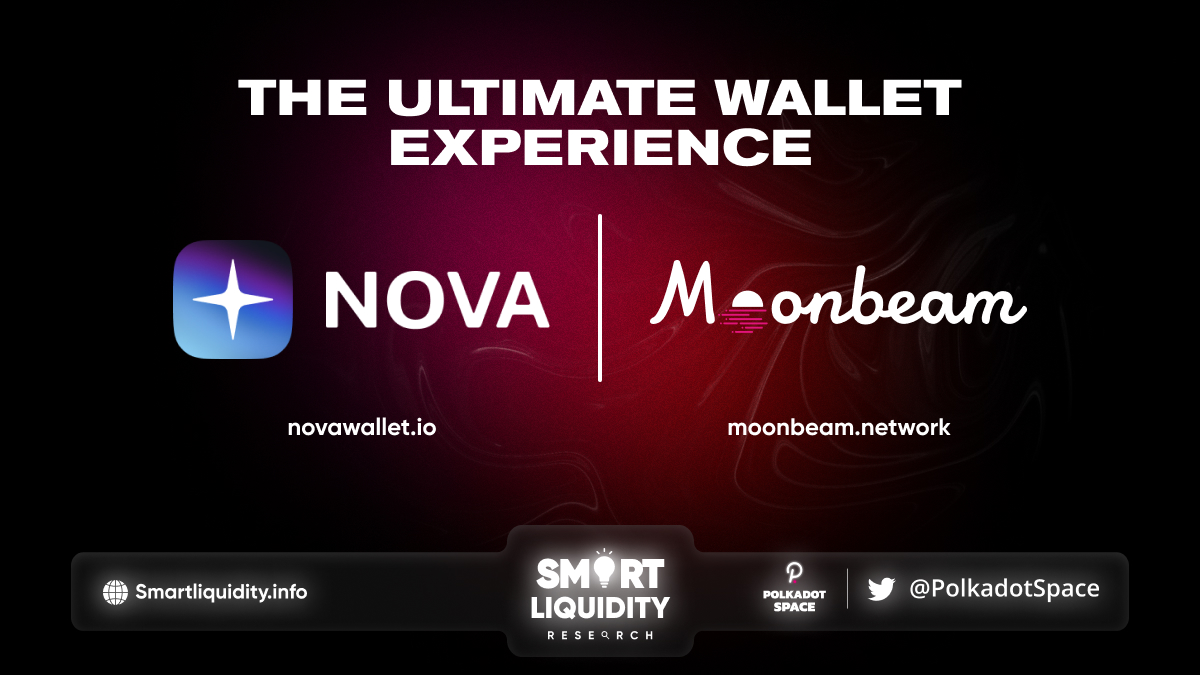 Nova Wallet

&

Moonbeam

— The Ultimate Wallet Experience!
Access the power of the Moonbeam ecosystem right at your fingertips with Nova Wallet. They have created the ultimate wallet experience for the Moonbeam ecosystem, and best of all — you can access all its features directly from your smartphone!
Secure, open source & self-custodial wallet with amazing UI/UX!
Import your existing Metamask account!
Lightning fast & simple GLMR/MOVR Staking!
Manage all your Moonbeam assets & cross-chain transfers!
Use any Moonbeam DApp with Nova's built-in DApp browser!
How To Get Started
Nova Wallet is the leading open-source, self-custodial mobile wallet for the Polkadot ecosystem! When using Nova Wallet, you alone remain in control of your crypto assets! Your keys — your tokens!
To begin your adventures in the Moonbeam ecosystem using Nova Wallet, you can simply import your existing EVM wallet from your wallet provider, such as Metamask! There is no need for you to make a brand new account.
If you want to test drive the Moonbeam ecosystem with Nova Wallet, then you can use the new Watch-Only Wallet feature. This allows you to use any EVM address to test out all of the features available for the Moonbeam ecosystem. The only thing you can't do is approve transactions.
Staking: Lightning Fast & On-chain
You can easily stake your GLMR / MOVR tokens using Nova Wallet's intuitive user interface!
Nova Wallet allows you to quickly see all the information that you need to know before you begin to stake, this includes estimated APR %, minimum stake required for each collator, and information about unstaking period.
After you begin staking from the same page you can access additional features such as being able to add more to your stake, change your elected collator, and unstake your tokens.
Easily keep track of your staking analytics, staking rewards, and account history with Nova Wallet!
Never miss vital information again! Introducing Alerts — a feature which will inform you whenever, for example, one of your elected collators is no longer active. Additionally, we have implemented approximate timers to many common operations, such as the unstaking period, which allows you to better understand exactly when your tokens will become available for transfer again!
Manage All Your Moonbeam Assets
Nova Wallet currently supports XC-20 tokens, which allow for compatibility between the Ethereum Virtual Machine (EVM) and the Substrate framework that powers Polkadot. This bridges the world of Ethereum tools & smart contracts to Substrate!
Additionally, within the Polkadot and Kusama ecosystem Nova Wallet supports over 140 cross-chain channels, with 20+ of those being directly connected to Moonbeam / Moonriver! This allows you to seamlessly transfer DOT, KSM, GLMR, MOVR, ACA, KAR, INTR, KINT, iBTC, BNC, PARA, and USDT to the Moonbeam / Moonriver ecosystems in a trustless manner, without using a centralised service, ensuring that your tokens remain safe — and not locked in a bridge!
Precise payments with Nova!
Approximate cross-chain transfer fees are calculated just before you transfer tokens, this ensures that all users of Nova Wallet will always send / receive the exact amount of tokens that they want, without having to send extra to cover transaction fees!
Nova Wallet also displays your transaction history for both the GLMR and MOVR tokens! This includes your staking rewards, balance transfers, and interactions with DApps / smart contracts.
They have implemented a built-in fiat on-ramp option directly within Nova Wallet — allowing you to top up your balance at a moment's notice. You can also track the value of your portfolio in a wide range of fiat currencies such as USD, EUR, GBP, CNY, JPY, and more! You can even track the value of your portfolio in BTC, ETH and the almighty DOT!
The power of any DApp is yours to control with Nova Wallet!
You can use any DApp in the Moonbeam ecosystem, and any EVM DApp in general — this means that you can use the most popular Decentralised Exchanges such as StellaSwap or SolarFlare, and even browse the hottest NFTs on Raresama straight from your phone!
Note: If there is no option to connect with Nova Wallet when using a DApp, then simply select Metamask, and just like magic Nova Wallet will connect!
Nova Wallet has a built-in catalogue of the most popular DApps in the Moonbeam ecosystem. You can customise your catalogue so that your favourite / most used DApps appear first!
All community favourite DApps are accessible right from the DApp catalog, such as Raresama & Moonsama, StellaSwap, Solarbeam, Beamswap, Downtown Moonbeam, and much more!
What's Next?
They would love to keep integrating many new and exciting features for the Moonbeam ecosystem under future treasury proposals! Some of the key features that we have been requested by the community to deliver are:
More Moonbeam assets: ERC-20 tokens & ERC-721, ERC-1155 NFTs!
Stronger Security: Ledger support for Moonbeam & Moonriver!
Better transfer experience: Customizable Gas Fees!
About Nova Wallet
Nova Wallet a next-gen iOS/Android application for the Polkadot & Kusama ecosystem, which provides the ultimate mobile wallet experience. Supporting over 60+ networks and assets, NFTs, extensive DApp support (for both Substrate & EVM). Crowdloans, and staking of assets including DOT, KSM, GLMR, MOVR, AZERO, PDEX, CAPS, TUR and KMA.