Equilibrium Blast is Live!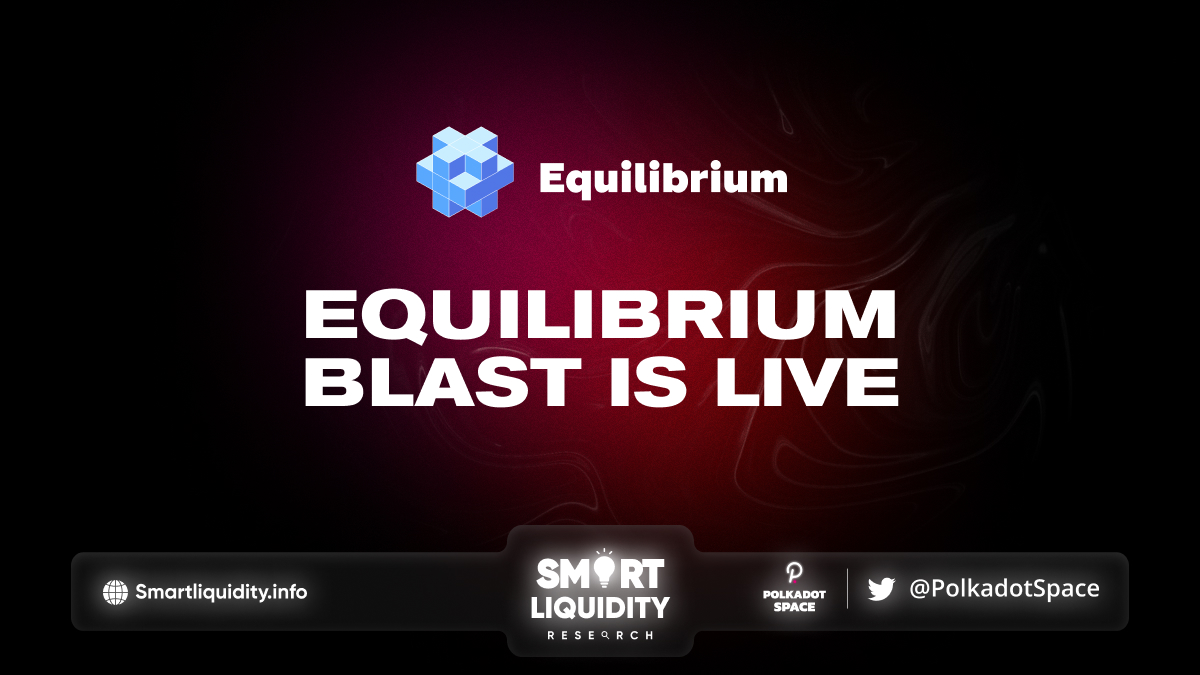 Equilibrium

Blast

Liquidity Mining Program is LIVE
Equilibrium Blast is introducing incentivized liquidity mining with max APR >90%! The program adds new opportunities to earn in the Equilibrium ecosystem. It will be live later this month so make sure to follow us and be the first to know.
Equilibrium has allocated 1% of the total EQ supply or the first wave of the program. These funds are from the 10% allocation assigned to incentivize liquidity bootstrapping according to the EQ tokenomics. The team expects this wave to last for 4 months or until the quota is distributed in full (whichever happens first).
Liquidity providers can expect to earn additional yields on their funds locked in Equilibrium's pools and external incentivized pools on Polkadot DEXs. Also, LPs can maximize their returns by combining different pools to compose strategies and receive additional APR by locking EQ tokens. Let's take a deep dive into how it all comes together.
How EQ Blast Works
You will need to deposit funds into one of Equilibrium's liquidity pools to start earning rewards. The EQ Blast program offers dynamic APRs based on risk and market conditions. Here is the breakdown of available opportunities:
Obviously, users will receive APR payment above the standard yield they gain from these pools (interest on loans, swap fees, and DOT staking rewards of roughly 14% APR as of writing). Users will receive EQ token rewards every eight hours, with the assets locked for six months.
Users can generate additional yields using EQ and EQD stablecoin for reward farming in incentivized pools of external DeFi projects in the Polkadot ecosystem. For these purposes, you might want to mint EQD using a portfolio of supported assets (see fig. 1). There will be joint farming campaigns announced on our socials — stay tuned!
Other ways to maximize yield include composing a custom strategy or locking EQ tokens on Equilibrium. Let's explore these opportunities below.
Strategy Examples
Two simple strategies on Equilibrium involve utilizing lending and insurance pools. These are relatively straightforward since they can be executed with a single asset and do not require multiple steps.
A more complex strategy is utilizing the stableswap pool to farm rewards. This strategy requires minting EQD and pairing it with another asset (USDC) to provide liquidity.
However, the most complex and lucrative strategies require multiple assets and benefit from using different products on Equilibrium.
Let's highlight two advanced strategies for DOT holders.
Strategy 1 involves liquid staking DOT for eqDOT, using eqDOT as collateral to mint EQD and then providing liquidity to the stableswap pool. LP tokens can then supply liquidity to the insurance pool for additional yield. This strategy generates a return in three places:
Liquid-staked DOT
LP position in the stableswap pool
Insurance pool
Strategy 2 uses EQD to farm rewards in external incentivized pools. Instead of using EQD to provide liquidity to the stableswap pool, users can transfer EQD to a different DEX on Polkadot and farm rewards in incentivized pools there. This strategy generates DOT returns on liquid staked DOT, EQD returns from external pool incentives and native DEX token rewards.
Lock EQ to Maximize Yield
Everyone who holds EQ can lock their holdings for a specific period to multiply their rewards. There are seven options ranging from 1 to 24-month lockup periods. Users can receive a reward boost of up to 3.4x in this way.
By participating in the EQ and EQD farming pools, EQ holders can earn additional rewards and attract new users to lock EQ from secondary markets. The multiplier applies only to the portion of the portfolio equal to the value of the locked EQ tokens. For instance, a user who locks $100 worth of EQ can expect enhanced rewards on up to $100 of assets in their portfolio.
About Equilibrium
Equilibrium a one-stop DeFi platform on Polkadot that allows for high leverage in trading and borrowing digital assets. It combines a full-fledged money market with an orderbook-based DEX. EQ the native utility token that is use for communal governance of Equilibrium. xDOT is a liquid and tradeable wrapped DOT that unlocks liquidity of DOT locked in parachain auctions and delivers multiple crowd loan bonuses on Polkadot.