Vital Block Partnership with GxyPad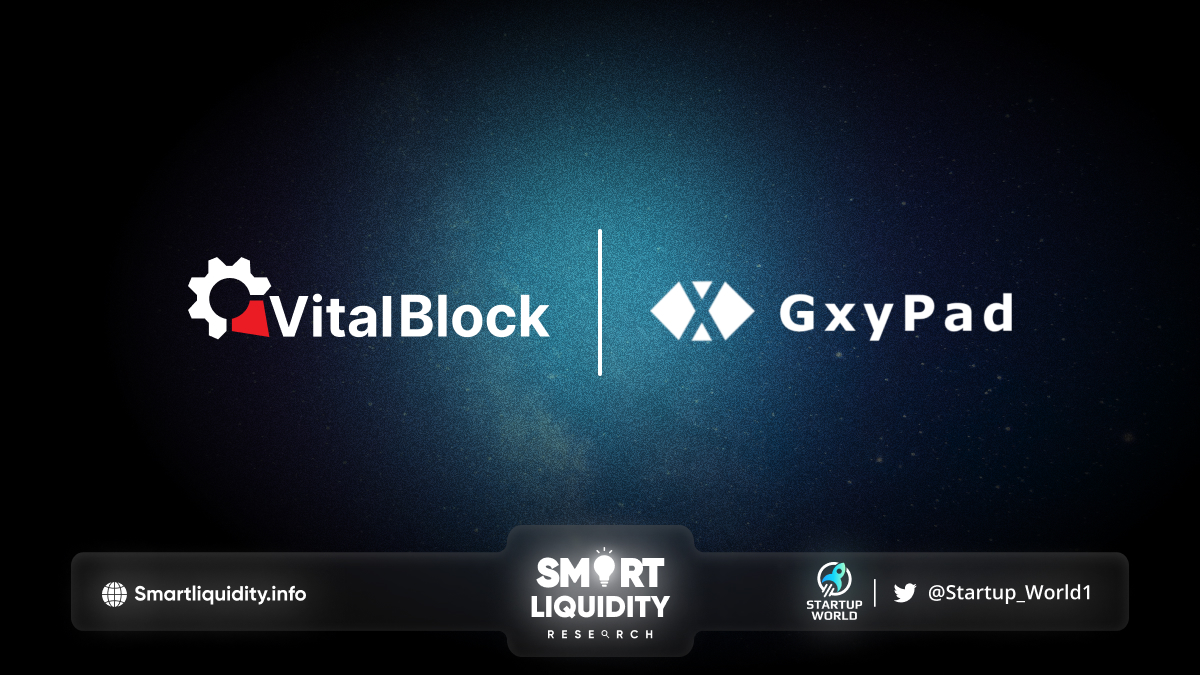 Vital Block has announced its partnership with GxyPad, a community-driven, ve(3,3) DEX on zkSyncEra that centralizes DeFi liquidity.
Project Overview
What is GxyPad?
Gxypad is a launchpad that supports the zkSync ecosystem. It's a new decentralized Web3 platform that is designed to meet and fulfill the user's needs with the expanding decentralized finance industry. With the help of GxyPad, users can simply generate tokens, safeguard cash, and lock in tokens.
✅ Why Only GxyPad?
Because it offers a highly adaptable and cutting-edge Launchpad that meets the requirements of the expanding decentralized banking sector. It's a platform that gives users the ability to raise money, acquire tokens, and produce tokens in a decentralized, secure, and open way.
Complete Roadmap – A Way of Success
GxyPad – Launch Project
Now let's talk about everything that is required to launch a cryptocurrency project, like its vision, early routes, presales, and much more. So let's go!
🔽 Vision
Take a look at the vision, and let's dive into full depth.
1️⃣ Aim of GxyPad
It is a decentralized launchpad that aims to provide a secure and transparent platform for innovators and entrepreneurs to launch their businesses. GxyPad is dedicated to building a decentralized ecosystem that is scalable, self-sustaining, and resilient by using the power of blockchain technology.
2️⃣ Ability of Blockchain Technology
Blockchain technology has the ability to transform the whole financial industry for individuals as well as for organizations because it enables them to interact, raise funds, and launch projects on a transparent, secure, and decentralized platform.
🔽 Whitelist Presale
GxyPad has also launched a whitelist that grants users access to exclusive presale spaces for new projects. This whitelist is only available for a limited time and may be accessed by becoming a member of the Galaxy Club, which can be achieved by attending project-hosted events or possessing GxyPad governance tokens.
🔽 Public Presale
GxyPad has announced the beginning of a public presale for its next projects. It's for a limited period where anyone can participate in the presale by acquiring tokens at a fixed soft cap (SC) and hard cap (HC). There will also be minimal and maximum donation amounts for the public presale.
✅ Why Invest in Public Presale?
If you invest in the public presale, then it's very beneficial for you because investors who engage in the public presale will have the option to invest in GxyPad's next projects before they become publicly available to everyone, which gives potentially considerable returns.
🔽 Private Presale
The Galaxy Club is a unique membership program for the members of Galaxy Pad where they'll get a piece of the exclusive sale allocation.
The private presale allows the project team to collect cash efficiently and effectively, and they also offer significant returns on their investment to the early investors.
🔽 Fair Launch
The project team is preparing for a fair launch event that will be open to the public without any hard cap. The event takes place over a set length of time and assumes a presale price of $50,000.
When the presale SC level is reached during the fair launch, the sale begins the price discovery phase. The price per token rises with each buy until the sale is over.
Galaxy Club
GxyPad Galaxy Club is a private community that provides several perks to its members. Users can join the Galaxy Club by staking $1000 worth of GXY tokens over 30 days. Users who become members can get first access to whitelist spots or early investment opportunities for top-tier projects.
✅ Benefits of Galaxy Club
Developers in the Galaxy Club will receive platform support such as marketing, consulting, market expansion, public relations, network security, and venture capital. This will allow them to scale their initiatives and enterprises more quickly and efficiently.
Staking of GxyPad
GxyPad allows users to earn incentives by staking their GXY tokens. Users can earn $GXY, $ETH, $ZKS, and other tokens by staking $GXY.
Staking $GXY tokens is a straightforward transaction that may be carried out immediately from the GXYPad platform. Staking allows users to earn rewards passively while also contributing to the security and stability of the GxyPad network.
Locking
The ability to lock liquidity LP on the DEX once the presale expires is a crucial feature of the GxyPad platform. This ensures that there is sufficient liquidity for consumers to trade with and that the token's price is not affected by market movements.
1️⃣ Features of GxyPad Locking
The GxyPad locking method is token-based and implemented prior to the presale. This ensures that the locking process is fair and transparent and that consumers can rely on the platform to provide a safe and dependable investment opportunity.
About GxyPad
GxyPad is an innovative and highly flexible Launchpad built to support the zkSync ecosystem.
About Vital Block
Vitalblock is a Defi & Web3 Decentralized Smart Contract Auditing Firm. | Security Research | KYC | Audit Report | NFT Smart Contract Audit.
SOURCE
https://twitter.com/VB_Audit/status/1648402834420039682