NEARStarter and Jumbo Exchange Partnership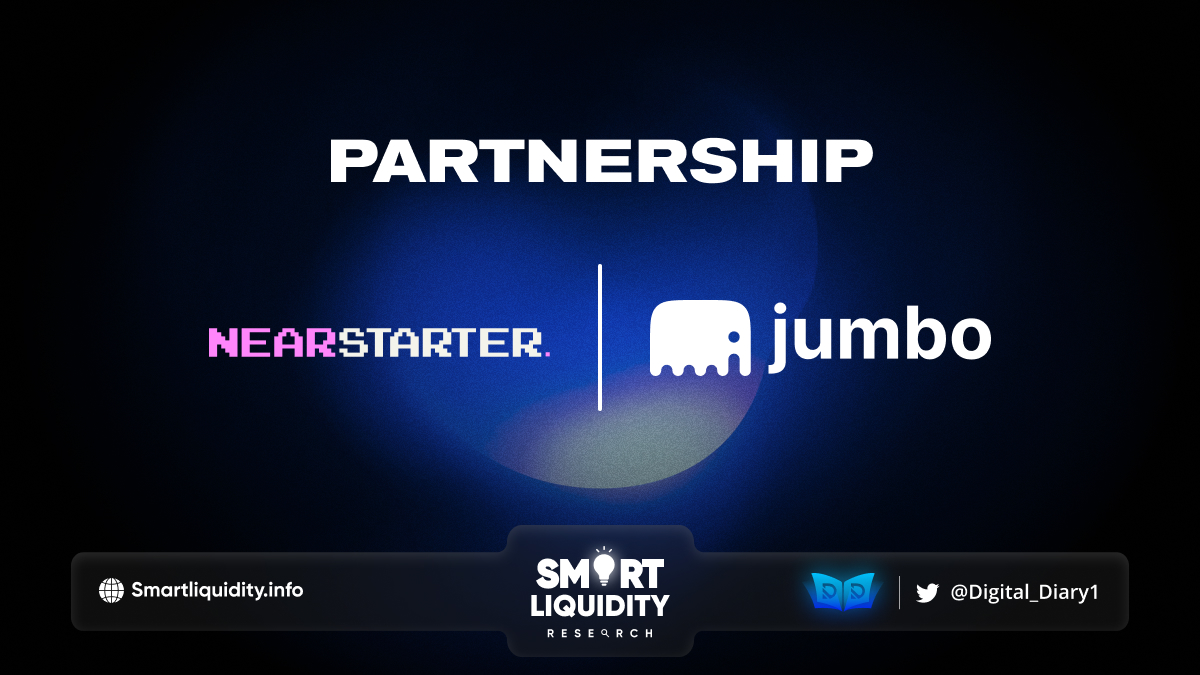 NEARStarter has announced its partnership with Jumbo Exchange, a user-friendly exchange that sets out to eliminate the common struggles people experience when navigating Decentralized Exchanges.
Because of various aspects of NEAR Blockchain and proprietary algorithms, Jumbo works seamlessly, meaning each interaction with the exchange is supplemented with immediate visual feedback and appropriate instructions.
As part of this partnership, US$10,000 worth of liquidity will be added to Jumbo Exchange by the NEARStarter team, of which 50% will be in NSTART and the other 50% in USDC.
NEARIA Keeps Growing
They will also perform a token swap between Jumbo and NSTART worth $5,000, where the $5,000 worth of JUMBO will be locked into the NEARIA Index Pool. On Jumbo's side, $5,000 worth of NSTART will be dedicated to liquidity mining rewards, farming NEARIA, etc.
This partnership is in line with NEARStarter's goal of promoting a dynamic and thriving DeFi ecosystem where users can interact and trade seamlessly across various platforms, as well as increasing the value of the NEARIA Index Pool.
The NEARIA Index Pool, a key feature of NEARStarter's platform, offers users diversified exposure to tokens within the NEAR DeFi ecosystem. With the addition of JUMBO's token to the Index Pool, users can further diversify their portfolios and take advantage of JUMBO's unique features and benefits.
More information will become available as Jumbo joins NEARStarter for a Ask-Me-Anything (AMA) session. This will provide users with an opportunity to learn more about JUMBO's platform and services, including its commitment to providing users with a seamless and unfettered way to trade on AMM DEXs.
Additionally, NEARStarter will be adding Jumbo-related tasks to its Zealy Leaderboard, with a $1000 campaign.
About Jumbo Exchange
Jumbo Exchange is a decentralized exchange built on NEAR Protocol. The most UI/UX Friendly AMM built on Near. It offers the most intuitive DeFi experience you will have, including instantaneous swaps, highest yields with seamless pool transition, and also permissionless liquidity Pool. Jumbo is backed by top VCs such as Alameda Research and Big Brain Holdings.
About NEARStarter
NEARStarter is a DAO-governed incubator acting as the ultimate growth engine for the NEAR and Aurora ecosystem.
$NSTART token is the fuel that fires the NEARStarter system and its utility will evolve even further in the future. The $NSTART allows users to participate in their IDOs, as well as their staking and rewards mechanisms.
SOURCE: MEDIUM