Crypto Mayhem, Wizarre and Rune Seeker Joins GameSwift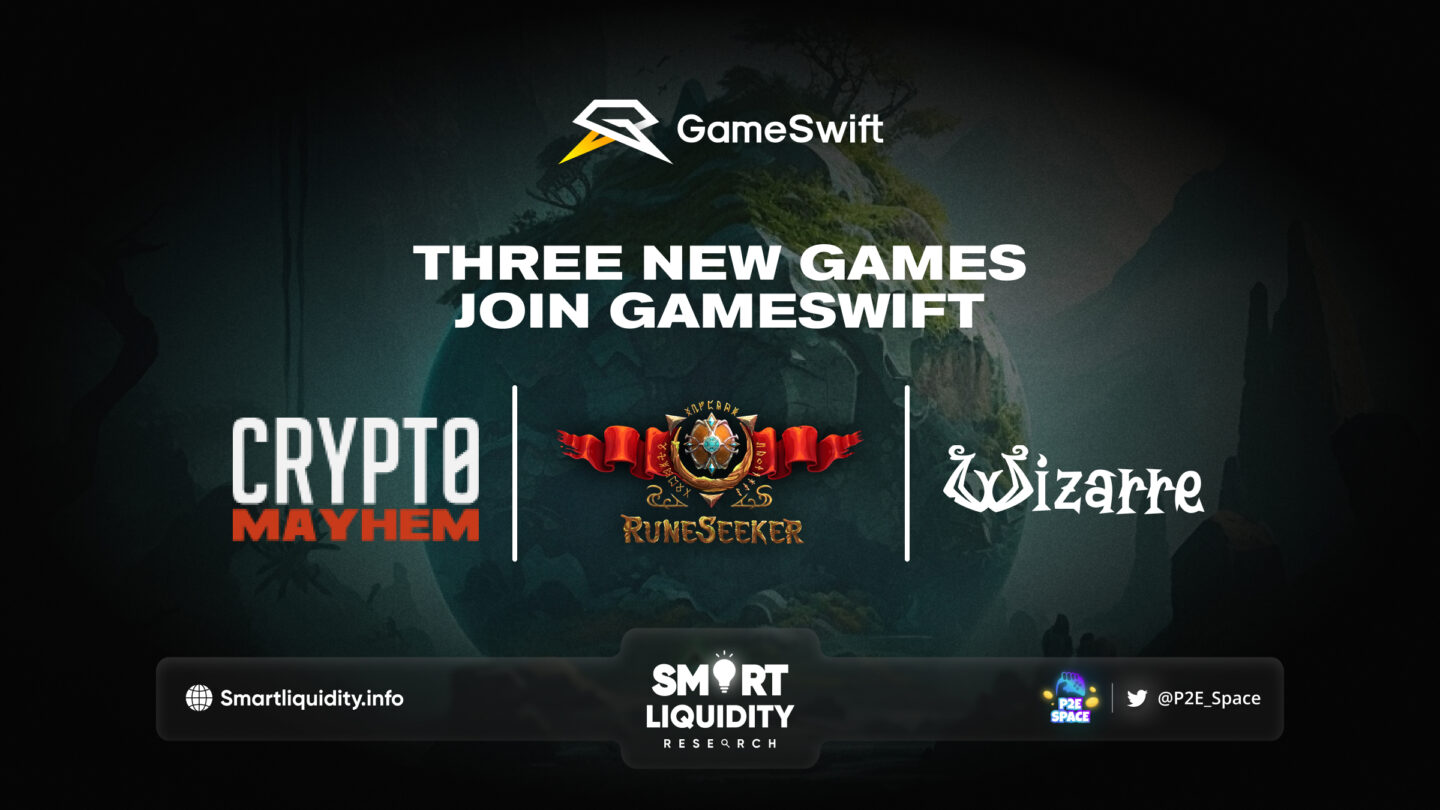 GameSwift, a leading gaming company, is excited to share the news of three exciting additions to its already diverse lineup of games. These games, namely Crypto Mayhem, Wizarre, and Rune Seeker bring unique features and gameplay mechanics to the platform, further enhancing the gaming experience for players.
More games — more fun!
Adding Crypto Mayhem, Wizarre, and Rune Seeker to the GameSwift Platform expands the already diverse selection of games available to players. Each game provides a unique, rewarding gaming experience whether players are interested in crypto integration, inclusive gameplay, or a comprehensive tokenomics model.
With its commitment to merging blockchain and gaming, GameSwift continues to push boundaries and reshape the gaming industry. Players can look forward to more exciting game releases as the platform evolves and grows, offering new experiences and opportunities for gamers worldwide.
Let's learn more about these projects!
Crypto Mayhem
Crypto Mayhem is an innovative game that integrates cryptocurrencies seamlessly into its gameplay. Players can earn, exchange, and utilize digital assets within the virtual game world.
By incorporating blockchain, Crypto Mayhem opens up new economic opportunities for players and adds real-world value to their gaming experiences. The game stands out with its tight integration of cryptocurrency and decentralized algorithmic gameplay, creating a dynamic and engaging environment for players.
Wizarre
Wizarre, on the other hand, aims to break barriers by offering a zero-entry threshold. Players can earn rewards even without owning NFTs or a web3 wallet. This inclusive approach ensures that anyone can enjoy the game, regardless of familiarity with crypto.
Wizarre combines the power of blockchain technology with traditional gaming mechanics, attracting players of all ages and backgrounds. By merging these two worlds, Wizarre creates a unique, immersive gaming experience that appeals to a broad audience.
Rune Seeker
Rune Seeker brings an exciting tokenomics model to the GameSwift platform. This game features a tokenomics model that prevents inflation as players increase, utilizing real revenue from in-app purchases (IAP) and advertisements to reward staking and burn tokens. This sustainable approach aims to increase the value of the in-game currency, $RUNES, over time. Unlike games that apply blockchain as an afterthought, Rune Seeker purposefully integrates it to enhance the overall gameplay experience.
Players in Rune Seeker can enjoy the game without any initial investment or the need for wallet connections, as traditional in-app purchases are available. This versatility makes Rune Seeker accessible to many players and accommodates varying interest levels in blockchain technology.
Website | Twitter
About GameSwift
GameSwift is a game-changing product that is changing the web3 gaming industry.
As a decentralized and community-driven ecosystem, they provide all the elements required to build a true web3 gaming empire. It is a 360-degree platform for game developers and also gaming studios. Offering all of the tools necessary to launch web2 games into the web3 environment. As well as a space for true gamers who want to participate in the crypto world and become a part of web3.
SOURCE: MEDIUM