Protofire Receives Chainlink Community Grant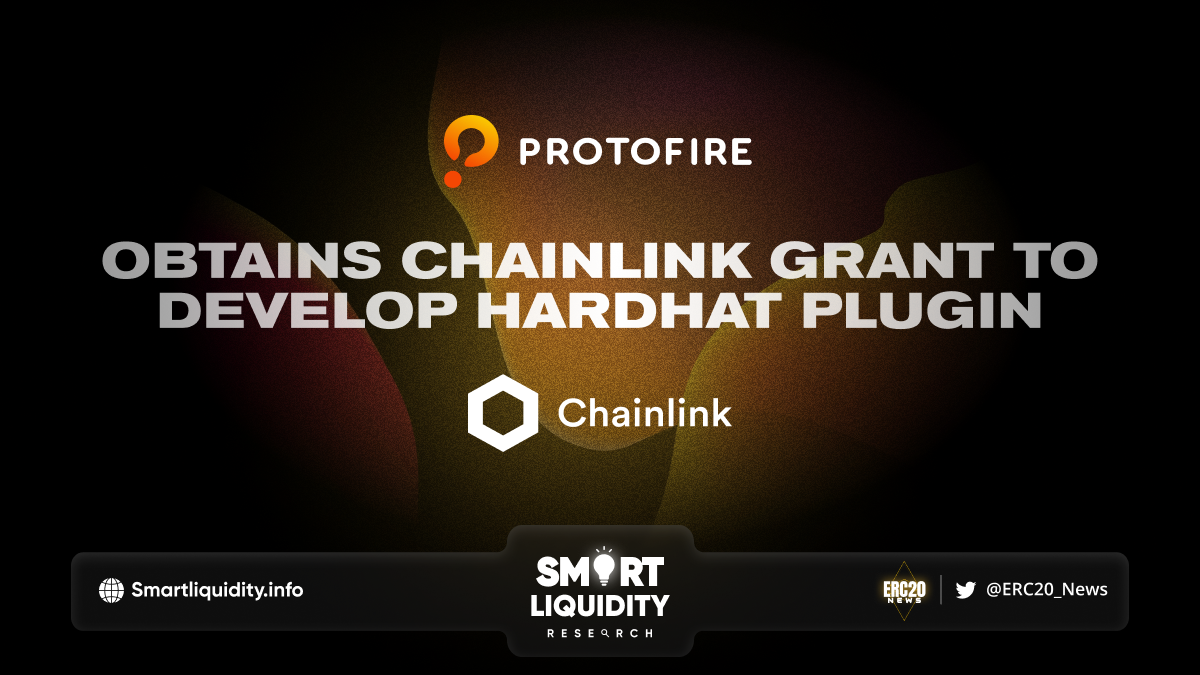 One of the main goals of the Chainlink Community Grant Program is to support the global developer community by making it easier to build applications that impact the world using hybrid smart contracts and Chainlink oracles 
In order to integrate Chainlink trust-minimized services on Ethereum, developers need to interact with Chainlink nodes to create a job, host an External Adapter, or troubleshoot an issue.
To support this goal, they're excited to announce that Protofire, ​​a provider of blockchaindevelopment services, has been awarded a Chainlink Community Grant to develop a Hardhat plugin that will allow developers to spin up a local Chainlink node with a single command. The plugin will enable Ethereum developers to more easily develop and test smart contracts using Chainlink Any API, helping them seamlessly integrate external data into their decentralized applications.
By incorporating all of the main functionalities of a Chainlink node—printing out necessary integration information during startup and making the node easy to update—developers will be able to more easily write and test smart contracts across a range of different use cases.
As part of the grant, Protofire will complete several steps through the plugin development process, including:
Use Docker to create a compose containing the existing Chainlink docker, a Postgres database container, and key configurations.
Complete end-to-end testing to help ensure the reliability and performance of the plugin.
Produce written documentation on GitHub showing users how to set up the environment, write a smart contract to consume a Chainlink Data Feed locally, create a job, fund the account, and more.
By simplifying the process of launching a local Chainlink node, the plugin will encourage more developers to build solutions using Chainlink services and speed up the development loop for testing and iterating smart contract applications. Ultimately, this plugin will empower developers to launch new projects, experiment with new use cases, and drive innovation across the Web3 space.
Hardhat is a local Ethereum development environment that helps developers run tests, debug Solidity code, and interact with smart contracts. With Hardhat, developers can spin up a local EVM environment using a single command. Now, with this plugin, developers can just as easily launch a local Chainlink node.
Protofire is a recognized provider of development services and consultancy for blockchain technology, building decentralized protocols, smart contracts, applications, and developer tools (SDKs/APIs). The team of proven blockchain experts has contributed their development resources to numerous leading Web3 projects, including Armanino, Filecoin, Gnosis, The Graph, Maker, Tezos, 0x, Kyber Network, and Synthetix. Protofire has also received and successfully completed several Chainlink Community Grants for projects such as xDai, Avalanche, Celo, IoTeX, and Plasm, as well as built a Chainlink testnet faucet for EVM-compatible chains. Given their extensive experience and proven success with Chainlink and EVM environments, Protofire is a well-suited recipient to build a Hardhat plugin that seamlessly spins up a Chainlink node.
SOURCE:
https://blog.chain.link/protofire-awarded-chainlink-community-grant-for-hardhat-plugin/