Dia Partners with Mimo Capital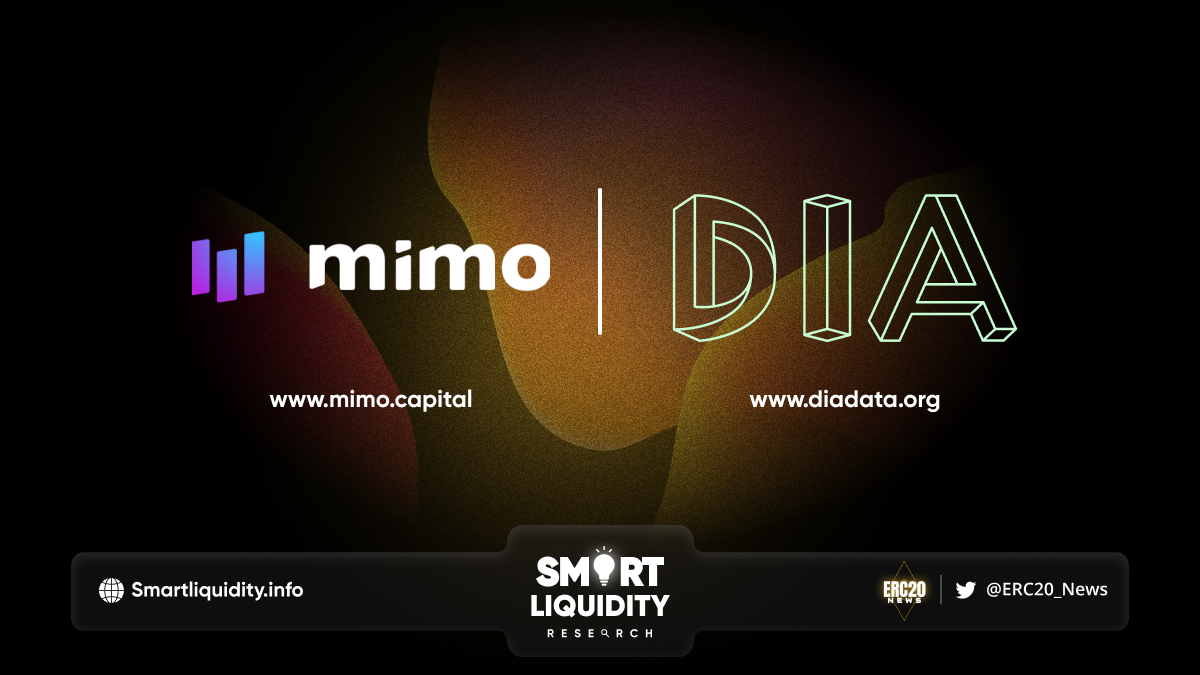 Mimo Capital offers a suite of applications designed to allow users to use their digital assets to mint euro-pegged PAR tokens The PAR token is pegged to €1 and is an over-collateralized stablecoin backed by assets like BTC, ETH and USDC. Users of the platform can earn MIMO tokens which gives them governance power over the protocol. To ensure a reliable and secure price feed for both PAR and MIMO tokens, Mimo Capital has chosen to implement DIAs smart contract price feed oracle.
Dia is thrilled to announce a new collaboration with Mimo Capital to provide the protocol with a fully transparent price oracle in multiple chains. The oracle will be used to calculate the price of the Mimo Protocol's governance token MIMO as well as its Euro-pegged stablecoin PAR. To respond to the ever-growing multi-chain needs of Web3 users, the price oracle has been deployed in Ethereum as well as in Polygon and Fantom networks.
Price Oracles for Any Asset
The Mimo team was interested in launching a lending/borrowing pool for their assets $MIMO and $PAR on the Midas Capital app, which was needed to unleash the power of the tokens. Midas enables users to launch isolated lending/borrowing pools for any asset. But in order to launch the pool, a price oracle for the assets was required, which only DIA was capable of successfully fulfilling those needs.
This is due to the fact that most oracle providers depend on third-party centralised data providers to deploy price oracles, not capable of providing price feed oracles for long-tail assets. In contrast, DIA employs a unique, fully transparent, end-to-end approach to building price oracles, capable of delivering price references for any digital asset, regardless of their listing conditions and volume.
Transparent and Fully Customizable Delivery
DIA deployed a dedicated and tailor-made smart contract oracle to supply the most suitable price feeds for the assets specified by Mimo Capital. The price oracle was designed with custom parameters such as source markets, price determination methodology, update mechanism and more.
These tailor-made configurations facilitate the Mimo team with the most suitable oracle for its unique lending and borrowing use case and asset pairs. These requirements were transferred to DIA by submitting a DIA Custom Delivery Request (CDR) via the DIA Forum and is publicly available to everyone.
About DIA
DIA is a multi-chain, end-to-end, open-source data and oracle platform for Web3. The DIA platform enables the sourcing, validation and sharing of transparent and verified data feeds for traditional and digital financial applications. DIA's institutional-grade data feeds cover digital asset prices, NFT floor prices, lending rates, FX rates and more.
DIA's data is directly sourced from a broad array of on-chain and off-chain sources at individual trade-level. This allows DIA feeds to be fully customized with regards to the mix of sources and methodologies, resulting in tailor-made, high resilience feeds and thereby setting a new paradigm for oracles.
SOURCE:
https://medium.com/dia-insights/partnership-with-mimo-capital-990d77b0b8b2