Hawksight Partnership with Pugging Awesome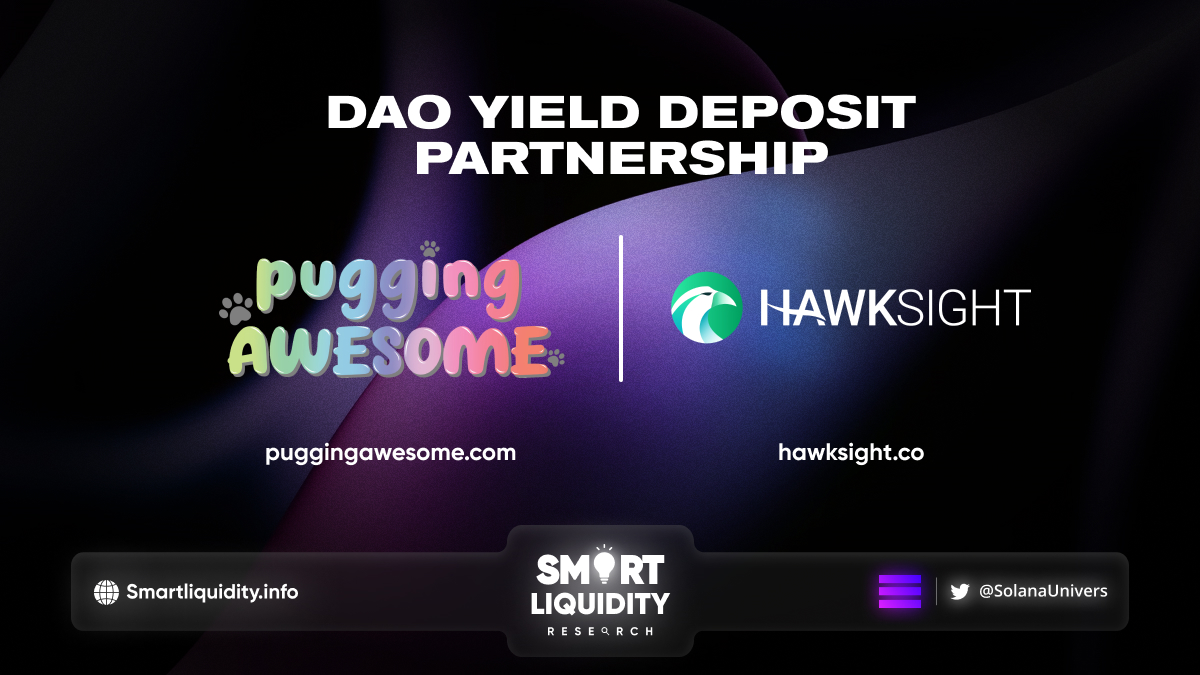 Hawksight, one of Solana's fastest-growing DeFi yield strategy aggregators announced its partnership with the largest, most diversified Investment Fund on Solana Blockchain, Pugging Awesome.
This partnership of Hawksight with Pugging Awesome is to deliver easy, safe, and best-optimized USDC yield for their treasury growth, as well as work on unique ways for NFT communities to be empowered with DeFi income.
Overview of Pugging Awesome
Pug's Mission
Pugs' objective is to assist investors who do not have the resources to make sound investments. The team will choose investments strategically in order to profit from its holders, which share with its own NFT holders.
Solana's largest and most diverse investment fund
Pugging Awesome pugs will diversify their investments by investing in token IDOs, employing blue-chip NFT staking rewards, enabling launchpads, and fostering promising NFT enterprises.
A team focused on transparency
The team ensures that their investment selections and plans reveal to their holders on a weekly basis. Publicizing even their reports for openness, including both profits and losses for all to see!
A family-oriented community
The bear market does not mean the community suffers under the Pugging Awesome Pugs. The team has reward over 350 SOL to its holders, ensuring that they are well-supported during this bear market.
A supporter of dog shelters
Enabling investments is just one part of their mission, the team has a big heart when it comes to doggos! They will use a percentage of the profits they generate to help dogs all over the world! LET'S PUGGING GO!
 A builder and a guide
The team will develop launchpads and incubators. This will enable the development of communities and projects that will benefit the Solana ecosystem. Builders build, which requires guidance from each other, advising towards a better direction.
All funding is bootstrap from NFT fundraising
The team is funded via NFT sales and mint revenue. The team is dox by a third party called Sol Dox, making sure to be transparent with team credibility.
Partnership Highlights
Builders with a common vision! Hawksight believes that Pugging Awesome will help it achieve its goal of driving the widespread adoption of DeFi for Everyone. They hope to accomplish this by providing users with improved yield accessibility and treasury management.
Hawksight currently collaborates with DAOs to obtain the best-optimized $SOL and $USDC yield for treasury expansion. Increasing project visibility and member advantages through NFT/marketing initiatives and member-only DeFi yield benefits.
About Hawksight
Hawksight enables regular degens and DAOs to obtain quick, secure, and optimal yield on $SOL and $USDC. Using Hawksight is easy as using one click. Users gain access to top-performing vaults on Solana that enable rapid investment and yield farming using profit-optimized tactics and maximize yield plus gains from assets. Hawksight is a DeFi platform on Solana that guarantees cheap costs and quick payments and withdrawals.
About Pugging Awesome
Pugging Awesome, a diverse investment fund powered by the Solana Blockchain, with the objective of assisting investors who lack the luxury of time or information to make informed investment decisions and earn on their behalf.
SOURCE
🤝We're stoked to share that we partnered with @puggingawesome to provide easy, safe, and best-optimized $USDC yield for their treasury growth, and work on creative ways for NFT communities to be empowered with DeFi yield

Here's why we are bullish on partnering with them

🧵1/10 pic.twitter.com/3MMskPQx0d

— Hawksight | PFP upgrade soon 👀 (@HawksightCo) October 31, 2022