Bounce Finance Supports Polygon zkEVM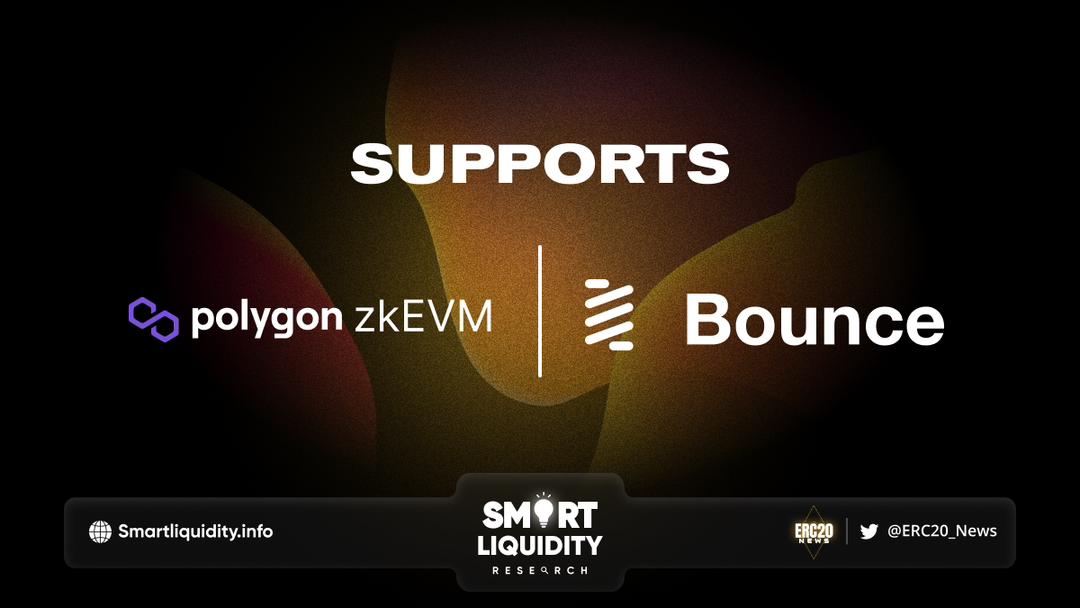 Bounce Finance is thrilled to be the first auction protocol to support Polygon zkEVM, a game-changing technology that combines the security and trustlessness of zk rollups with the convenience of an Ethereum Virtual Machine (EVM). This collaboration is another example of Bounce Finance's commitment to implementing cutting-edge technologies in order to keep prices low and efficiency high for their users.
Polygon, an Ethereum scaling platform, introduced its zero-knowledge Ethereum Virtual Machine (zkEVM) mainnet beta on March 27. The Polygon zkEVM leverages the advanced capabilities of zero-knowledge proofs to significantly reduce transaction costs and substantially enhance throughput, all while maintaining the robust security inherited from Ethereum.
Some of the benefits Bounce Finance's support of Polygon zkEVM includes, but not limited to: Privacy Preservation; Faster Transaction Speeds; Lower Costs.
The integration of Polygon zkEVM showcases Bounce Finance's dedication to adopting next-generation technologies that enhance user experience and promote growth within the decentralized auction space.
With the strength and support of partners like Polygon, Bounce Finance is building a future-ready auction solution ready to meet the evolving needs of its user base.
About Bounce Finance
Bounce (AUCTION) is a blockchain-based auction platform that connects traders without intermediaries. Bounce's products are available on multiple blockchains for more significant potential and flexibility. As described in the official document, Bounce's basic idea is based on the reality that resources are finite, creating a competitive atmosphere for swapping.
About Polygon zkEVM
Polygon zkEVM is the first zero-knowledge scaling solution that is fully equivalent to an EVM. All existing smart contracts, developer toolings and wallets work seamlessly. Polygon zkEVM harnesses the power of zero-knowledge proofs in order to reduce transaction costs and massively increase throughput, all while inheriting the security of Ethereum.
SOURCE:
https://bouncefinance.medium.com/bounce-finance-polygon-zkevm-cutting-edge-benefits-for-auction-participants-458d91fd7dd1