OpenLeverage Launches Permissionless Liquidity Market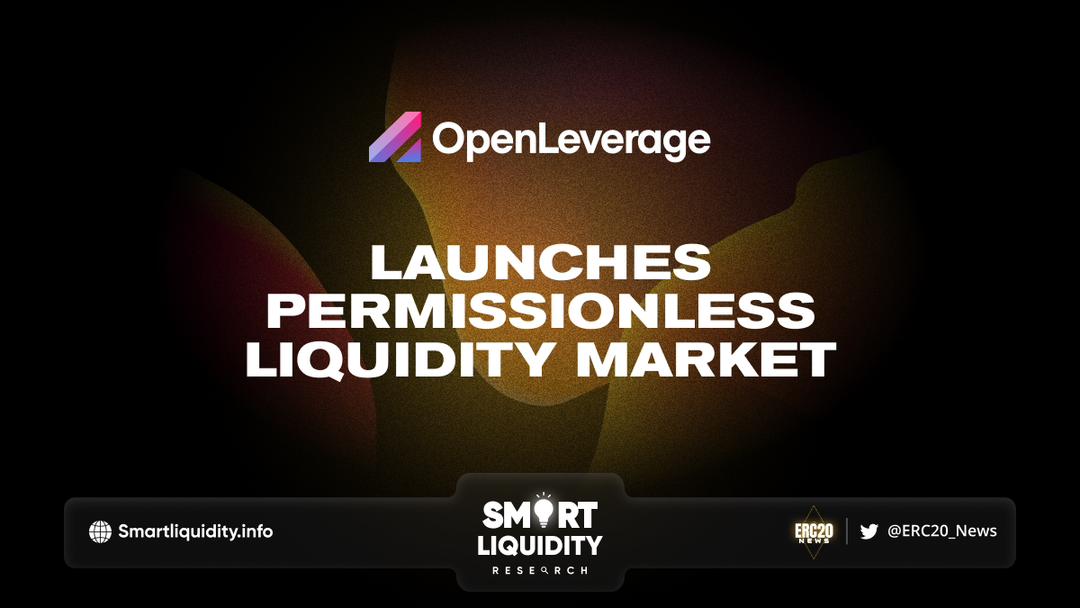 Openleverage has recently unveiled its new permissionless liquidity market feature, which allows all users to deposit and borrow any crypto asset, unleashing liquidity and increasing market flexibility.
Borrow with Thousands of Assets
According to OpenLeverage, most lending protocols, like AAVE and Compound, have limited token support for deposits and borrowing, leaving over 99% of tokens without access to these activities. They boast of breaking this limitation by allowing any user to create a lending marketplace for any token pair. This enables users to put both tokens of the pairs as collateral and borrow against other tokens. Users can even deposit altcoins as collateral and borrow majors.
Limitless Opportunities for Users
OpenLeverage introduces even more opportunities for users :
Unleash Your Altcoin Holdings: OpenLeverage's over-collateralized borrowing allows users to obtain additional funds using their existing token holdings as collateral. This enables them to diversify their portfolio and invest in a wider range of tokens, spreading risk and optimizing potential returns.
Farm/LP Without the Price Impact: By borrowing risky assets with stables, users can provide liquidity to various pools and farms in other DeFi platforms, earning alpha and additional rewards without having to expose to price volatility.
Borrow Instead of Swapping: Users can borrow tokens of their choice to take advantage of arbitrage opportunities without having to pay for the cost of fees, slippage, or price movement. Instead, users only need to pay a small amount of borrowing interest.
Risk Management: Over-collateralized borrowing allows users to hedge their positions by borrowing tokens that are inversely correlated with their current holdings. This helps to mitigate potential losses in case of market volatility.
Providing Support for Projects
OpenLeverage supports projects and communities by providing them with the tools and resources they need to succeed in today's dynamic crypto landscape. Their over-collateralized borrowing feature empowers these projects and communities to take control of their token economics, enabling them to thrive in a highly competitive market:
Reducing Selling Pressure: Over-collateralized borrowing allows communities to access liquidity without having to sell their assets, which helps to reduce selling pressure in the market.
Enhancing LP Liquidity: Over-collateralized borrowing with project tokens can help the community borrow project tokens or majors to provide liquidity on DEX, creating a deeper depth of liquidity that can lead to higher trading volumes and better price discovery for the project's token.
Improved Tokenomics: As more users engage in borrowing and lending activities involving a project's token, the demand for the token may increase, potentially boosting its value. This can positively impact the project's tokenomics, making it more attractive to investors and users alike.
Access to Capital: Projects can leverage their native tokens as collateral to secure funding through over-collateralized borrowing. This provides an alternative financing option to traditional fundraising methods, such as initial coin offerings (ICOs) or venture capital, with more flexible terms and fewer restrictions.
About OpenLeverage ‍
OpenLeverage is a permissionless margin trading protocol that enables traders or other applications to be long or short on any trading pair on DEXs efficiently and securely. One of it's key features is :Margin Trading with Liquidity on DEX, connecting traders to trade with the most liquid decentralized markets like Uniswap, Pancakeswap, and more.
SOURCE:
https://openleverage.medium.com/openleverage-launches-permissionless-liquidity-market-cb8163d924d1