Balancer Deploys on Polygon zkEVM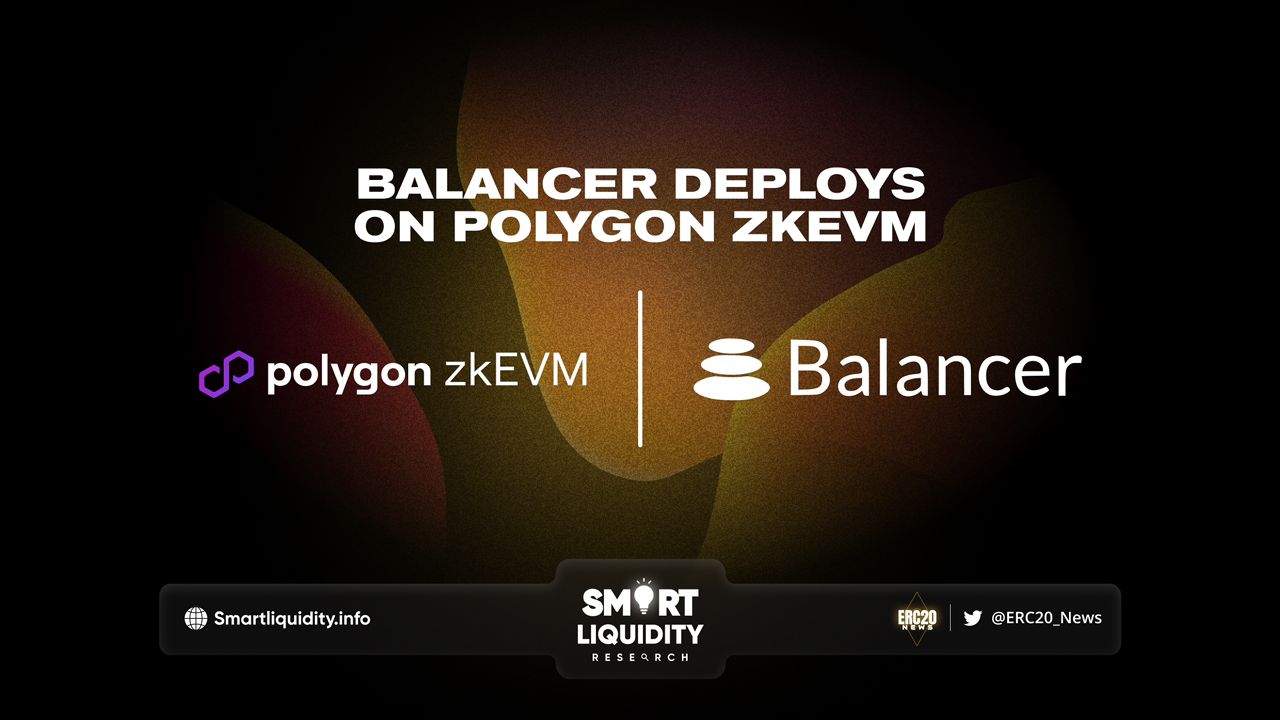 Polygon Labs has recently launched its zkEVM Mainnet Beta in its first step to exponentially improve the scalability and finality of Ethereum with an EVM equivalent Layer 2 ZK scaling solution.
As an essential and notable piece of DeFi infrastructure, Balancer is deploying its technology onto the network to bootstrap liquidity growth and accelerate development across the ecosystem.
Ethereum L2 scaling solutions
Providing the web3 world with a decentralized computational network, Ethereum has seen a rapid increase in network activity and development throughout the past few years. As growth inevitably continues, ensuring transaction costs and finality stay optimized without faulting on security and decentralization has proven to be a focal point for the next stage of Ethereum's development.
Layer 2 solutions are designed to help solve this scalability dilemma by batching and processing computational transactions on a separate layer and submitting the compressed rollup as one single transaction to the Layer 1 network. This mechanism effectively spreads the cost of a single Layer 1 transaction across multiple Layer 2 transactions, ensuring cheaper gas fees and faster throughputs for both chains.
The Balancer Ecosystem LaunchPad
Balancer is uniquely positioned as a prominent protocol to help facilitate network-wide liquidity growth on Polygon zkEVM. Whether symbiotic and interconnected boosted pools that bootstrap swap liquidity and lending markets simultaneously or efficient 8020 pools that unlock the next generation of protocol governance positions, Balancer technology hosts core infrastructure that facilitates liquidity growth for every chain. As Ethereum looks to take the next step in its Zero-Knowledge future, Balancer is primed to help ignite its growth.
Balancer is a powerful base layer that allows other protocols to innovate effortlessly. Developers can streamline the building process saving time and resources while harnessing an interconnected hub to support the launch of any primitive. Look at Gyroscope; the protocol built a unique E-CLP concentrated Liquidity model with the optimized Balancer tech stack. The pool instantly plugged into all existing Balancer liquidity and has facilitated $4,100,262 in concentrated swap volume since deployment.
With Zero-Knowledge proofs integrated into an EVM equivalent network, Polygon zkEVM is paving the way for the next iteration in the continued growth and scaling of the Ethereum ecosystem.
Balancer is united in the network's efforts to offer users and protocols a seamless and interconnected experience. Alongside a budding community, the Polygon zkEVM network can now harness Weighted Math, Boosted Pools, 8020, and an efficient LST liquidity hub!
SOURCE:
https://medium.com/balancer-protocol/balancer-is-fuelling-growth-on-polygon-zkevm-424f209a6be4