Uquid Partners with Carbon Browser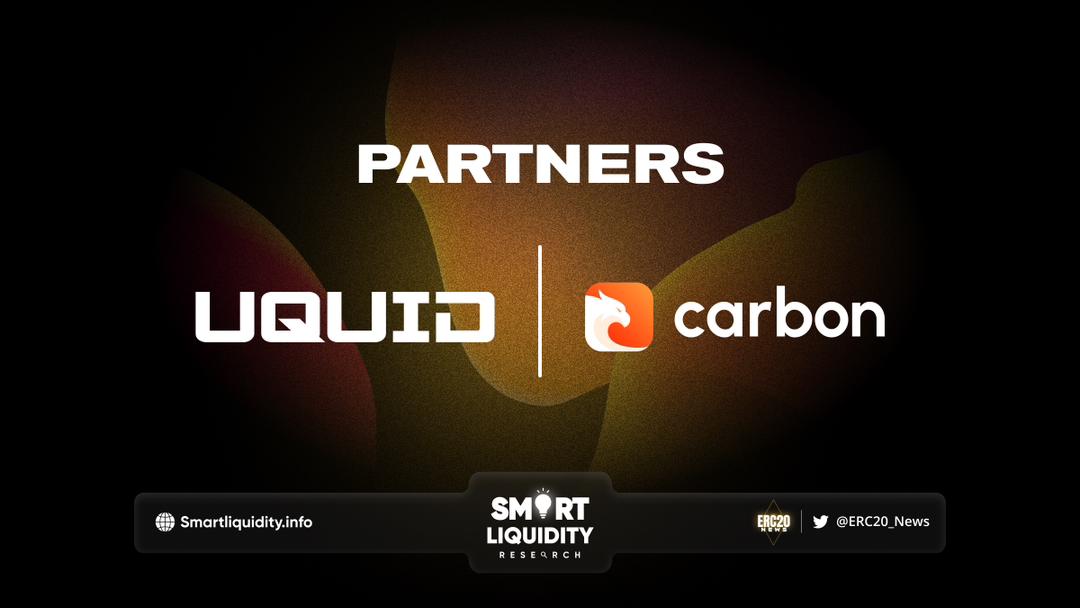 Uquid and Carbon Browser, two prominent cryptocurrency and E-commerce platforms, have recently announced a new cooperation to provide consumers with wider access to innovative and diverse services. The collaboration establishes Uquid as the newest addition to Carbon's network of cryptocurrency services, marking a significant milestone for both platforms.
Expanding DeFi access with Uquid and Carbon
The partnership between Uquid and Carbon allows users to take advantage of all the benefits of online shopping alongside the additional security and privacy offered by cryptocurrency transactions. Users can enjoy transacting with cryptocurrencies such as BTC, ETH, USDT, TRX, and many others, without the typically high transaction fees associated with these currencies. Additionally, users of Carbon's browser can take advantage of the platform's advanced security and privacy features, such as ad-blocking and tracking prevention, ensuring that their online shopping experience remains secure and efficient.
Overall, the Uquid and Carbon partnership provides users with a streamlined and secure online shopping experience that is facilitated by the use of cryptocurrencies. With the comprehensive range of services available on Uquid's platform and the innovative features of Carbon's browser, users can enjoy the benefits of frictionless, swift, and secure online transactions, powering the adoption of cryptocurrencies into the world of everyday shopping and e-commerce.
About Uquid
Launched in 2016, Uquid pioneers in applying DeFi and Web 3.0 to E-commerce that aims to bring the best Shop to Earn experience to customers with verified merchants, exclusive deals, cashback, and Payin3 with Crypto.
Throughout the years, Uquid still keeps its fantastic performance with continuous growth and the best effort to upgrade its store following the official Roadmap. With the largest selections of over 140 million physical, digital, and NFTs products listed and comprehensive shipping services to over 180 countries and territories around the world, Uquid is confident in serving any demand of customers in the Metaverse.
Users shopping at Uquid are offered flexible and convenient payment methods including cryptocurrency, fiat, or wallets.
About Carbon
Carbon is a free and open-source web browser developed by Carbon X Labs based on a custom fork of the Chromium SDK and its powerful Blink engine. Carbon is the go-to browser for Android users who value fast performance, security, and privacy. It automatically blocks online ads and website trackers to provide a private and secure browsing experience. We aim to solve the issues of decentralization, lack of privacy, and slow loading speeds. We do it by focusing on web3 needs, giving users those critical features in an easy-to-use platform.
With Carbon, you can completely control your online presence with a multi-chain wallet, giving you the power to manage all of your online activity securely. Use Web 3.0's bridge function to connect Web 2.0 and Web 3.0 ecosystems, allowing for a smarter and more streamlined experience like never before! Get ready to get futuristic — web 3.0 is where it's at.
SOURCE:
https://shop.uquid.com/blog/uquid-partners-with-carbon-browser-lists-uquid-dapp-to-enable-seamless-experience-of-cryptocurrency-shopping-lGvBaud6_klEZgMoeRXQw